Confident & buoyant India look to choose XI wisely
The only aspect that could well be a headache for the team is whether they should continue with woefully out-of-form Ajinkya Rahane and the struggling Ishant Sharma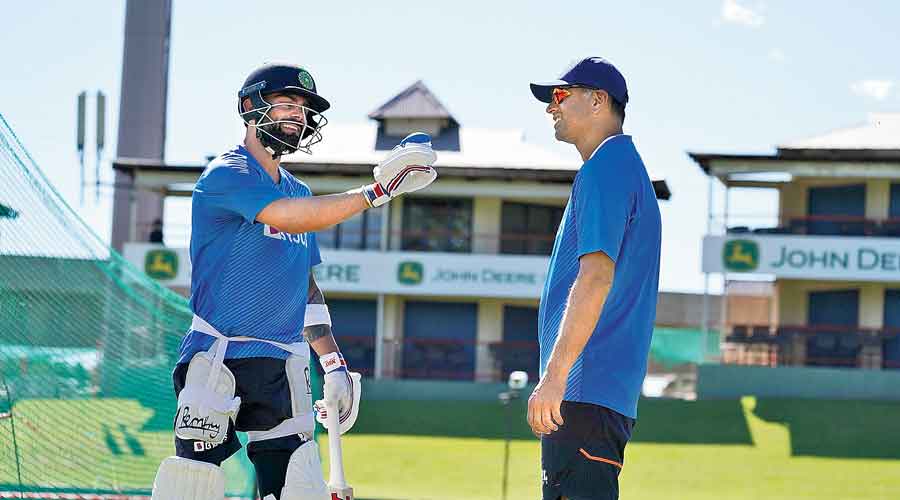 India captain Virat Kohli with head coach Rahul Dravid in Centurion on Saturday, the eve of the Boxing Day Test against South Africa.
Twitter
---
Published 26.12.21, 12:22 AM
|
---
On paper, the current Indian team have the wherewithal to breach the South African fortress in the Test series which begins on Sunday in Centurion.
Given their recent performances in Test cricket, India are certainly in a stronger position than South Africa, who are not just in transition but are still battling to free their cricket of the after-effects of the apartheid era.
No team would like to go into a Test series in  a situation where their cricket Board is set to launch a formal inquiry into the conduct (prejudicial and discriminatory on the basis of race) of their head coach and director of cricket. South African cricket looks hardly settled on and off the field.
That doesn't concern India though. Virat Kohli's India appear to be a confident, buoyant unit going into the first Test of the three-match series.
The only aspect that could well be a headache for India is whether they should continue with the two senior pros in the XI: the woefully out-of-form Ajinkya Rahane and the struggling Ishant Sharma. The team management wouldn't shy away from taking tough decisions, but with Rahul Dravid as head coach, do not expect any call to be taken out of haste.
"It's never an easy decision to leave out players. But yeah, it's just the way it is. Sometimes we're not scared to take those (tough) calls and decisions, but we'll not be carried away with them as well," Dravid said on match eve, as he also voiced his support for Rahane.
"There have been some very good conversations within the selection group on the tour, and we've been having some very good healthy discussions on what we think is the best XI that gives us the best chance to win the series or a Test match here," he said.
The disappointment that tough calls bring about in players also makes them yearn much more for success, Dravid pointed out. "I don't expect everyone to be not disappointed. That (disappointment) is one of the things that (also) makes people succeed at this level.
"You want to be playing, competing and be a part of the action. You don't want to be sitting out, but how you take the fact that you have to sit out and how you respond to that is really a test of your attitude," the head coach explained.
It won't be surprising if either Rahane or Ishant get dropped for the opening Test. But considering Dravid's words, sensitivity should prevail over the selection of the XI, also keeping in mind the pacer-friendly conditions at Supersport Park.
Scattered thunderstorms on the first two days of the Test are also a possibility.
Faith in bowlers
Regardless of the difficulties plaguing South African cricket, India are not at all taking the Proteas for granted, particularly their bowling attack that will be relying on the pace trio of Kagiso Rabada, Lungi Ngidi and Duanne Olivier. 
But at present, it's the Indian attack which is better placed than their rivals. "Our attack is probably more experienced than the South African attack at this point in time, in terms of the number of Tests played, which probably might not have been the case in the past," Dravid said.
"But they do have quality, so we're certainly not going to take them lightly. We know that if we want to put up the kind of scores that will give our bowlers a chance to take 20 wickets, we're going to have to bat very, very well."
All in the mind
Keeping the players relaxed and excited about the contest has been another area of focus of the team management.
"There are a few conversations regarding (batsmen's) technique, but a lot of them at this level is about keeping the guys in the right kind of headspace, and getting them to think positively and making sure they're very keen to compete," Dravid said. l Match starts: 1.30pm (IST). Live on Star Sports