Before CR7, this Ronaldo cast a spell
Brazilian spun magic at united den in game-changing match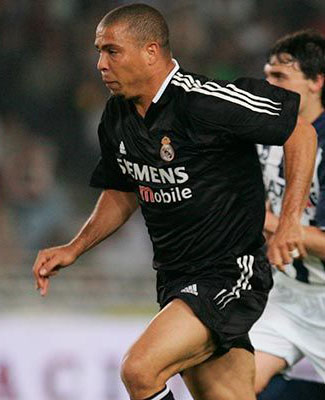 Ronaldo
(Picture courtesy: realmadrid.com)
---
Published 22.04.20, 09:51 PM
|
---
Seventeen years ago, at Old Trafford, Ronaldo's magic ensured Real Madrid sneaked into the semi-finals of the Champions League. Angshuman Roy relives one of the greatest football matches
For many, it was one of the greatest matches in the history of club football.
For some, the game had a far-reaching impact on how English Premier League and Spanish football would look like from the ensuing season.
And for coach Amal Dutta — he wrote in his column for a Bengali daily — it was such a match that he felt like waking up his friends and telling them what they were missing.
Seventeen years ago to the day, on April 23, 2003, Manchester United hosted Real Madrid in the second leg of the Champions League quarter final at Old Trafford. Having lost the first leg in Madrid 1-3, United had a mountain to climb. Still, Ruud Van Nistelrooy's away goal gave United supporters hope of a turnaround at home. But then, Madrid, which boasted of stars like Zidane, Figo and Roberto Carlos, also had someone called Ronaldo who came up with a stunning hat-trick (one goal in the first half and two in the second).
The third was out of the world. Picking a pass near the centre circle, the Brazilian inched forward. And from 25 yards out, he unleashed a booming right-footer which whizzed past United goalkeeper Fabien Barthez.
Those three goals saw Madrid sneak through to the semi-finals, despite losing 3-4. The aggregate score was 6-5 in favour of the galacticos.
It was Ronaldo's night all through and it's said that overall he had five shots during his stay on the field (he was replaced by Santiago Solari seven minutes after the hour-mark) and three of them were goals.
His usual partner-in-crime Raul was out with appendicitis and Ronaldo took it upon himself to show the world once again (he did that once in the summer of 2002, remember?) why he was called The Phenomenon. A career blighted by injuries, Ronaldo would still remain arguably the best No. 9 of modern-day football.
Ask those who were there at Old Trafford and they would tell you why. A standing ovation from United fans was the perfect way to acknowledge the Brazilian's class.
The match was also significant for the reason that United's legendary manager Alex Ferguson decided to keep David Beckham on the bench and started with Juan Sebastian Veron and Ole Gunnar Solskjaer. Beckham came onto the pitch in the 63rd minute and his trademark free-kick made it 3-3 a few minutes later. He got one more in the 84th minute. It was, however, too little too late.
"In the couple of days leading up to the Madrid game I did my best to concentrate on our preparations like everyone else but the thought that I was going to be dropped just nagged away at me like a sore tooth. I was on the outside looking in. 'Real Madrid: an important game, son. Too important for you to play in,' I told myself. I could taste the anger in the back of my throat," Beckham was once famously quoted as saying by The Guardian.
Ferguson's decision to keep Beckham on the bench fuelled speculation that he would leave in the summer. As it panned out, the then most saleable face of world football went to Bernabeu for a fee of $40 million on a four-year contract.
With Beckham leaving for Madrid, Manchester United roped in a precocious young talent called Cristiano Ronaldo from Sporting Lisbon.
It also had such an impact on one Roman Abramovich, who was at Old Trafford as a guest, that the Russian billionaire decided to buy a stake in Chelsea.
With Beckham's arrival, the Spanish League started grabbing more eyeballs, particularly in Asia.