Aussies ask: Is it like-for-like
Before Australia's run chase, head coach Justin Langer was seen having an exchange of words with match referee David Boon over the entire episode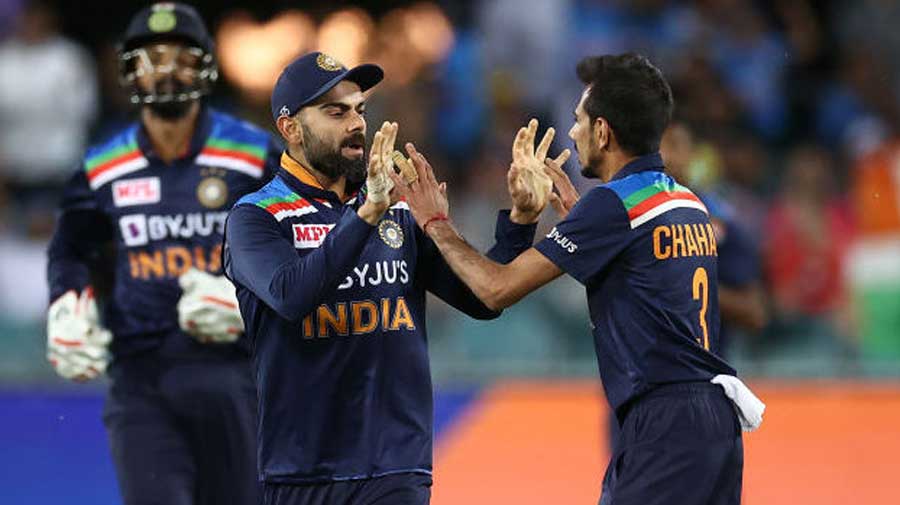 ---
Calcutta
|
Published 05.12.20, 03:08 AM
|
---
Yuzvendra Chahal's star turn, coming in as a concussion replacement for Ravindra Jadeja, derailed Australia's progress, prompting the hosts to wonder whether it was a "like-for-like" substitution as mandated under the rules.
Before Australia's run chase, head coach Justin Langer was seen having an exchange of words with match referee David Boon over the entire episode. Later on, the Australians questioned if leg-spinner Chahal coming in for all-rounder Jadeja, who was hit on the helmet in the final over of the Indian innings, was at all a like-for-like replacement.
"There was no doubt that Jadeja was hit on the helmet and there could have been a concussion. A decision was taken that there was a concussion and a replacement was made. We don't doubt that. But was it a like-for-like replacement? That is the question.
"Jadeja is more of an all-rounder and he had done his batting. Chahal is purely a bowler," all-rounder Moises Henriques said at the post-match news conference.
Henriques, though, clarified that he was neither questioning the ICC's rule on concussion replacement nor India's right to seek a substitute.
"ICC's rule is fine. Sure, there should be a replacement. We are not talking about the decision to make the replacement. Only thing we are saying is there should be a like-for-like replacement," he said.
Jadeja, at present, is under doctors' supervision, said Sanju Samson, who played as a specialist batsman. "He got hit on the helmet in the last over of our innings and when he came back to the dressing room, he was asked by the physio how he was feeling.
"He said that he was feeling a bit dizzy, so then, according to the concussion rules, we had to have a substitute for that. And he is under doctors' supervision at present," Samson told reporters.
Acknowledging Chahal wasn't a part of Friday's game plan, captain Virat Kohli said: "Jaddu was a bit dizzy, and still is.
"To speak of concussion replacements, they're strange things. Today it worked for us, but maybe another time we might not have found a like-for-like replacement. Who knows!"
His counterpart Aaron Finch, however, didn't wish to dwell too much on the matter, saying the match referee went by the doctor's advice. "You're not challenging a medical expert in that regard, are you?" Finch said.