Atanu Das picks up pieces with Games gold
Debacle at Tokyo Olympics had sent the world crashing around Bengal archer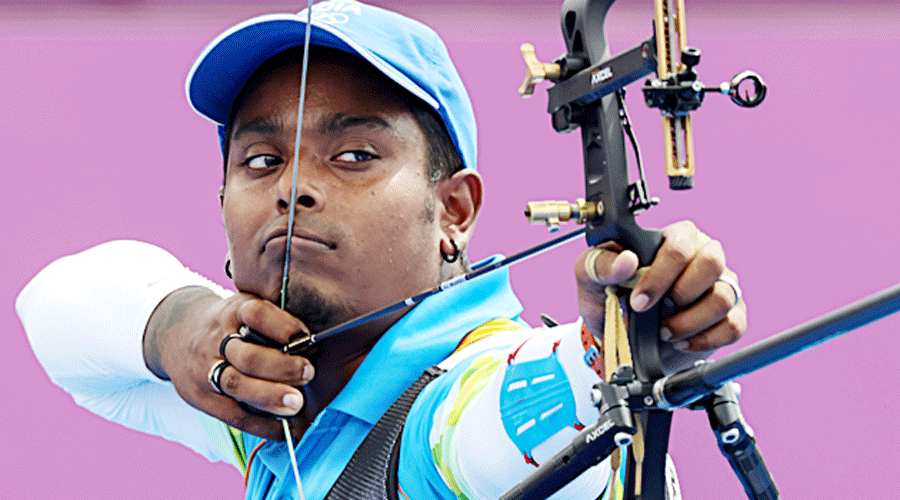 ---
Calcutta
|
Published 15.10.22, 04:10 AM
|
---
Archer Atanu Das has hit the comeback button.
The debacle at the Tokyo Olympics had sent the world crashing around the Bengal archer. He had lost in the round of 16 to Japan's Takaharu Furukawa after raising high hopes when he defeated Korea's Oh Jin-Hyek — the London Olympics gold medallist — in the previous round. Soon after, Atanu also lost his place in the national team.
And all this when the World Cup gold medallist was well-prepared and confident.
Last week, the archer's long title drought came to an end as he won the men's individual recurve gold at the National Games. That, promises the archer, is just the beginning of Atanu 2.0.
So what exactly went into this comeback process?
"After Tokyo, I was devastated. I took a two-month break from the game. I travelled to a few places and tried to relax because that was the first thing I needed to do after the loss. Then I started to train again. I struggled a lot with my mental health," Atanu told The Telegraph.
"I started to focus on those things I have earned and left aside those which I don't. I started to live in the present and then, after a while, I managed to make peace with myself.
" It was hard, very hard, for me to get back my mental management but I took it as a challenge and tried my best to get back into shape. Finally, I have found my groove back."
So does the National Games success indicate that he is on the right track?
"I was not preparing only for the National Games, I was getting ready for all the upcoming games, the National Games being one of them.
"Next year is very important for Indian archery. I am working to give my best shot at the World Championships (Berlin, July-August 2023), Asian Games (Hangzhou, China, September-October 2023) and finally the Paris Olympics in 2024.
"The National Games gold proved that my preparations are on the right track."
As a part of his preparations, the Arjuna awardee trained in different parts of the country.
"I trained in Shillong, Pune, Jabalpur and Calcutta. There are so many good places for archery in India with different climates, altitudes and environments. I wanted to use that opportunity in my training to upgrade my mental health and physical health as well."
The 30-year-old, who is married to archer Deepika Kumari, a former world No.1 herself, said it helps to have a spouse from the same sport.
"It is a plus point for us as a couple. We can discuss both our personal and professional lives, deal with our setbacks and make plans to live happily."
The next event on Atanu's card is the National Ranking tournament in Madhya Pradesh and he is all geared up for it.
But what he is actually not prepared for is his impending fatherhood. Atanu and Deepika are expecting a baby in December.  "I'm very excited," said the soon-to-be-dad. "At the same time, I have no idea how I will handle parenthood. However, I can't wait for December," said Atanu.