All England Championships: Young pair's fight carries future hope
As they play more and more tournaments, they will gain in experience and then see where they reach: Arun Vishnu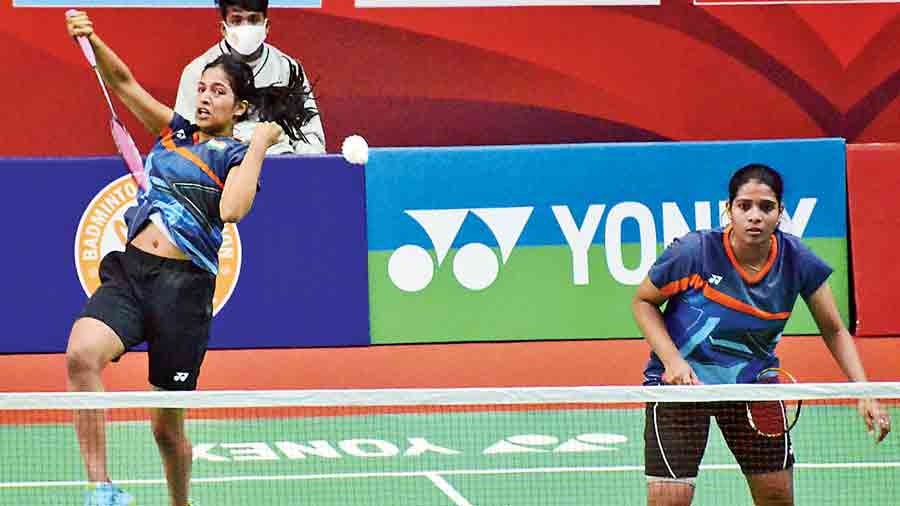 Gayatri Gopichand (left) and Treesa Jolly in action during their quarter-final match against Korea's Lee Sohee and Shin Seungchan.
File Photo
---
Calcutta
|
Published 21.03.22, 02:14 AM
|
---
Treesa Jolly and Gayatri Gopichand lost their All England Badminton Championship women's doubles semi-final clash on Saturday, but national doubles coach Arun Vishnu thinks sky is the limit for the duo. Treesa and Gayatri lost to Shu Xian Zhang and Yu Zheng of China 17-21, 16-21 after a 51-minute battle.
"They are the ones for the future. As they play more and more tournaments, they will gain in experience and then see where they reach," Vishnu told The Telegraph from Birmingham on Sunday afternoon.
Gayatri is the daughter of national coach Pullela Gopichand and badminton runs in her veins, while Treesa is from Cherupuzha in north Kerala. "They started playing together from April 2021 and till now have played just 10 tournaments, including All England. So what they have achieved in less than one year is unbelievable," he added.
Treesa is more aggressive on court while Gayatri appears more composed. Coach Vishnu thinks they complement each other well. Treesa unleashes smashes from the backcourt and Gayatri stays at the net to deal with the interceptions.
"In doubles, you cannot have aggressive players together, as too much of aggression can be detrimental to your game. Gaytri is calmer and that helps them as a team. As a team they are delivering."
On Saturday, the Chinese pair handled Treesa's natural aggression quite well and picked out Gayatri as the weak link. "Gayatri and Treesa do not go down without putting up a fight.
"That's the best part. Even in losses, they give their rivals a run for their money. May be they make mistakes at crucial points, but that's because of their age. They will weed out that from their system very soon," Vishnu says.
Gayatri is just 19 and Treesa is a year younger.
Both of them started as singles players but switched to doubles since it suited their style of play. "That's something we decided last year," Vishnu, who works at Gopichand's academy and travels with the duo, informed.
The duo entered quarters after the reigning Olympic champions, Greysia Polii and Apriyani Rahayu of Indonesia, retired in the second game (18-21, 19-14) and then became India's first doubles pair to enter All England semi-finals, defeating South Korean pair of Lee So-hee and Shin Sueng-chan 14-21, 22-20, 21-15.
Last year, their first season on the senior circuit, Gayatri and Treesa were impressive in the Uber Cup. This year they won a tournament in Odisha and finished runners-up in the Syed Modi badminton meet. "Hard work and focus. That's what sets them apart. Even when chips are down, they have the ability to stay in rallies and that unnerves their opponents," said Vishnu.
Their next stop is the Swiss Open, which begins on Tuesday. "We are expecting a good performance from them. Yes, after the All England performance pressure will definitely be there but Gayatri and Treesa are learning to carry the burden of expectations" Vishnu said.