2020 Tokyo Olympics: Love affair with javelin strikes gold
Promising at 14, on top of the world at 23, that has been the course travelled by Neeraj Chopra in the eyes of Naseem Ahmad, the javelin Olympic gold winner's coach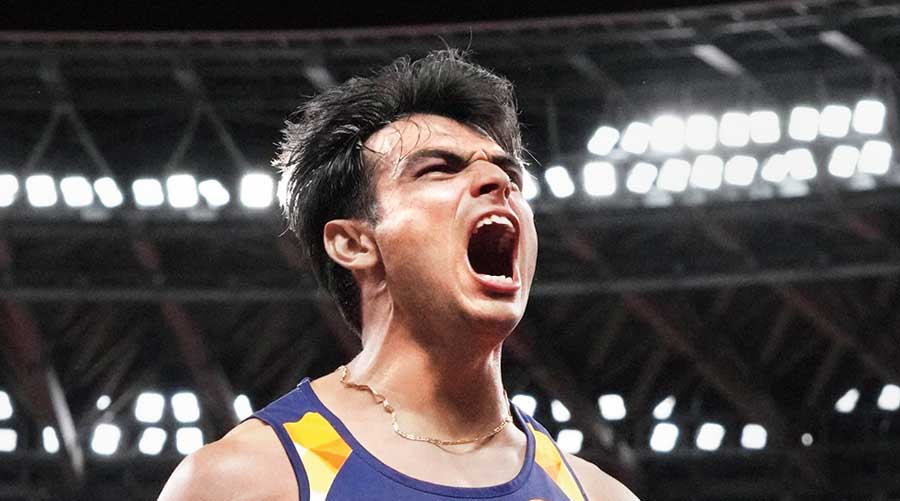 Fireworks erupt above the Olympic Stadium during Tokyo 2020's closing ceremony on Sunday.
Getty Images
---
Calcutta
|
Published 09.08.21, 02:27 AM
|
---
Promising at 14, on top of the world at 23. That has been the course travelled by India's new hero Neeraj Chopra in the eyes of Naseem Ahmad, the javelin Olympic gold winner's coach in his formative years at Panchkula's Haryana Sports Department Residential Academy.
"He came to our academy when he was 14. That was 2011. He looked like 16 and was very sturdy. He was amazingly receptive to whatever he was told," Ahmad told The Telegraph on Sunday.
Ahmad remembers Neeraj's love for the javelin. "He was obsessed with javelin. After practice, he used to be on YouTube watching javelin videos."
Neeraj scripted history on Saturday by winning India's maiden athletics medal in Olympics with a best throw of 87.58m.
Neeraj has made a lot of people famous and Ahmad was honest enough to admit he was enjoying his moment under the sun. After this paper managed to get hold of him on Sunday evening, Ahmad, in the middle of the conversation, hung up since one television channel, which had come to interview him, had left back their tripod.
"I am tired now. Neeraj has made me so famous that my phone hasn't stopped ringing. But yes, I am enjoying all the attention," he said. Ahmad ridiculed the idea that Neeraj was obese. "He was well-built. This motapa (obesity) is all bakwas (wrong). I would not be surprised if someone claims he started by throwing ganna (sugarcane sticks) before hurling bhalla (javelin). Anything is possible now that he has won gold. But yes when he came to Panchkula from Panipat, we made sure he did a lot of core exercises. And he did everything, whatever he was told," he said.
Ahmad last spoke to Neeraj when he was in Europe before the Tokyo Olympics. "He was in Europe when we spoke. He told me he was going for the gold. Otherwise his good friend Narender Ranbir used to keep me updated."
Narender is a javelin thrower who represented India in the 2012 and 2016 Paralympics. "They are very close," Ahmad said.
Next year, Neeraj has a packed schedule. The Commonwealth Games, Asian Games and World Athletics Championships. "The focus will be on him, an Olympic champion. But he has a calm head so he will be able to handle the pressure," Athletic Federation of India (AFI) president Adille Sumariwalla said.
"He will be the man everyone will be watching out for," Ahmad said.
Overwhelmed
Klaus Bartonietz, the bio-mechanics expert who guided Neeraj to gold, on Sunday said he felt "overwhelmed".
"I feel overwhelmed that Neeraj was able to win a medal, not a bronze, not a silver but a gold and he became the best javelin thrower in the world," Bartonietz said in a short clip released by AFI.