2005 or 2022, King Rafa reigns
Victory secures Rafa his 14th men's singles title at the tournament, extending a Roland Garros record that looks more unbeatable with every passing spring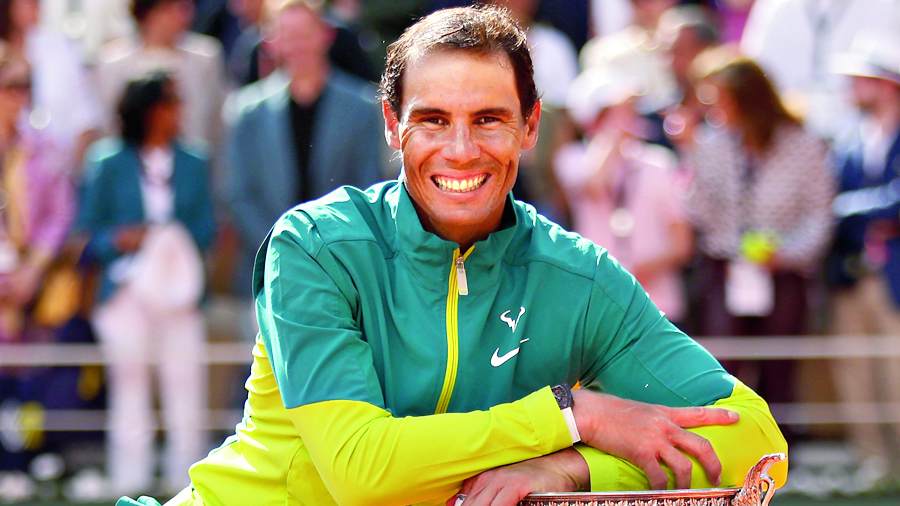 Rafael Nadal with the Coupe des Mousquetaires (The Musketeers' Cup) at Roland Garros on Sunday.
Getty Images
---
Paris
|
Published 06.06.22, 02:23 AM
|
---
He fooled us again, which is, in itself, quite a feat at this stage of the game.
Perhaps Rafael Nadal really means it when he talks down his chances at Roland Garros, and there was certainly no fakery involved last month when he limped and grimaced through the final set of an early-round defeat at the Italian Open and looked particularly weary of the grind and the chronic pain in his left foot.
Nadal did indeed find himself in unfamiliar territory as he returned to his favourite stomping ground of Roland Garros, having won here for the first time in 2005. He was very short on clay-court matches and without any clay-court titles this season as the tournament began. Novak Djokovic appeared to be regathering momentum. Carlos Alcaraz, a young Spaniard, seemed to be rising like a rocket.
But there is no tonic quite like the Parisian red clay for Nadal. And on Sunday, after working his way through the loaded top half of the draw, he was much too much, even at less than his best, for the No. 8 seed Casper Ruud in the French Open men's final, winning 6-3, 6-3, 6-0 in a match that lasted 2 hours and 18 minutes.
The victory secured Nadal his 14th men's singles title at the tournament, extending a French Open record that looks more unbeatable with every passing spring.
He also extended his lead in the three-way majors race with Djokovic and Roger Federer. Nadal now has a men's record 22 grand slam singles titles, two more than Djokovic and Federer. Sunday's triumph, with Billie Jean King and King Felipe VI of Spain in attendance, also made Nadal, at 36, the oldest man to win the French Open, surpassing his compatriot Andres Gimeno, who won the title in 1972 at age 34.
"I for sure never believed I would be here at 36 being competitive again, playing in the most important court of my career one more time in the final," Nadal said. "It means a lot to me, means everything. It just means a lot of energy to try to keep going."
Nadal has repeatedly referred to the possibility that he could be playing his final French Open. But after slamming the door on Ruud on Sunday and then hugging him at the net, Nadal made it clear that this was not going to be the tennis equivalent of a walk-off grand slam.
"I don't know what can happen in the future but I'm going to keep fighting to try to keep going," he said as the sellout crowd of 15,000 roared its approval.
Nadal was not at his best early and was at times far from his best – losing his serve in the third game with two double faults and an off-rhythm forehand unforced error into the middle of the net.
But Ruud was also struggling to find his way. His one genuine surge came at the start of the second set, when he broke Nadal's serve again to take a 3-1 lead but at 30-30 in the next game, Ruud lined up an inside-out forehand and perhaps sensing that excellence was required, went for just too much and missed.
Nadal broke him back on the next point and would not lose another game, finishing the match with a backhand down the line in the sunshine.
Nadal is in the midst of one of his most remarkable seasons, despite the chronic pain that left him so downbeat in Rome and required intensive treatment in Paris.
After missing nearly all of the second half of the 2021 season because of the foot problem — he has a condition known as Mueller-Weiss syndrome — he roared back to win the Australian Open, rallying to defeat Daniil Medvedev in a five-set final.
He went on to start the season with 20 straight victories before losing in the final of the BNP Paribas Open in March to American Taylor Fritz, in part because of a new injury: a stress fracture in his ribs. That forced Nadal to take another extended break.
He was beaten by Alcaraz in the quarter finals and then beaten by Denis Shapovalov in the round-of-16 in Rome. But Nadal arrived at Roland Garros with his long-time physician Angel Ruiz-Cotorro, who was able to help Nadal manage the pain and a very rough draw.
So many records. So much enduring excellence, and Ruud, an affable 23-year-old Norwegian, certainly needed no reminder of his opponent's achievements as he walked into the Philippe Chatrier Court as the first Norwegian man to play in a grand slam singles final.
Ruud, who broke into the top 10 last year, has had two main role models as he emerged from a nation better known for excelling on snow than on clay. There was his father, Christian, who coached him and was a tour-level player ranked as high as No. 39 in 1995. And there was Nadal.
He began training regularly with his team at Nadal's tennis academy in Majorca, Spain, in 2018 and even played — and lost — practice sets against Nadal.
He also has played golf with Nadal, thinking he was in for a relaxed experience only to discover that Nadal's competitive streak was not restricted to the tennis court.
But Sunday was Ruud's first chance to face Nadal on tour.
"To play Rafa in a Roland Garros final is probably the greatest challenge there is in this sport," Ruud said.
That was before the final, and on Sunday afternoon after it was over in a hurry, Ruud made it clear in his runner-up speech his that he had not changed his mind.
"It's not easy, I'm not the first victim," Ruud said to Nadal. "I know that there have been many before."
'Big W a priority'
Nadal said he will play at Wimbledon, starting on June 27, if his body allows him to, according to Reuters.
"I am going to be in Wimbledon if my body is ready to be in Wimbledon. Wimbledon is not a tournament that I want to miss," he said.
Nadal explained that he had played Sunday's final with a numbed foot thanks to a series of injections throughout the tournament, but that he would not go through a similar procedure again for the grasscourt Grand Slam.
"Wimbledon is a priority, always has been a priority. If I'm able to play with anti-inflammatories yes," Nadal said. "To play with anaesthetic injections, I do not want to put myself in that position again. It can happen once but no it's not the philosophy of life I want to follow."
Giving details on what comes next for him, he said:"It's going to be a radio frequency injection on the nerve and trying to burn a little bit the nerve and create the impact that I have now on the nerve for a long period of time.
"That's what we are going to try. If that works, I'm going to keep going. If that does not work, then it's going to be another story."
(New York Times News Service)