Meet the snazzy Vivo V20
Here's a phone that is not another boring slab of glass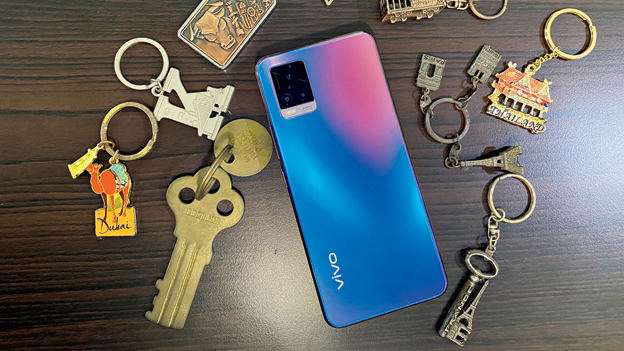 ---
---
Most mid-segment cars look roughly similar, offer similar mileage and similar comfort levels. Only some have more service centres than the others. And some of them experiment more than the others. Barring the top few global brands, few smartphone manufacturers dare to experiment, not just in way of bezels and notches but what goes on the camera front. On the new Vivo V20, the goal is to offer a good camera experience since most of the other features are now commonplace. Of course, there are many good alternatives in the market, but an existing Vivo user will first look at a Vivo phone first. Here's our experience of the phone over a few days.
Selfie prowess
The front 44MP camera (earlier in the year we saw the Oppo Reno3 Pro sporting a 44MP+2MP dual selfie camera) at a glance looks like the last one you may have used. It can be appreciated more in group selfies and even more when using it as a vlogging camera in public spaces. The usual problem with the front snapper is limited auto focus feature, which has been improved on substantially on the V20.
Instead of locking the focus to only a face, it can track one's eyes, even while on the move. Say a vlogger is introducing a subject in the background using the front snapper, chances are there would be people in the background. The focus of the camera will stay on with the vlogger no matter how quickly he or she moves. It's quite good and works seamlessly.
Also working in favour of vloggers is the "Steadiface" video mode which offers stablisation, cutting off all kinds of blurry effects. Shoot in 4K using the front camera and then add some dazzling effects — just what Instagram followers would like.
Helping the V20 is the ability to record with the front and rear cameras at the same time. Either you can go picture-in-picture or dual-view mode. Much of this seems to be inspired by the DoubleTake app on iOS.
As much as we like the stablisation and the clarity of the pictures (even at night), there is some amount of oversaturation of colours, which is something most Instagram users in India enjoy. Second, audio quality. Much of the good work on the video front gets negated by the muffled audio. Vivo needs to work on how audio gets captured, like on devices from Samsung or Apple.
Steady camera offerings
On the rear is a 64MP main camera, an 8MP multi-function camera and a 2MP mono shooter. Let's not get into figures because these can be misleading. First the main camera. The colours are obviously very vibrant in shots taken under good lighting. Vivo has ironed out a problem one may have faced earlier — night photographs. With multiple exposures and noise cancellation algorithm, there is a marked improvement in shots taken under uneven or low lighting. The colour temperatures, once again, would suit most Insta users.
What could have been done better are the super wide-angle mode and the UI. Super wide-angle photos are not bad at all but there is a slight distortion, depending on what you are capturing. The outer edges of my room's ceiling looked slanted by a couple of degrees. Second, to get into the super wide-angle mode (and even bokeh), one has to click on 'lenses' first, which is cumbersome.
Shooting with the stablisation mode on, videos look great and though it may not have Osmo gimbal-standard quality, credit goes to Vivo for doing a good job. In the same breath, audio clarity could have been better.
Sleek performance
Not just on the camera front, the V20 scores a few wins in the design department as well. At 172g and only 7.48mm thick (Sunset Melody variant), it's one of the most comfortable phones to carry around. There is an anti-glare matte glass which makes it comfortable in the hand. At a glance, the rear panel looked like a fingerprint magnet but it managed to keep most smears at bay. We had the Sunset Melody variant for review and when the camera went for a quick round of the neighbourhood, a few people had queries about the looks. Personally I like muted finishes, but I don't represent Vivo customers. It's bright; it mirrors an eye-catching spectrum of colours; it's a stunning design for most people.
Powering the V20 is Snapdragon 720G, which we know is a very able gaming-focused processor. It makes sense to go with the 720G over the 730G, which bumps up the price. The processor also has Qualcomm aptX HD support for 24-bit wireless audio output. Zero complains in terms of the processor as most tasks get completed without any lags and the same goes for the 4,000mAh battery, which is sufficient for using the device (comes with Funtouch OS 11 based on Android 11) the entire day. There is a 33W FlashCharge, so there is no reason to worry.
Is it for you?
Vivo has certainly upped its camera game for its brand's users. Slight improvements in the audio department would go a long way in helping vloggers. But if you are not a brand loyalist and wouldn't mind stepping out of your comfort zone, Google Pixel 4a is here and is known for its camera and, of course, long-term Android support. The best thing about Vivo V20 is that it's not another monolith slab of glass. It simply re-energizes the selfie game while packing in enough innovations to keep customers happy. It's a good looking phone with snazzy snappers.
At a glance
Device: Vivo V20
Display: 6.44-inch AMOLED FHD+ 20:9, 408ppi
Processor: Snapdragon 720G
Storage: 8GB RAM + 256GB
Camera: Rear — 64MP + 8MP multi-function + 2MP mono; front — 44MP eye autofocus
Battery: 4,000mAh
Price: Rs 24,990 (8GB+128GB) and Rs 27,990 (8GB+256GB); will go on sale on October 20