The new iPhone 12 series
All the four choices are lightning fast and equally privacy-driven. Yet, each member in the family has its identity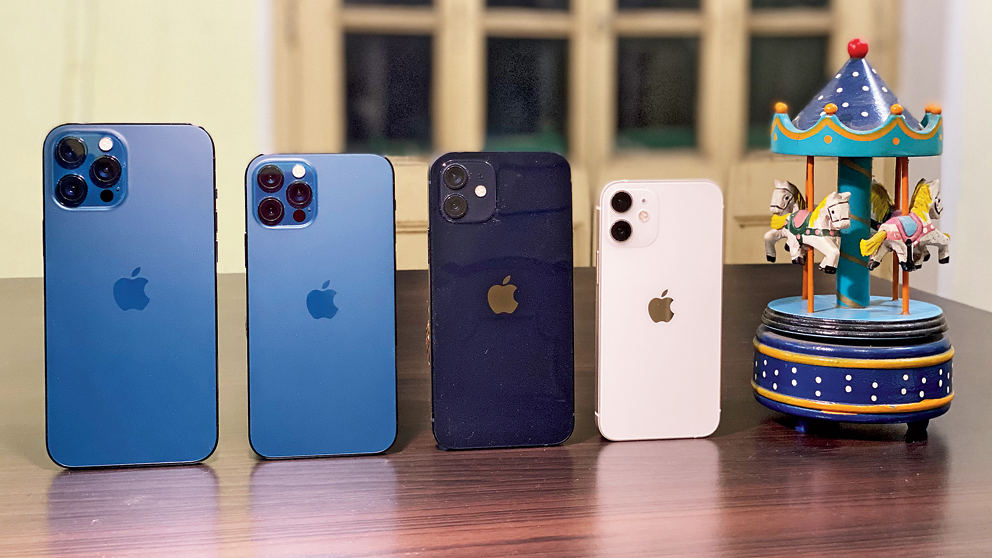 The members of the new iPhone 12 series are (left to right): iPhone 12 Pro Max, iPhone 12 Pro, iPhone 12 and iPhone Mini. All of them share a practical and playful design.
The Telegraph
---
Published 13.12.20, 09:29 PM
|
---
iPhone 12 Mini: Perks of a small phone
Apple made a calculated decision when creating a mini version of the iPhone 12, without compromising on specs. The experience is meant to be consistent across all the new iPhones but a smaller chassis translates into some obvious differences — screen size, battery, speaker and lifestyle choices. It's possibly a great upgrade for someone who is holding on to an iPhone 8 or an older iPhone SE (2016). Yes, iPhone owners like to hold on to their old phones because they are good enough to last several years.
Some people just prefer smaller phones because it fits in the palm easily or slips into trouser pockets. Unlike the iPhone SE, there is no thick bezel or the huge forehead and chin. Though small, the screen is absolutely brilliant and the experience of video watching is outstanding. I could even indulge in some casual gaming. Each time the phone lands on the table, I end up wondering why other companies are not pursuing this road.
It's super light and super easy to type on. A few days ago, I had to help a 78-year-old to take a picture using WhatsApp for her daughter. Not that she is tech challenged but she has problem holding heavy phones and stretching her fingers across big screen. For her the iPhone Mini is the perfect choice.
The other interesting part is battery life. When you have a small phone, there will be a small battery inside, which means people buying an iPhone 12 Mini know what they want from their phone and the phone battery will be enough to last an entire day.
The neural engine that Apple has for all the four iPhone 12 ensures all details are captured in photographs. Shooting against the light is not a problem, something many expensive cameras also fail at. The iPhone understands the scene and does what it is supposed to do.
Not only it's the perfect phone to cut off unnecessary screen time, it's something I would like to use at a time when we are working from home and constantly on other devices. I like having a one-handed phone without sacrificing any power or features.
iPhone 12: The phone for almost everyone
The design change we see in the new iPhones is not necessarily new. The squared off sides reminds one of the iPhone 5 but at the same time, that phone appeared long ago. The refreshed design is best felt on the iPhone 12, which is the device most Apple enthusiasts would end up buying. It's the size that everyone likes. It has enough battery to take care of all your needs. And the sides of the phone can be used while taking long-exposure shots — just place the phone on something flat and go click-happy. Besides, watching films without having to prop up the phone really helps.
A key difference between the iPhone 12 and the 12 Pro is that in the former there is a wide and ultra-wide camera while a telephoto lens forms the third lens in the latter. Yet, even this phone takes advantage of computational photography which gives you enough control over all the pictures you take. There is smart HDR and night mode. Night mode, in fact, works on all the cameras, including the selfie shooter. Many just want an iPhone but don't want to explore smartphone photography too much. In case videos are on your mind, it comes out quite well… of course, as long as you frame it well!
The battery has enough juices to last you a day. Apple has brought down the gap between the iPhone 12 and 12 Pro a lot and make no mistake, this is the iPhone for most.
iPhone 12 Pro: click-happy users
What I appreciate about the Pro model is the telephoto lens as well as having a Lidar sensor. Lidar technology has been around for some time but not on phones. Lidar basically bounces signals off objects and returns distance-related information to the camera, which comes in handy for AR apps as well as photography. It basically helps in super-fast auto-focus. Since Lidar is not dependant on light, in low-light situations, the feature comes in handy. And it doesn't misfire in the sense that it gets it right now and then. It's precise each and every time.
Not just photo, the improvements on the video front is also amazing. You can shoot a professional-grade video and upload it on, say, YouTube. It's the phone most vloggers would want to have. It's a phone for those who want to push their camera skills.
iPhone 12 Pro Max: King of smartphones
You have probably heard this a million times but there is no 90Hz or 120Hz screen refresh rate on any of the new iPhone 12 models. And you won't miss it at all. The level of software optimisation Apple employs on its phones, refresh rate doesn't really matter. What you get on this phone is a 6.7-inch OLED, super retina XDR display, which is probably the best in the industry.
At its heart is the same A14 Bionic chip that powers all the other iPhone 12s. It's the fastest chip in the industry but you won't really notice any difference in speed if you are even upgrading from the iPhone 11 Pro Max because iPhones have always been fast. Where the chip makes a big difference is how photographs and videos are processed.
What I want to use on Pro Max is Apple's ProRAW, which will be a game changer. Available any day now, it will excite serious photographers. So far, iPhones have natively captured photos in JPG or HEIC (high efficiency) formats. Both the formats are efficient, resulting in files that are easily shareable and smaller in size. What you lose is a lot of data, which photographers would like to have. These are photographers who like to shoot in RAW format while manipulating the data in the editor of their choice.
Apple ProRAW is going to work on all the cameras of the phone while saving the files in a format that will give you access to editing options, which, by the way, can be done natively on the phone. What is being promised is a better grip over colours, contrast, dynamic range and even image segmentation.
Being a biggish phone, it has a biggish battery, which helps photographers. In case you are wondering whether to buy the Pro or Pro Max, let's make your decision simpler. Ask yourself if you have mastered the basics of smartphone photography. If the answer is 'yes' then go for Pro Max, otherwise start with iPhone 11 Pro. The features that bind them
Super Retina XDR display is on all the new phones, giving you all the benefits of having an OLED panel… dark blacks, bright white and a full range of colour spectrum.
Dolby Vision HDR is a new video technology that's available on all the new iPhones. It takes video recording on the new phones to a new level.
There is an ultra-wide mode on all the phones and night shots come out just perfect.
A14 Bionic chip runs the show on the new devices. It is the fastest chip on a smartphone, plus, it ensures that your phone will not get outdated for years. It's good enough for at least three-four years.
Ceramic Shield front is an important addition because it gives all the phones four times better drop performance. Face it, you will drop your phone a few times. The shield gives new phone screens extra protection. And remember, this is drop (and not scratch) resistance.
Water resistant to a depth of six metres for up to 30 minutes.
All the phones have the same design philosophy, which most other brands don't.
They all can use the new MagSafe wireless charger, which makes charging easy. But you have to buy it separately.
The same level of privacy can be enjoyed on all the phones. Just because you are paying more for one phone and less for the other, shouldn't mean privacy should be selective.