Maono AU-PM421: The podcasting microphone for you
It delivers what it promises without breaking the wallet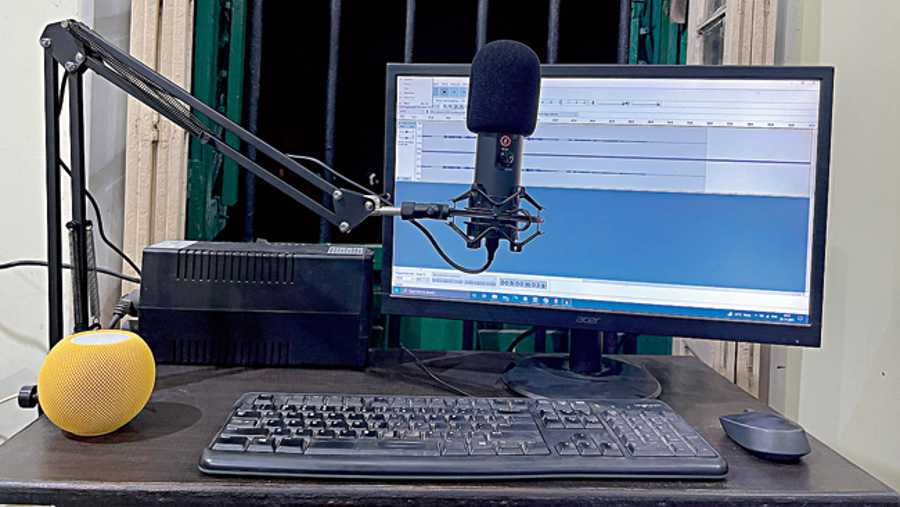 ---
Published 30.11.21, 04:03 AM
|
---
Producing your own podcast is not an expensive affair, once you get the set up right. All you have to do is record the show, edit the show and post it online. There are a number of ways to record podcasts. First, there can be one person talking into a microphone that's attached to a laptop or a larger format with several people sitting around the table with individual microphones, all plugged into a sound-mixing board that's connected to a computer. Decide where your podcast stands. Second, don't get carried away getting a set up that's expensive at the starting block. At the same time, consider what your podcast equipment kit is coming with because small accessories add to the cost. We have been using Maono AU-PM421 for some time, which offers an entry-level set up into the world of podcasting.
Easy installation
Being an entry-level kit, what you get in the box is certain to give you a good experience. There is a desk-mount clamp, wind filter, pop filter, boom arm, shock filter and, of course, the microphone. There are kits from other brands that don't come with something like a pop filter, which adds to the cost. So the contents of the box are enough to get you started.
The boom arm is flexible enough for beginners and even after weeks of usage none of the parts have become wobbly. The entire set up took us five minutes and that too without using the manual, well who needs a manual, anyway?! The microphone has a good build quality and some heft to it.
There is a gain button on the microphone and a responsive mute button. The only downside is that when the microphone sits snugly in the shock mount, the gain knob gets somewhat tricky to adjust (we managed to get around it by allowing the microphone to sit in the shock mount but not deep into it).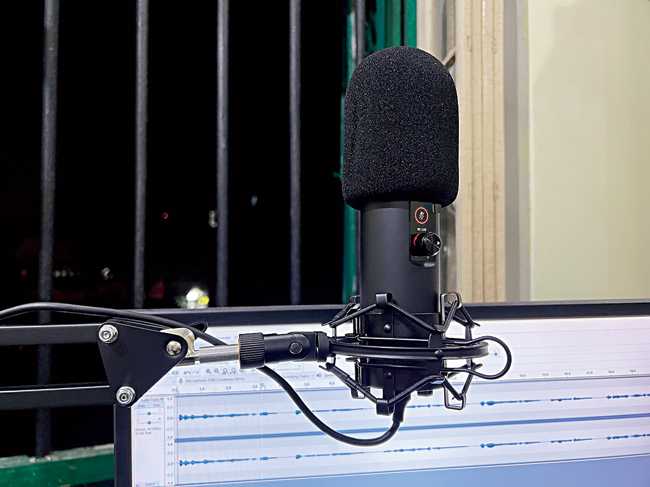 Warm audio output
What you get on this condenser microphone (192kHz/24 bit) is cardioid polar pattern, which is good enough to get started with. There is no end to spending on a microphone and you may opt for something like Blue Yeti, which is a far costlier option. What you need to remember with a cardioid microphone is that it has a unidirectional cardioid polar/pickup pattern. It picks up sounds coming from the front and rejects almost everything that's coming from the back of it. Maintain six to eight inches of distance from the microphone to get the maximum out of this one.
Like we mentioned earlier, this is a simple podcast microphone. You can't add another mic to this mic because the computer is going to see this mic as the only audio source. So what you will need is a multi-channel audio interface or mixer to run the events through for a complicated set up.
I also use Rode NT-USB Mini, which comes with a magnetic stand. Though I have to lean slightly into it because the stand is not very high, the sound between these two microphones is comparable. Where Rode has an edge is the connector. With Maono, what you get is USB-B to A cable, which is not something you would like in case you use the iPad to record podcasts (Rode offers USB-C and that's what you need to look for in case the iPad is important).
An advantage AU-PM421 enjoys is the pop filter, which cuts off all the P-sounds in your life. For a pathetic-sounding Bugs Bunny like me, this is super helpful and the pop filter is of very good quality. So go ahead and say, "Peter Piper picked a peck of pickled peppers. A peck of pickled peppers Peter Piper picked." It works well.
When it comes to audio quality, there is a certain amount of warmth in the spoken words while the Rode NT-USB Mini offers a slightly open sound. It depends on what you prefer. You can use AU-PM421 to record songs and it sounds fairly good. Keep the gain control to somewhere in the middle to get the best out of it. In case you are wondering about the software to use, keep costs low by using something like Audacity.
Should you buy it?
By all means. What you get is a bundle of things to get you started. Maono delivers what it promises without breaking the wallet. By having simple accessories like a pop filter and a wind filter in the box, the overall cost is reduced. It's plug-and-play, minus third-party installation. For those dipping their toes into podcasting, this is an ideal kit and what Maono does is encourage you to pursue the new path you have chosen. You can always go for more expensive sets but it's best to start small and then scale up. Sparkling sound? Check. Easy to use? Check. That's Maono AU-PM421 for you.
At a glance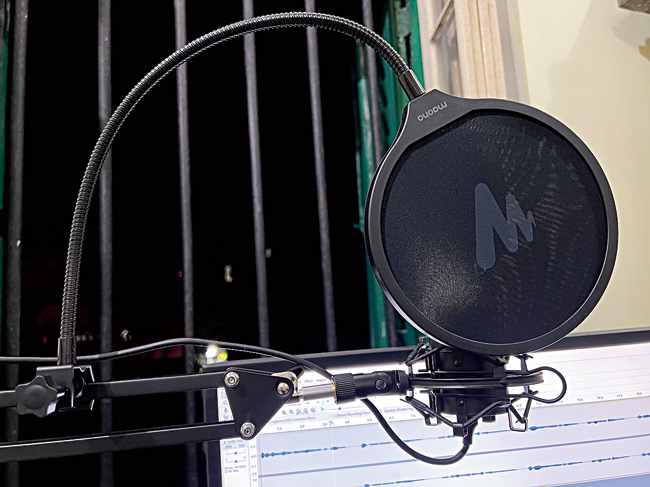 Device: Maono AU-PM421
Price: Rs 5,499
High notes
• Good starter kit with all the accessories needed to begin a podcast
• Well-rounded sound
• Acceptable build quality
• Plug and play
• Full metal casing
Muffled notes
• USB B to A connector