It would be an understatement to say that Raja Ravi Varma gave Indian art a fresh colour palette. The legendary artist's 172nd birth anniversary was recently celebrated with Google Arts & Culture rolling out a comprehensive digital retrospective of his paintings, prints, sketches and rare photographs. These are presented alongside works inspired by the artist — on canvas, textiles, as studio photography and even as matchbox art! The retrospective features more than 30 stories and more than 700 images and videos from nine institutions, including The Raja Ravi Varma Heritage Foundation, National Gallery of Modern Art New Delhi, The Ganesh Shivaswamy Foundation and Museum of Art & Photography.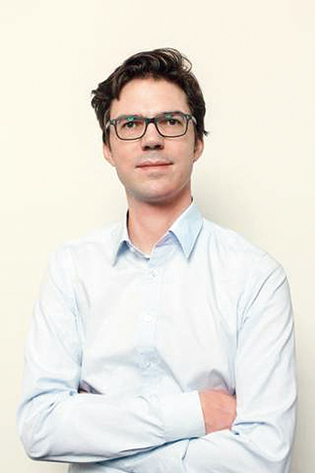 Simon Rein, programme manager, Google Arts & Culture Sourced by the Telegraph
The Telegraph had a chance to inbox a few questions to Simon Rein, programme manager, Google Arts & Culture. Here's what he told us.
How is the Raja Ravi Varma exhibit on Google different and what makes it noteworthy?
The idea behind Google Arts & Culture is to make our cultural heritage more accessible online. Of course, nothing beats the experience of seeing an artwork for yourself in a museum, but putting it online opens many possibilities. For the online retrospective on Raja Ravi Varma, that you can now find under g.co/RajaRaviVarma, various museums from India, the United Kingdom and the United States have contributed to one joint collection that you couldn't easily have brought together in a museum. The collection introduces a special new experience that pairs Ravi Varma's paintings with Indian classical music. It features a series of high-resolution images, like 'Mahananda', that we have digitised in a way that allows you to zoom deep into the lithographic prints. You can see details that are usually invisible to the naked eye. I really believe that the appreciation of art on site and virtually complements each other in many ways.
His paintings changed our perception of feminine beauty. How does the Google exhibition highlight this aspect?
It's our partners, the museums and archives, that choose what part of their collections they want to show and what stories they want to tell about them. While I was going through the exhibitions, I was struck by how Ravi Varma captured beauty in so many forms, not just in people but also in nature. I particularly like how he used colours to create lasting impressions. In that regard, one of my favourite paintings from this retrospective is 'Madri'.
Oleographs played an important role. How much of that aspect gets highlighted in the Google exhibition?
It's in fact one of the topics that caught my interest. While reading the exhibition 'Wanderers Between Worlds', I learnt about the printing press that Ravi Varma had set up in 1894, and how his popular paintings were turned into colour prints that then became calendars and advertisements, which then made him a household name in India. The technician at his printing press, Fritz Schleicher, was German. Varma was a truly global artist, in many senses of the word.
With the Covid-19 pandemic affecting every aspect of life globally, how important would virtual exhibitions become in the coming months?
Google Arts & Culture was founded in 2011, with the objective to make art accessible for all. Anyone can experience the best of the world's museums with their mobile phones and tablets — and not just by browsing the collections or going on virtual tours to the most famous museums. You can also bring the artworks into your living room in augmented reality using 'Art Projector' or turn your pictures into art-inspired masterpieces using 'Art Transfer'. We have been collaborating with museums and archives for the past nine years to make this possible and will continue to do so. I hope the experiences can bring a bit of joy to people at home, now and in the future.
Another important aspect of Google Arts & Culture is taking netizens on an exploration of India's landmarks. What are some of the projects you are working on at present and how important is Bengal and Calcutta on this front?
The Indian landmarks have been part of our project from early on. The Archaeological Survey of India was one of our first partners in India. Since then, we have been working with institutions who have a broad understanding of India's historical and cultural landmarks. Take the exhibit on Bishnupur terracotta temple, or explore Darjeeling Himalayan Railways, or Crafted In India.
What is Google doing to introduce youngsters to the world of art, maybe in a fun way?
We recently unveiled a new experience, titled 'Family Fun with Arts & Culture', and an activity workbook, that families can enjoy together. There's a lot of technology that can be fun to use for the whole family, while still being educational. A couple of months back I showed my niece and nephew how a dinosaur from the Natural History Museum in Berlin comes back to life in Virtual Reality. I can tell you, some joyful screams were heard!