Ajey Mehta of HMD Global tells about new phones and an old friend who keeps getting better— KKR
With more and more youngsters picking up Nokia phones, no wonder HMD has been successful in giving Nokia a new lease of life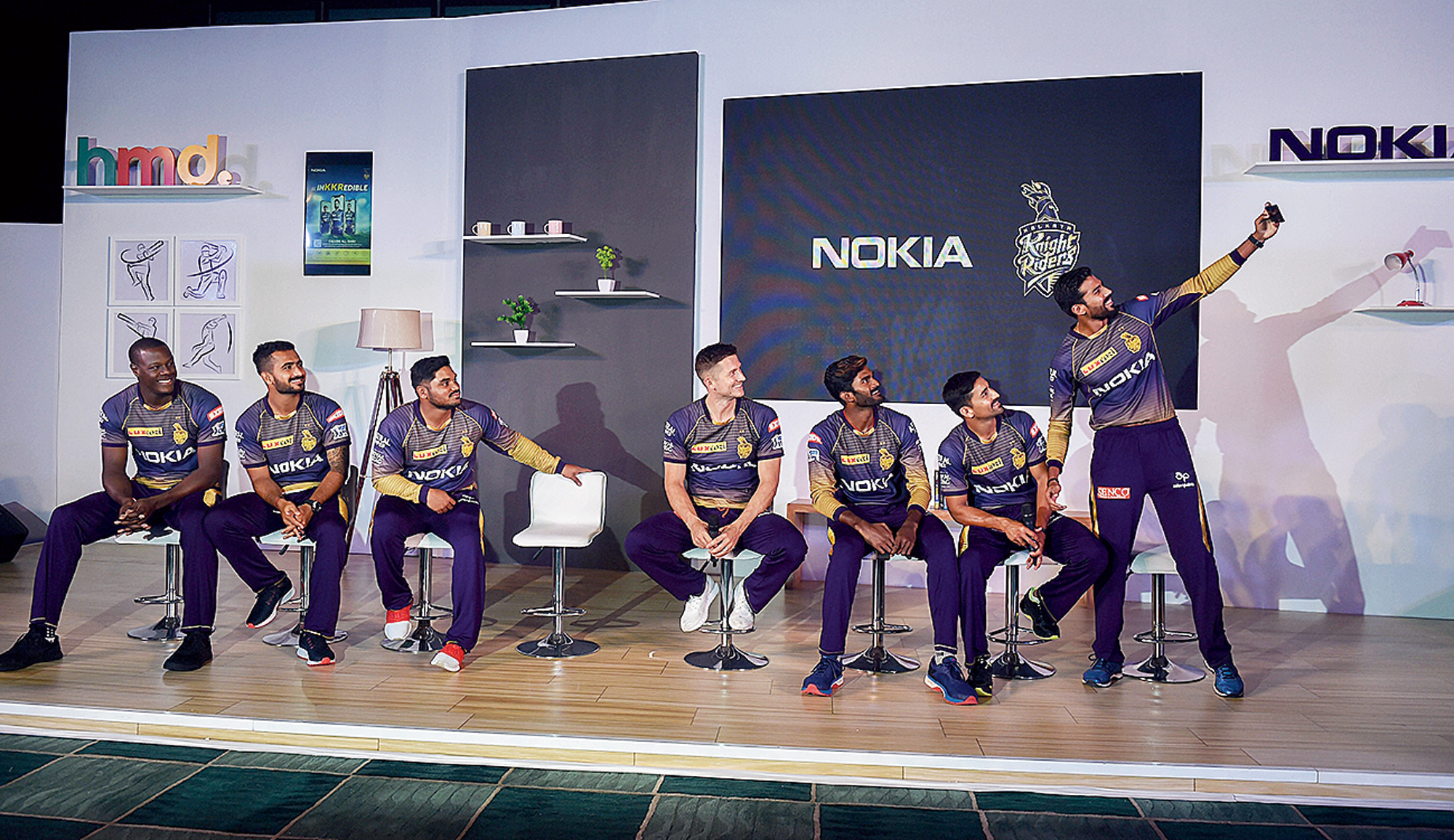 KKR players take a selfie on a Nokia phone.
PTI
---
Published 24.03.19, 03:13 PM
|
---
Wearing the KKR jersey, Ajey Mehta, HMD Global vice-president and country head (India), was brimming with confidence as t2 showed up. He had an outstanding time at this year's Mobile World Congress in Barcelona where he gave the world a glimpse of the Nokia 9 PureView with a five-camera setup on the back and is now all set to take the brand's partnership with the Kolkata Knight Riders to a new level. With more and more youngsters picking up Nokia phones, no wonder HMD has been successful in giving Nokia a new lease of life. What lies ahead for HMD Global? Here's what the former La Martiniere for Boys student told t2.
What has HMD Global in store for Nokia?
Obviously we are looking at driving our business forward. We do believe that our phones are more about experiences rather than just hardware. And we also believe it is the best Android experience you can get because we always deliver the latest version of the software, complete with the latest updates. Meanwhile, the Nokia 9 is coming your way.
Tell us more about the five-camera setup on the Nokia 9 PureView.
There are five cameras on the back of the phone, three monochrome and two colour. Five photographs are taken simultaneously, then they are algorithmically combined to give the best possible image. There is good depth in the photographs taken on this phone. Also, there are multiple options that you can use on the image.
The phone is meant for tech enthusiasts and also professional photographers. There is dynamic range, which means colour contrasts come out really well. The bokeh mode on this is brilliant. We have tried to bring the best from the stable of Zeiss and we have also put in a lot of effort in building what is one of the best imaging devices around. Do five cameras mean more of augmented reality?
We are trying to drive all the experiences that are possible with our phones. Of course, we go with Android One, which is pure Android, and we rely on Google to drive the applications and experiences. But yes, in the industry there is AR, VR and mixed reality. And I do believe the phone will become more central in delivering these experiences in the coming months, especially with the coming of 5G technology.
Is it too early to speak about 5G?
The massification of 5G is a little far away. I think it would take 12-18 months. I do see dramatic shift in way of experiences and I see new technologies coming in; not just in smartphones but also beyond. It's a very exciting stage to be at.
Google's Internet Saathi programme has helped spread digital literacy across India. Do you think feature phones would disappear in the next two years?
I still see a role for feature phones. There are around 500 million feature phone users. There is a large section of the population that just wants voice and message services, besides a fantastic battery life. If you talk of the next 24-month horizon, I see a strong role for feature phones, 4G as well as 2G and 3G. Yes, the shift over to 4G and smartphones will happen, now that many have got a taste of the 4G feature phone… the Jio phone… which has shown the potential of the Internet and data. We will see more people shift to smartphones. But I don't see the feature phone category diminish in importance.