Why is the CPI(M) reduced to spiteful frothing at the mouth?
Ridiculing a rival politician's English reveals a party's pathetic failure to come up with a meaningful electoral plank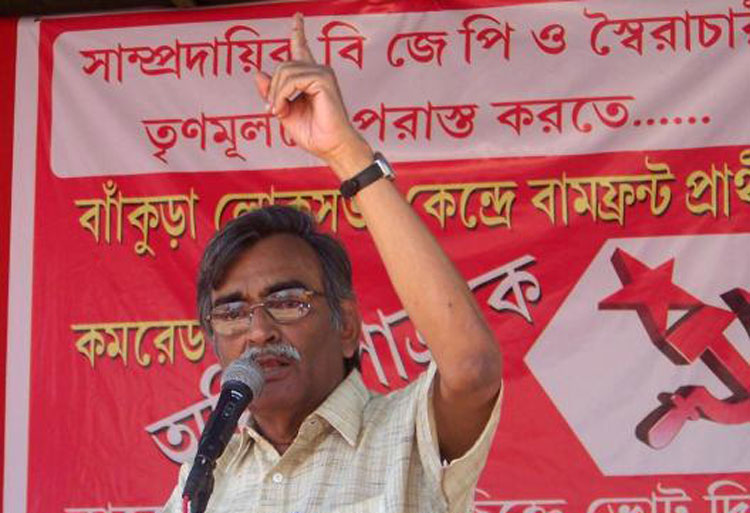 West Bengal Opposition leader Surjya Kanta Mishra tweeted recently, lamenting the loss of the 'r' sound in a series of English words used by the chief minister of West Bengal
Telegraph file picture
---
Published 05.05.19, 07:00 AM
|
---
One of the greatest achievements of the English letter 'r' is to have led the word 'red'. For red is the colour of the flag of the Communist Party of India (Marxist), and people should vote wisely to get it back in Bengal. Such was the innovative tweet put out by Surjya Kanta Mishra, leader of the Opposition in the West Bengal assembly and state committee secretary. His tweet lamented the loss of 'r' in a series of English words from 'government' to 'project' that are used by the chief minister of West Bengal. Not that she was named, but the reference was obvious. But all Mr Mishra's wit did was to make him and his party look comic. To ridicule a political rival's pronunciation of a language that numerous people in the state and in the country have uncertain access to is an indication of the CPI(M)'s bankruptcy in the realm of ideas, policies and promises. More so, because Mr Mishra's tweet takes its birth from the old aspiration of the Bengali to speak perfectly pronounced English, a colonial hangover that lingers, it seems, among the flag-bearers of red. While Indian politicians from the north of the country and elsewhere bother least about their English, Bengalis feel tongue-tied unless they are confident in that language. Is Mr Mishra deriding a politician for not having that hangover?
It is not funny, of course, that Mr Mishra is suffering from amnesia. He has forgotten that his party drove English in the foundational levels in schools out of Bengal in its passion for the mother tongue. Flipping and flopping, it ultimately brought it back in the lower classes, but the damage was done. Students from Bengal fared badly in all-India tests and other entry points for a long time. Mr Mishra's outburst of love for correct English pronunciation may prompt those least enamoured of his wit to ask what he and his party thought they were doing when they ripped English away from the school syllabus.
But most revealing is Mr Mishra's English-knowing 'gentlemanly' tone, looking down upon those who speak imperfect English — which would be much of the electorate he thinks he is wooing. From the leader of a party that claims to fight class oppression and idealizes a classless society, this is a hilarious revelation. It is, after all, a class difference that Mr Mishra is ridiculing, exposing his disdain of a political leader's background. No doubt defeat after a clean run of 34 years does rankle. Would Mr Mishra and his party been somewhat consoled if defeat came at the hands of someone who knew where to put the 'r'? Or at least sported a dhoti, or even trousers? There are a whole lot of things that the CPI(M) and its leaders could have attacked as Opposition; they must ask themselves why they are reduced to spiteful frothing at the mouth.