Where the grass is white
Autumn set against an autumnal bloom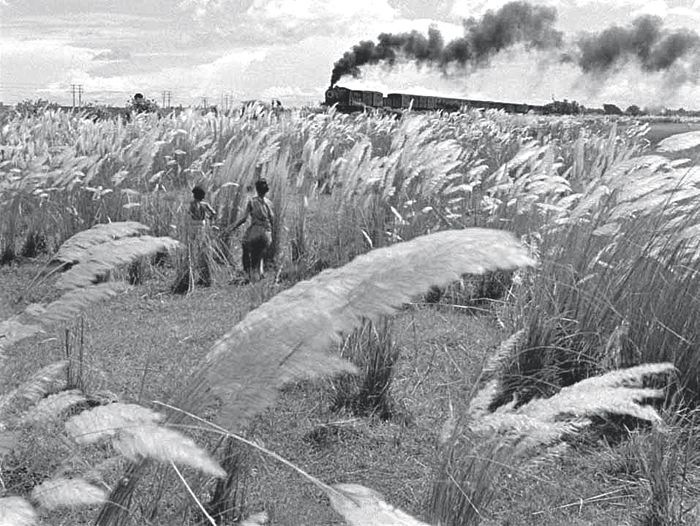 ---
---
It is the season of Saccharum spontaneum. Kaashphul — Saccharum spontaneum is its scientific name — native to the subcontinent, is the harbinger of autumn and the beloved Goddess in the Bengali mind. The sight of Kaashphul may now be rare in the city, but a journey to Bengal's villages and suburban towns is still made special by glimpses of what Satyajit Ray described poignantly as a "sea of fluffy whiteness". It is possible that these romantic blinkers have prevented laymen and even those with luminous minds from noticing that the moniker, Kaashphul, could, in fact, be an etymological sleight of hand. Saccharum spontaneum is, apparently, a grass native to India, especially its riverine chars. Incidentally, Ray's discovery of the difference between flower and grass had come at a price.
Ray chronicled his moment of discovery and subsequent despair inimitably in Our Films, Their Films (1976). "I remember the first day's shooting of Pather Panchali very well... It was an episode in the screenplay where the two children of the story, brother and sister, stray from their village and chance upon a field of kaash flowers... At the end of the first day's shooting we had eight shots... However, the scene was only half finished, and on the following Sunday we were back on the same location. But was it the same location?... What was on the previous occasion a sea of fluffy whiteness was now a mere expanse of uninspiring brownish grass." A local peasant had solved the riddle for the puzzled director. Kaashphul, he had informed Ray, is snack for cattle.
Kaash is also a source of sustenance for neglected cultivators whom economists have christened small and marginal farmers. Each year, the harvest of Kaash supplements the meagre incomes of these farmers in both East and West Bengal. Further north, in Nepal, Kans grass is also used as a protective layering while building thatched roofs. In spite of its alluring whiteness, Kaash has a dark side. Scientists say that it is a stubbornly invasive species that has been known to colonize pastures and threaten croplands.
But the uses and abuses of Kaash are, of course, incidental to the urbane, Bengali imagination that has diligently created a hierarchy of Bengal's flowers. Interestingly, Kaash, its earthy roots notwithstanding, has managed to displace several other autumnal cousins that have greater — indisputable — claims on gentility. For example, the Alstonia scholaris — we know it by the name of Chhatim — flowers under the same autumnal sky. Chhatim even boasts of a dizzying, almost hypnotic, fragrance: it is known as the Devil's tree for a reason. Unlike Kaash, it has also been bestowed with the seal of approval from none other than Rabindranath Tagore. (No convocation ceremony in Visva-Bharati, the university founded by Tagore, is deemed complete without the presentation of Chhatim leaves to graduating students.) Kaash also faces stiff competition from yet another autumnal sibling: Shiuli (Night-flowering Jasmine). Not many flowers can lay claim to a melody composed by Dinendranath Tagore. But Shiuli can.
Yet, popular representations of autumn have not found a place for either Shiuli or Chhatim. Bengal's autumnal setting is inevitably etched in artworks, including the ones by the chief minister, Mamata Banerjee, that depict swaying, merry white blades under an azure sky.
However, Kaash's triumph cannot be attributed to the whims of artists, great and small. A deeper, unconscious, philosophy could be at play here. Autumn, as the Poets have reminded us, is synonymous with turning — of seasons, light and, most importantly, time. Keats immortalized this season's richness and abundance — its "mellow fruitfulness" — in "To Autumn"; yet he could not help notice that the "barred clouds bloom the soft-dying day". The suggestion of a shift in the illumination, the turning of the light, could well be a portentous metaphor for the inevitability of the march of time towards an eerie transition. Yeats wrote on autumn when the change had already set in. "The Wild Swans at Coole" was published well into the dawn of industrialism, nearly one hundred years after the publication of Keats's poem. Yet, even in these verses, autumn resonates with the sadness of time past ("I have looked upon those brilliant creatures,/ And now my heart is sore./ All's changed since I, hearing at twilight,/ The first time on this shore").
In this season of turning, amidst the lengthening shadow of turmoil integral to change, the seasonal, but certain, flowering of Kaash, year on year, seems to herald the hope of continuity, of a calmness in the face of, or even heroic resistance to, an imminent, irrevocable interruption.
This symbolic confrontation between the flower and the season in which it blooms has been ignored in the iconographies of autumnal Bengal. The emphasis in these cosmetic representations has been, more often than not, on a harmony that could well be superfluous in terms of ideas. Ray, characteristically, was alert to the potential of this dissonance. There are glimpses of Kaash and of tall, riverine reeds in Pather Panchali and Devi, respectively, but it is in the former, Ray's first film, that this tension is laid bare in a masterful, memorable sequence.
In it, Apu and Durga, the brother and sister that Ray refers to in the passage in Our Films, Their Films, are seen walking gingerly through a field forested with Kaash. The curious children stop to inspect a power pylon. A little later, the sister is alerted first to the sound of the approaching train, and the children break through that enchanting refuge of flowers, running towards the locomotive — their run, from the canopy of whiteness towards the hurtling, rumbling train, conveying, tenderly yet also brutally, the inevitability of a transformation in the lives of not just Apu and Durga but also a village, an entire rural community.
In the light of a changing India that remains intoxicated — and jubilant — on the incarceration of people, be it in Assam's detention centres or in clamped down Kashmir, it could well be that Ray, just like those prescient Poets, may have been signalling the inexorable triumph of an unsettling future over a quiet, reassuring past.