What makes the poll worker tick
What dominated the incentivizing of the Indian poll worker in the 2019 elections — cash, ideology or votes?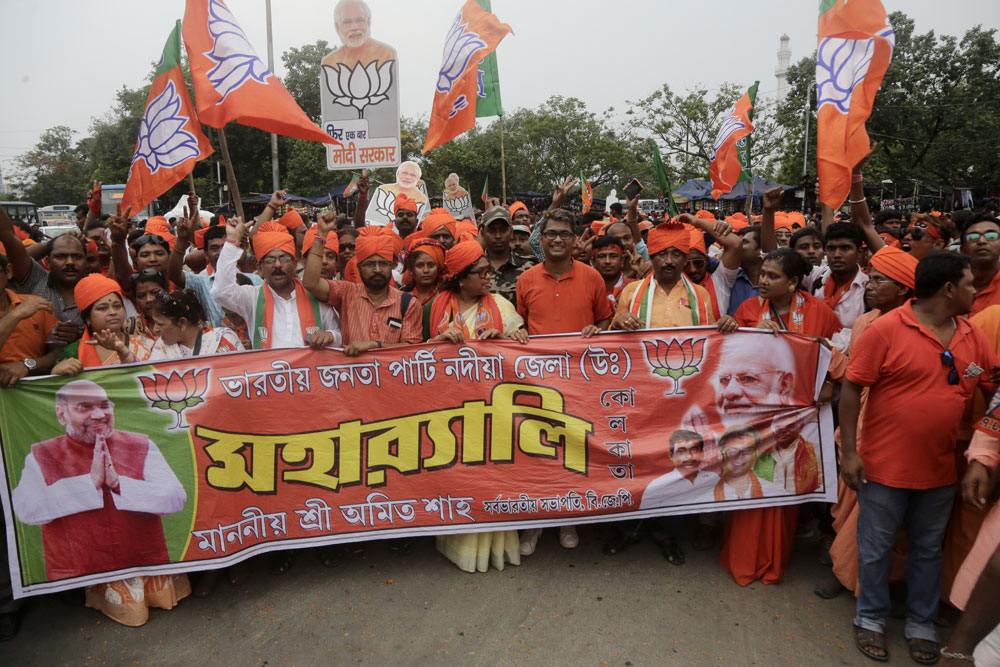 ---
---
Be it the defiling of a statue of Ishwarchandra Vidyasagar, slapping leaders during campaigning or influencing votes within polling booths, the unsung but assiduous work of the Indian poll worker may be the central story of the 2019 general elections.
What incentivizes the Indian poll worker? Are they wooed by money or are they driven by ideology or fear? It is worth pondering these questions now that the elections are drawing to a close.
The buzz is that money is honey here; some parties might have thrown higher amounts of cash at poll workers, encouraging them to toil harder. The evidence is scanty but the splurge may have been facilitated by the sudden influx of finance through electoral bonds. If this is true, it would be consistent with recent reportage by Foreign Policy on the great Indian unemployment trap of young unemployed men crowding the economy. One can envision this labour market of poll workers turning into a buyer's market.
There is also anecdotal evidence of social-media use by political parties through their agents to influence voting choices.
Still others have argued that certain regions and indeed some political parties are ideology-driven and that they do not require cash to influence the preferences of poll workers. But it need not be a duel between cash and ideology. It is possible that poll workers' fear of retaliatory action by a powerful political party would drive them to work for such an outfit .
So what dominated the incentivizing of the Indian poll worker in the 2019 elections — cash, ideology or votes? Unfortunately, even though we are a 70-year-old democracy, we don't have structured information on the matter. Understanding the phenomenon by correlating efforts of poll workers with election outcomes may also be naïve.
However, the status quo can be changed. Of particular interest would be the use of data of poll workers working for various parties across regions on the basis of electoral constituencies and polling booths. This could help disclose information on how their services are being procured.
Data endorsed by administrations would be useful in this context. After all, Indian elections have become professional over the decades and there is now a thriving political consultancy industry. This kind of data could help us understand if, for the representative worker, there is indeed a horse race among cash, ideology and fear.
It would also be useful to understand whether the horse race varies according to age, gender, religion, and the location of the constituency. Might there be diminishing returns from any of these inputs? Could there be an optimal mix of the three? In addition, how might this horse race vary given the seriousness of the elections taking place?
Another approach may be for researchers to generate primary data working with a focal electoral authority and perhaps political parties therein. One can randomize treatments for upcoming elections in India or even on an online platform like Amazon Mechanical Turk to tease out stated preferences.
Recruitment strategies and information pamphlets in such experiments could employ a language that uses the categories of cash, ideology and fear individually or in some combination. One can then study how workers respond to these pamphlets in getting recruited and at what wage rates. Perhaps one can even request them to use a wearable device in return for participating in such a survey that would generate evidence of their productivity conditional upon their treatment and wages.
Such a question is beginning to interest political scientists. The preferences and incentives of poll workers in Mexico, for example, seem to be driven by whether elections are competitive and if there is a muting effect stemming from anticipated violence as documented in a paper in 2017 paper by Francisco Cantú and Sandra Ley. Evidence from Australia and the United States of America also suggest that the recruitment of poll workers, even by the official electoral authorities, is increasingly becoming difficult in recent decades.
Barry Burden and Jeffrey Milyo have shown that in the US understaffed polling stations can negatively influence voters' electoral perceptions. Related research has also shown a moderating effect of technology on trust with electronic voting machines being used in elections globally.
It is thus important to critically analyse the incentives of poll workers. Democracy cannot be consolidated with the help of flimsy evidence. Is someone willing to bell the cat?