Take a bow, election officials
As the Lok Sabha elections enter the last phase on Sunday, we doff our caps to this faceless tribe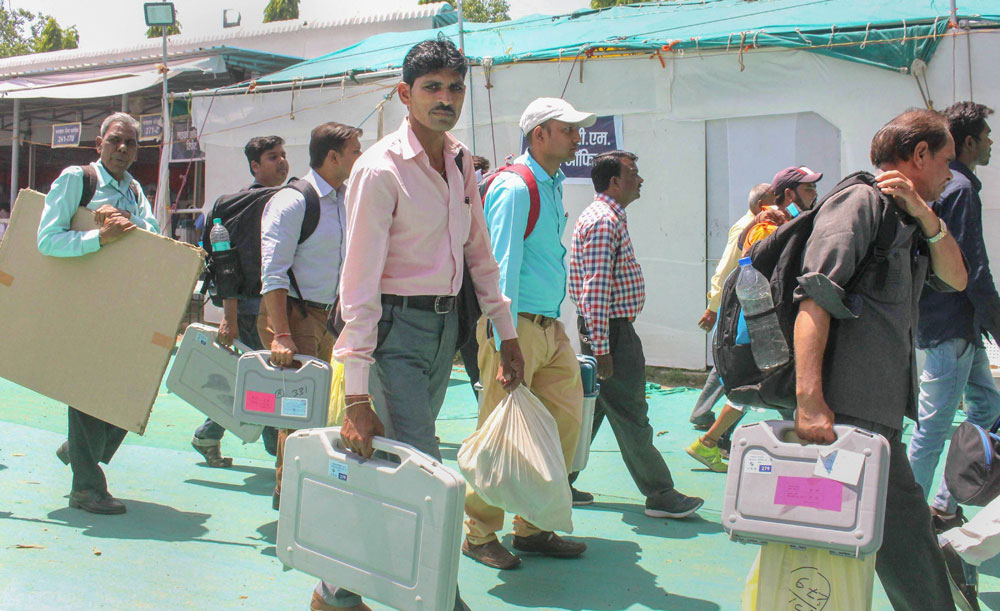 Election officials leave after collecting VVPAT machines, EVMs, and other polling material from collection centres ahead of the sixth phase of Lok Sabha polls in Bhopal on Saturday
(PTI)
---
Published 16.05.19, 11:43 AM
|
---
Look East (as in cardinal direction, not a government policy): one presiding and four polling officers travel 98 kilometres by road and then walk 6 km uphill to reach the polling booth at Malogam in Arunachal Pradesh's Anjaw district which has only one voter. A temporary camp was set up (there is no electricity, drinking water or mobile phone connectivity in the hamlet) and expenditure of Rs 30,000 incurred to ensure that the lone voter got a chance to vote.
Look West: the Election Commission set up a polling booth for a lone voter in Gir forest in Gujarat, an Asiatic lion habitat. The poll panel had deployed a medical team to prevent a swarm of bees from attacking voters in Chhattisgarh, but countering wildlife is a totally different drill.
Look North: poll officials cross a pass, Ralakung La, at 16,100 feet in the snow-covered Zanskar region of Jammu and Kashmir, carrying oxygen cylinders, sleeping bags and voting materials. Altitude sickness is common on the arduous climb.
Look South: near Coimbatore, in a tough uphill 5 km trek, election officials haul electronic voting machines and other materials on their shoulders to Jarugumalai near Ammapettai in Salem parliamentary constituency because there is no road.
These are just some of the logistical travails election officials confront in the world's most populous democracy. In electing lawmakers to the Lok Sabha, the Election Commission deploys nearly five million polling staff at a million polling stations. But while media attention is riveted on politicians, contestants and voters, the cogs in the administrative machinery — government employees, ranging from bureaucrats to professors, bank officers to engineers, with support staff drawn from a host of professions — are largely overlooked.
Each polling booth has a team comprising a presiding officer and polling officers identified in a decentralized manner using a web-based solution, quite like a random sampling exercise. They have no option but to go where they are ordered to, often risking life and limb in turbulent (read 'sensitive') zones.
A retired bureaucrat who has presided over sundry elections remembers his first one most vividly, because the "stern" deputy commissioner had warned them: "Any lapse on your part may entail suspension from service." As a young presiding officer in Bengal's Purulia, he led a team of four, one of whom was a local person, entrusted with the task of marking the finger of each voter with indelible ink. "After a while we noticed that each time a woman voter approached, he would chant 'kukru kukru.' An agitated poll agent rushed up to me and complained that this must stop because kukru in the local dialect meant hen, which was the symbol of one of the five contestants," the former IAS officer chuckles.
A professor of English recalls his "sense of dread" when posted as presiding officer at Sandakphu in Bengal. Besides waking up at 4 am in the freezing cold to beat the policemen to the washroom, the 32 km scenic route from Manebhanjan failed to arouse his pantheistic fervour (the sacred nature of the landscape invariably evokes Wordsworth) because the vehicle often broke down in transit and the polling officers had to trudge up the steep gradient to their destination.
A veteran highlighted the trauma of city-bred officials like him having to go on poll duty to villages where open defecation prevails. "In the Sunderbans, crouching in the fields was a nightmare, with the terrifying prospect of a Royal Bengal tiger crouching in the bushes behind us. Linguistic dialects were also a challenge," he adds.
The elections also bring survival strategies of the polling personnel to the fore. "The luxury of lunch on polling day is usually sacrificed (especially during the three-tier panchayat elections) and we survive on biscuits or muri. Thoughts of dinner vanish because you are too preoccupied in [the] safe deposit of sealed EVMs," said a friend. "During one election, we had three polling stations in a college. Our team had wrapped up when I heard that another was struggling. I went to help and saw a wondrous sight. Strewn all over a table-tennis board were forms and envelopes, the young presiding officer (possibly his first deputation) staring blankly at them, the polling officials watching in varying degrees of disgust, indifference and amusement. After about 40 minutes we were finally done!"
The Election Commission's India International Institute of Democracy & Election Management conducts a test to check the readiness of polling staff. Besides having to clear this examination, head for remote areas even in blistering heat or blizzards and brave clash-and-rig squads, these officers comprise the fulcrum of the vast democratic spectacle the world gawks at. With the final of the seven-phase Lok Sabha elections this Sunday, we doff our caps to this faceless tribe. Take a bow, election officials. For ensuring our franchise by risking lives and enduring suspensions, you get our vote!