Kohli must remember not to imperil the code of gentlemanly conduct
A bit of aggression is always welcome, especially against Australians, who often resort to bullying to intimidate opponent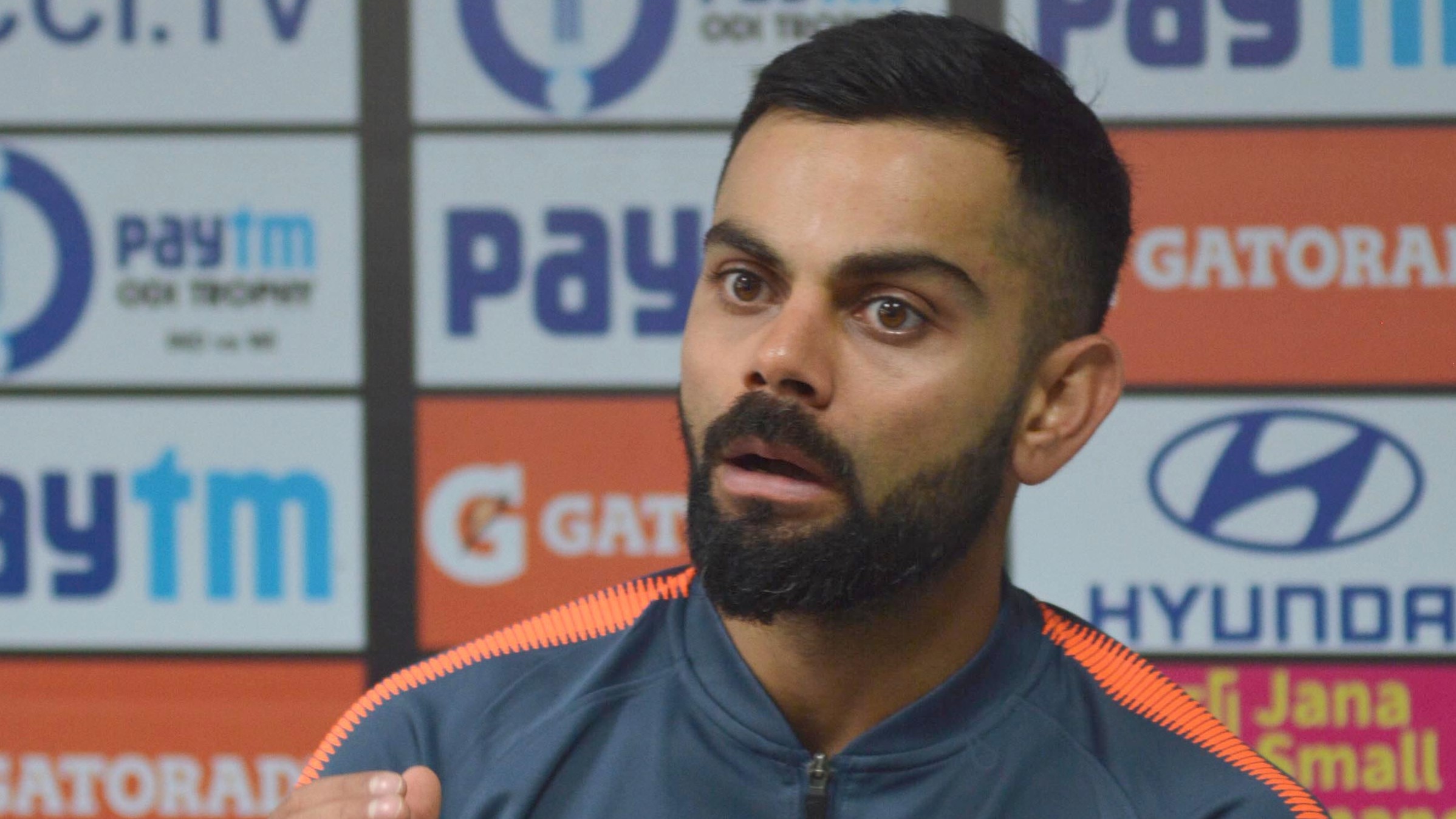 Perhaps Virat Kohli could learn a trick or two from Sourav Ganguly, who knew how to get under the skin of his opponents without threatening the norms of the game
UB Photos
---
Published 24.12.18, 01:26 PM
|
---
Capital offence
Sir — Is Mamata Banerjee aware that the levels of air pollution in Calcutta during November exceeded those of Delhi? India's capital is at least making efforts to check air pollution. But the indifference of the powers that be in Calcutta is shocking. Winter is no longer the pleasant season it used to be and must now be dreaded.
Purusottam Bhattacharya,
Calcutta
Golden oldies
Sir — The Congress president, Rahul Gandhi, picked a member of the old guard, Kamal Nath, for the position of chief minister in Madhya Pradesh. He chose not to put his weight behind Jyotiraditya Scindia, a member of his young team, for the hot seat. In Rajasthan, Rahul Gandhi reposed his faith in another veteran, Ashok Gehlot. The young turk, Sachin Pilot, has been compensated somewhat: Pilot is Gehlot's deputy. These developments go to show that age and experience matter more than youth when it comes to choosing important leaders in the Grand Old Party.
Ideally, newly-elected legislators ought to choose the chief minister through consensus or a secret ballot. Unfortunately, in the Congress, the high command takes a call on these matters. Why were Nath and Gehlot not declared the chief ministerial candidates for their respective states earlier? The Congress made full use of Scindia and Pilot during the elections to lure young voters. Contrastingly, the Bharatiya Janata Party has elevated several young leaders to positions of prominence ever since Narendra Modi and Amit Shah have been at the helm of party affairs.
Hemant Kumar,
Ambala City, Haryana
No more silver
Sir — P.V. Sindhu should be lauded for winning the gold at the World Tour Finals ("Sindhu: I can now say that I won gold", Dec 17). After losing seven major finals at a trot, Sindhu finally won the most prestigious title in the super series by beating Japan's Nozomi Okuhara in straight sets .
Sindhu had been dubbed 'bridesmaid' after losing in the final of a number of tournaments. She has now broken the jinx. One hopes that she will continue to maintain her winning streak and bring many more laurels.
P.R. Bhattacharya,
Calcutta
Sir — P.V. Sindhu has broken her 'silver jinx' by clinching the gold medal at the World Tour Finals. With her victory over Nozomi Okuhara, Sindhu became the first Indian shuttler to win gold in this tournament. Winning depends on performing on a particular day. Ranking does not really matter. Sindhu has proved this by beating a player whose rank is higher than hers.
India seems to be making a mark in international badminton. This is an encouraging sign.
Bidyut Kumar Chatterjee,
Faridabad
Sir — Even though she had played in a number of finals, the gold medal had, till recently, been elusive to P.V. Sindhu. Finally, she held her nerve and snatched a coveted victory against her Japanese opponent. Sindhu has brightened the prospects for women badminton players from India. But she must remain alert because the competition is stiff in international tournaments.
Jayanta Datta,
Hooghly
Sir — The shuttler, P.V. Sindhu, has become the first Indian to win a gold medal at the World Tour Finals. This is Sindhu's first crown in 2018. She won the silver in the Commonwealth Games this year.
Sindhu and Saina Nehwal have raised the standards of Indian badminton. Both players have posed a challenge to Chinese domination and come out with flying colours on several occasions. India is proud of both these women.
Indranil Sanyal,
Calcutta
Just a bait
Sir — The former governor of the Reserve Bank of India, Raghuram Rajan, has written to the Election Commission of India, suggesting the institution bar political parties from promising loan waiver to farmers during their election campaigns. The Election Commission should consider the matter seriously and take a decision before the polls of 2019.
Loan-waiver pledges are indirect ways of inducing farmers to vote for political parties. This kind of populism only strengthens vote-bank politics. If the trend continues, farmers would be reduced to a chunk of gullible voters.
Tejesh Vyas,
Howrah
Sir — Naseeruddin Shah seems to have stirred a hornet's nest by suggesting that Virat Kohli, the captain of the Indian cricket team, is the world's worst-behaved player. A bit of aggression is always welcome, especially against Australians who have, over the years, relied on bullying as a tactic to intimidate opponents. But Kohli must remember not to imperil the code of gentlemanly conduct. Is not a captain the ambassador of the nation? Perhaps Kohli could learn a trick or two from Sourav Ganguly who mostly knew how to get under the skin of opponents without threatening the norms of the game.
Mitali Kirloskar,
Pune