Tunnel vision
We are neglecting the major killers while investing all on a disease with a minuscule mortality rate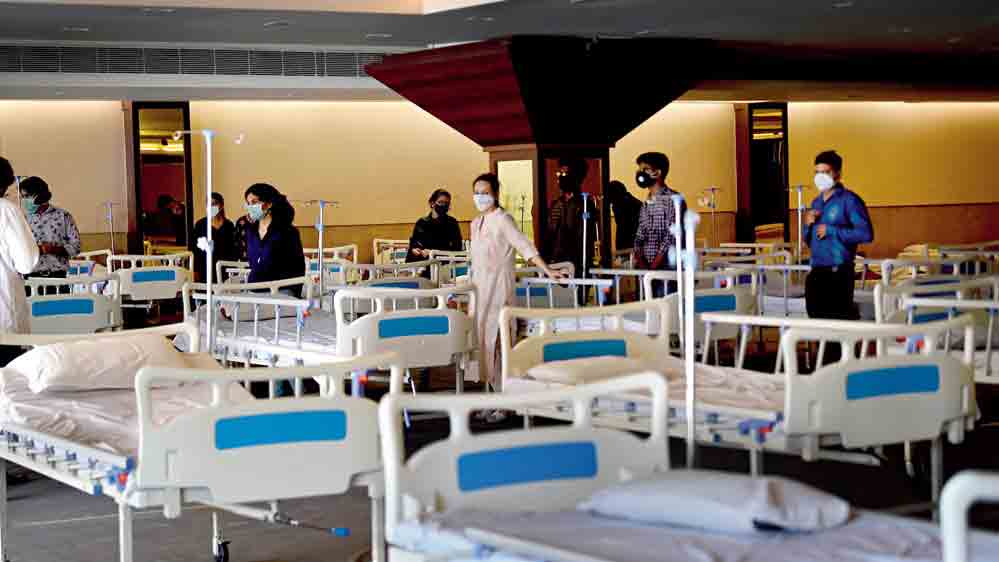 Representational Image.
File Photo
---
Published 12.01.22, 12:13 AM
|
---
It is said that Ratan Tata was moved by seeing middle-class Indian families riding on a two-wheeler, their children sandwiched between parents. This inspired the Tata Nano — it was developed at 'warp speed' — that turned out to be the cheapest car in the world, while it lasted. Launched with much fanfare and touted as an engineering marvel, it won Autocar India's 'Car of the Year' award in 2010.  
Ratan Tata's vision was contracted. While the concern for safety and comfort of the Indian middle class is laudable, what about the big picture?
Since the 1950s, vehicles on Indian roads have increased by 11 per cent annually outpacing the road network, which has increased by a mere 4 per cent every year. We have traffic jams, air pollution, and around 500 deaths daily on Indian roads. While private vehicles take up almost 70 per cent of road space, they ferry only 37 per cent of commuters. Public transport occupies about 35 per cent of road space but carries over 60 per cent of passengers. Ratan Tata's vision of a car for every family did not help the poor or the rich. Both suffer from the outcome of poor air quality, increasing fatalities due to traffic accidents and traffic jams. The permanent solution to mobility is to improve the quality of public transport, which is in poor shape. Gustavo Petro, the mayor of Bogota, famously remarked, "A developed country is not a place where the poor have cars. It is where the rich use public transport."
Another visionary, Bill Gates, was moved to vaccine philanthropy, ostensibly by seeing anxious parents afraid of their children catching poliomyelitis. The Gates Foundation set up the Global Alliance for Vaccine and Immunization, investing over $750 million in this venture, subsequently exceeding to over $4 billion. Gates's zeal is laudable. But, again, what about the big picture?
Introduction of vaccines in the national programme should be driven by the regional epidemiology of health and disease. Vaccines have had great successes as well as great failures, particularly in developing countries. The recipients are healthy people; so any adverse events, however rare, raise issues of safety, ethics and public trust. A robust and wide network of monitoring and surveillance mechanism is essential to pick up early signals of any adverse event following immunization.
Our public health infrastructure, like roads, is in a pathetic state. Given this limitation, rolling out newer and untested vaccines would be like rolling out more and more private cars on inadequate and poorly-maintained Indian roads. The current approach of rolling out a vaccine for Covid-19, which has an infection fatality rate of less than 0.1 per cent in the young and the healthy, will set the wrong precedent.
Using local evidence and framing policy based on disease priorities rather than off-the-shelf, one-size-fits-all solutions from other countries will not be cost-effective and drain resources from our public health priorities further.
We are neglecting the major killers while investing all on a disease with a minuscule mortality rate, particularly in the young and the healthy. Every day, over 2,000 children die in India from preventable diseases, and over 1,400 Indians die from tuberculosis. We do not have surveillance systems for other prevalent diseases like dengue, typhoid, chikungunya and so on. Lacking our own data, we depend on data provided by donors or donor-funded research.
In such settings, it becomes even more difficult to gather evidence for confirming any adverse events following immunization. The absence of evidence is taken as evidence of absence in relation to AEFI. The mass vaccination campaign in India is running like a superfast train on old, rickety tracks. One can only pray there is no major accident due to derailment.
There are hundreds of viruses and their mutants. Given this, will we have hundreds of vaccines in times to come? We can conclude, 'A developed country is not a place where all get all the vaccines. It is a place where all have access to quality public health facilities, safe water, nutrition, housing, and environment, along with mindful and judicious use of vaccines.'
Amitav Banerjee is Head, Department of Community Medicine, Dr D.Y. Patil Medical College, Pune