The plot thickens in Nagaland
If the NSCN(I-M) were to agree to an unconditional settlement within the Indian Constitution now, it would be an admission of a 45-year-old mistake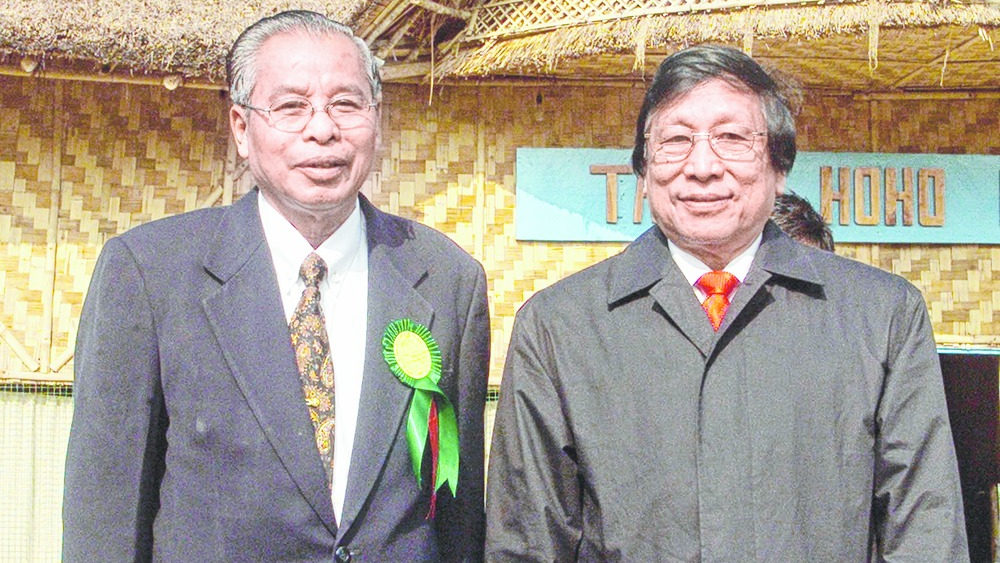 ---
---
From all indications, a comprehensive resolution to the Naga problem seems destined to remain elusive. As hinted by the Central government, what may come about is a partial solution which will leave out the most organized of Naga insurgent factions, the National Socialist Council of Nagalim (Isak-Muivah). While other Naga militant groups have come together under the broad canopy of the Naga National Political Group and have agreed to settle their 73-year-old struggle within the Indian Constitution, Thuingaleng Muivah, the NSCN(I-M) supremo, remains resolute in his demand for a separate Naga Constitution and flag, both of which the Centre has turned down.
There is something romantic and heroic about not letting go of a past vision. However, such stances have often tended towards tragedy. Edgar's intuitive wisdom in his casual verdict in one of William Shakespeare's grand tragedies, King Lear, says it all. When Gloucester showed pique at the unkind fate King Lear was dealt, Edgar remarked: "What, in ill thoughts again? Men must endure/ Their going hence, even as their coming hither./ Ripeness is all. Come on."
Like King Lear, who remained a faithful adherent to a past era and its values, Muivah and many of the older-generation leadership of the NSCN(I-M) remain wedded to the original dream of a sovereign Naga homeland and are unable to accept the radically changed circumstances in the decades that have gone by. The only thing constant is change; hence no revolution can continue to be fought on 70-year-old slogans. At the turn of an epoch, those not resilient enough to accommodate and adjust to the paradigmatic changes are probably fated to be left with a bitter sense of betrayal and defeat.
As it stands today, the Centre has fixed September as the deadline for concluding a peace accord with the Nagas. Quite obviously, the Bharatiya Janata Party government in New Delhi is impatient and is under tremendous pressure on account of the mounting Covid-19 crisis and a failing economy. It, therefore, wants a deal sealed on this front as evidence that all is not going downhill. Moreover, just a year ago, the Centre abrogated Kashmir's special status; the NSCN(I-M) is insistent upon a similar special status. A concession here, it is probably feared, may discredit its Kashmir policy.
There have been suggestions by commentators sympathetic to the NSCN(I-M) to allow the Nagas to treat Article 371(A) of the Indian Constitution with suitable modifications as the Naga Constitution. Obviously, the Centre has not paid heed to this. It is also not known whether this cosmetic solution would be acceptable to the NSCN(I-M).
Also coming under scrutiny is the August 3, 2015 'Framework Agreement' signed by the NSCN(I-M) and the government interlocutor, R.N. Ravi, which the NSCN(I-M) has now made public. This turned out to be a single-page document, simply agreeing to reach an agreement on the broad terms of 'shared sovereignty' and 'inclusiveness', neither of which is elaborated upon and is, therefore, open to varying interpretations. While some have chosen 'shared sovereignty' to mean the power-sharing mechanism listed in Schedule VII of the Indian Constitution, the NSCN(I-M) sees it as a relationship akin to a partnership between two sovereign nations. Likewise, Ravi has chosen 'inclusive' to mean all stakeholders, including every Naga underground faction, but the NSCN(I-M) thinks it means integration of all Naga-inhabited areas. All in all, the Framework Agreement is a surprisingly incomplete document. For the same reason, it is now proving to be irrelevant.
Nobody is in any doubt that Naga sovereignty could ever have been negotiated across the table. However, so long as the vision of a sovereign Nagaland was on the horizon, the grand project of a unified Naga homeland remained attractive. But when it became clear that the settlement is to be for a state within India, many in Nagaland seem to be saying that strengthening the present state of Nagaland is the best option for them. Indeed, as a bigger state of India, with nearly three times the number of tribes, it is foreseeable that the problems of power and resource sharing would be compounded in the new Nagaland.
The NSCN(I-M) under Muivah's stewardship has more reason to object to the changed goalposts. If the settlement is for the state of Nagaland, a majority of its leadership and cadres, including Muivah, would be left out, as most of them are from tribes outside Nagaland. It is also a fact that after Isak Swu's death, the NSCN(I-M)'s foothold amongst Nagaland's tribes has depleted. Again, the NSCN came into being after rejecting the Shillong Accord of 1975 — it agreed for a settlement within the Indian Constitution — as a betrayal of the Nagas. If the NSCN(I-M) were to agree to an unconditional settlement within the Indian Constitution now, it would be an admission of a 45-year-old mistake that has caused immense trauma to ordinary Nagas.
The author is editor, FPSJ Review of Arts and Politics