The many-sided luminescence of Nabaneeta Dev Sen
She had powerful abilities as a researcher and as a formidably creative academic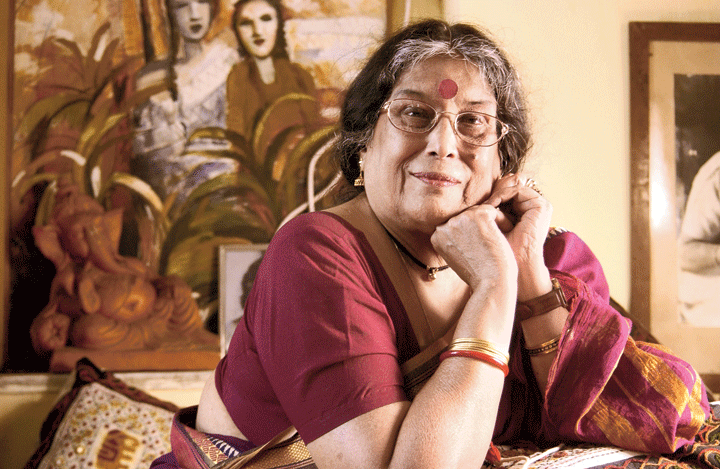 Nabaneeta Dev Sen's later work on the reinterpretations — regional as well as modernist — of the Ramayana, particularly from the perspectives of women, have contemporary political and social interest that austere studies of the Valmiki Ramayana cannot possibly match
Telegraph file picture
---
Published 24.11.19, 08:21 PM
|
---
That Nabaneeta was an exceptionally gifted person was clear to everyone who knew her. It is wonderful that on this sad occasion, there have been plentiful tributes to her exceptional literary talents, in addition to the admiration she always received for her charm, cordiality and warmth. Nabaneeta was a superb writer, a great poet, an outstanding literary critic, a scintillating conversationist, and a captivating public speaker.
However, what I want to talk about is an aspect of her which has not received as much attention as it deserves. I am thinking here, in particular, of Nabaneeta's powerful abilities as a researcher and as a formidably creative academic. In terms of academic excellence, it is, of course, widely known that she was a splendid teacher who received much acclaim from her students. But her highly original work in challenging areas of new research, such as the linguistic composition and thematic bases of oral epic poetry across the world — and of Valmiki Ramayana in particular — has tended to be neglected in the understanding and assessment of Nabaneeta's many-sided creativity.
The causes of this neglect are not hard to understand. Nabaneeta was so profoundly successful as a poet and as a writer of great fiction and of unusually creative non-fiction, from which her readers could get immediate enjoyment and readily accessible wisdom, that it could be difficult to think of her as having a different kind of creativity as well.
What was her research on epic poetry about? To talk about a large and complex subject extremely briefly (perhaps with unpardonable brevity), Nabaneeta significantly extended the analysis of oral epic poetry initiated by Milman Parry and A.B. Lord, through which particular styles of language use (such as frequent repetition of word clusters and stock phrases) are seen as providing evidence of oral — rather than written — composition. Her application of the line of investigation initiated by Parry and Lord to pre-classical Sanskrit texts broke radically new ground. While she started this work at Harvard (working with A.B. Lord) during 1960-61, she continued her investigation in Cambridge, working with Harold Bailey, the great Sanskritist, during 1961-63.
Bailey was not, initially, very familiar with the Parry-Lord line of reasoning about epic composition, but his own scholarly research (particularly his pioneering investigation, based on ancient Hittite records, of the possible origins of early Sanskrit and Old Iranian around 2,000 BC) fitted well into Nabaneeta's interest in the composition of early texts. It is from Cambridge that Nabaneeta published her groundbreaking work on the linguistic composition of the early parts of the Valmiki Ramayana, which was — and was seen as — a substantial extension of the Parry-Lord methodology from its original Greek (in particular Homeric) and Yugoslav application. Further, Parry and Lord had supplemented their language analysis of oral composition by the diagnosis of thematic similarities. This too had striking parallels, Nabaneeta showed, in the Sanskrit epics.
These were, of course, early years in Nabaneeta's working life. Her interest shifted before very long, and if I may say something personal here (since I was married to her over those years and for many years afterwards), I remember being saddened by the fact that she chose not to carry forward the robust beginning she had made on epic poetry, with path-breaking results. If she had not changed her work priorities, she would have expanded more definitively the important discipline of epic studies — liberating it from its European confines — as well as enriched Sanskrit scholarship in a very significant way.
Of course, Nabaneeta's research accomplishments in these areas were already substantial, and if they have tended to be neglected in the assessment of her career, her own changing priorities must provide a part of the explanation. To this we must add the obvious fact that poetry, stories and novels can be appreciated by people, at least at some level, much more rapidly than the composition patterns of Valmiki's epic.
It is also important to note that Nabaneeta's later work on the reinterpretations — regional as well as modernist — of the Ramayana, particularly from the perspectives of women, have contemporary political and social interest that austere studies of the Valmiki Ramayana cannot possibly match. And yet those austere studies have importance not only for the value of the research findings in themselves, but also for making clear that the regional and modernist reinterpretations of the Ramayana have come, in this case, from a person who could also provide a fuller understanding of Valmiki's original classic. There was foundation here as well as range. Nabaneeta's astonishing creativity was truly many-sided.