The Game of the Thrones
Not a fantasy, alas. Not a faraway thing, alas. Not a thing of the screen which can be opened and shut at will, alas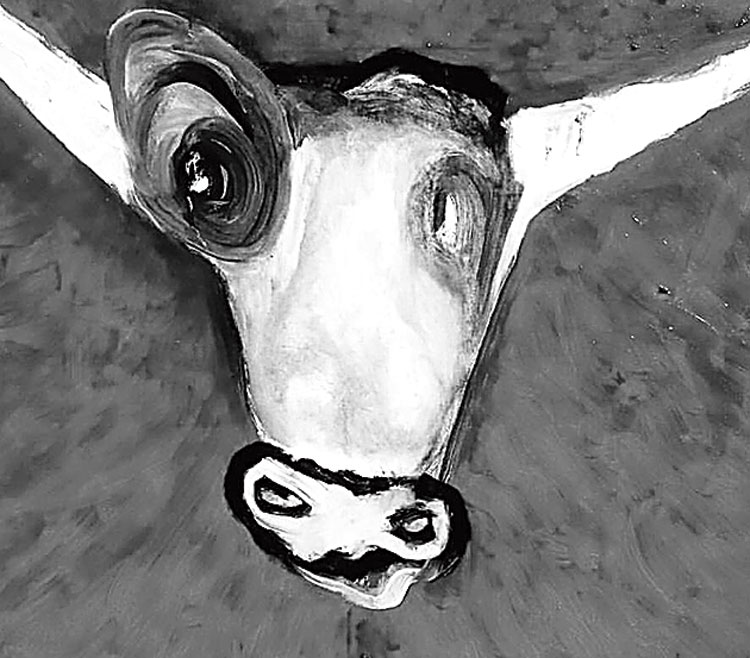 The trophy called WeThePeepuls is up for grabs again
Image: Anon
---
Published 14.04.19, 03:33 AM
|
---
Oh that one too. That one too is resuming sometime today at a screen very near you. The interrupted tussle for a faraway seat of power, too far away and too frozen to be anywhere near real in this sizzling onset of summer, but, therefore, just the fantasy that might seduce us. What's fantasy is forever a fancy. But that's not the game we are talking about. And that's not the throne either. We have our own Game of Thrones underway. Not a fantasy, alas. Not a faraway thing, alas. Not a thing of the screen nearby which can be opened and shut at will, alas. It is upon us, whether we wish it or not. It is real, whether we wish it or not. It cannot be switched on and off, whether we wish it or not.
And this is not about that other throne you might be thinking about either. This is not the tin and timber one that Mahadeb adorns across the street serving out tea and often coffee in earthen bhaanrs. That throne there is no fighting for; nobody dares. There's quite another game of thrones underway, our own — the Indian Premier League, kaun banega premier.
And there's the trophy, Mitron, a bit battered, a bit bruised, a bit boxed in the eye, a bit knocked out of breath, a bit dishevelled, a bit harried and harassed, but a trophy all the same. Such is the shape they have left the trophy in, such is the trophy they are fighting for, what is one to do? Chalta hai. We get what we deserve. We are this trophy, this is the shape we have left ourselves in. And the trophy called WeThePeepuls is up for grabs again.
We are familiar with the Indian Premier League, are we not? A multi-cornered contest, with an incumbent champion and a chief challenger and many other challengers who are either aiming to become champion or chief challenger or thereabouts. It is played over several weeks across multiple locations and it generates a whole lot of sound and fury; it has the attention of the nation riveted. No less because of those cheerleaders who sit in special boxes and scream and dance and applaud. They get paid good money these well-appointed cheerleaders sitting in special boxes by the ringside.
Let's introduce the playing teams, ah sorry, missed out on that bit. So there are the ChowkidarChors, reigning champs. There are PretenderKings, runners-up though one-time champions. Then, the remaining medley: the DeccanLagers, the LanternLeaguers, the BhulkothaNightFighters, the BumbaiHindians, the JumboBikeRiders and the HennaiDuperDings — all of them have at one point or another had their hands around that trophy and done their willing with it. Game's on. It's swirling about, leapfrogging arenas and geographies. It's lighting up the skies, and leaping off our television sets. Primetime, folks. Eyeball time. So many eyeballs your eyeballs will go weary counting. This is a humdinger-blockbuster, if there can be such a thing. No show on earth like this, none. Not with the numbers involved, our numbers. Our humongous ever multiplying numbers. Tick-tock, and there, we've just become many more. TicToc can't keep up; give us a faster thing folks, we're far too fast. We are zooming through to where nobody has ever been before, or rather. So many have never been before. And we are still at play, imagine! There's a lot of hitting. A lot of hurling. A lot of appealing. A lot of cursing. A lot of abusing and alleging. A lot of gesturing, menacing gesturing. A lot of outraging. And a lot of finger-pointing. A lot of finger-raising. A lot of catching. A lot of snatching. A lot of dropping. A lot of shoving. A lot of pushing. Piff! Pafff! Booom! Chow! Chow! Chor! Chor! Tan-Tan-Tan-Tan-Tan-Tan-Tantaaan-Taaaaaaaaaa!! Aa. Haa. Done. Gone. Won. Given.
Win me but spare me
When you do win me
Just look at the sight of me
What's it that you did to me?