Professor Shonku: Not quite a hero
Ray may have seen him as a mythical superhero, so no one could copy his inventions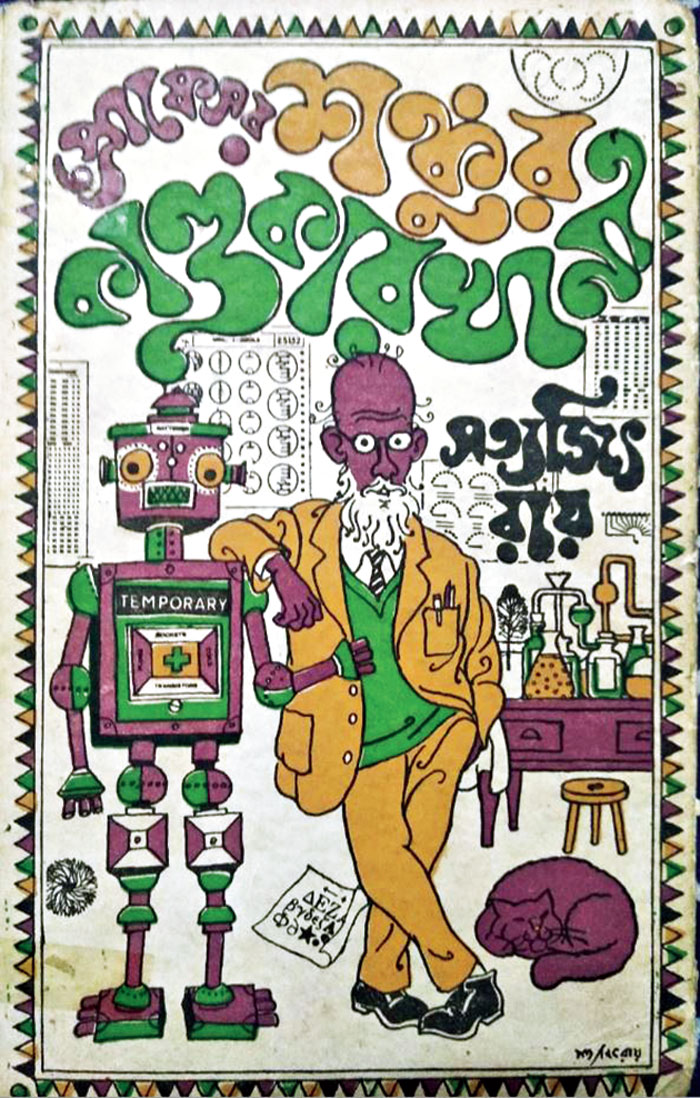 The book cover of one of Shoku's adventures
Pinterest
---
Published 02.02.20, 07:43 PM
|
---
The first screen adaptation of Professor Shonku led to pleasant reminiscences of boyhood. Trilokeshwar Shonku, as we all know, is an eccentric genius. He had his own laboratory in his house in Giridih where he invented amazingly low-budget, diverse and extraordinary things with elementary material. His magical inventions include, among other wonders, 'Miracurall', a drug that cures all ailments save for the common cold; 'Annihillin', a pistol capable of annihilating any living species; 'Shonkoplane', a small hovercraft based on anti-gravity technology; 'Omniscope', which combined the telescope, microscope and the X-ray-scope as well as the 'Air-conditioning pill' to keep the body temperature normal in extreme climate. Shonku, evidently, is knowledgeable in physics, chemistry, space science, robotics, computer hardware, artificial intelligence, medicine, and several other branches of scientific knowledge. A scientist in real life would not have been able to master these various fields.
However, since my boyhood, I had been discomfited by some of Shonku's inventions. The discomfort increased with my exposure to the world of science. In fact, a disappointing aspect of Shonku's inventions had been brought to light by the scientist himself in "Nokurbabu O El Dorado", the story that has been now turned into a film by Sandip Ray. In the story, it is mentioned that none of these powerful and beneficial creations can be manufactured in a factory, implying that only one person — Shonku — is capable of making them.
This, however, is the trait of artistic creations, and not of scientific products. Human beings, albeit those in a fantasy world, could have benefited immensely by some of these products. For example, Jeremy Saunders, Shonku's British geologist friend, is cured from cancer by Miracurall in "Swarnaparnee". Why then did Shonku not care to market this wonder drug to help millions? Shonku may be a genius; but is he a hero in the truest sense?
Moreover, one should hesitate before calling Shonku a scientist. Let me explain. Replicability is the essence of scientific truth. Karl Popper, the philosopher, had stated that "Non-reproducible single occurrences are of no significance to science." Shonku's inventions, it can be argued, remain insignificant owing to their non-reproducibility factor.
There are other, interesting, discrepancies. In "Shonkur Shonir Dosha", Karl Gropius, a scientist, claims to have invented the Omniscope, Miracurall, Linguagraph and the Air-conditioning pill, only to realize that Shonku had already patented each of these inventions. Interestingly, the patent rule says that in order to apply for a patent, the invention must have industrial application.
It is true that Shonku is a splendid inventor. It is possible that Satyajit Ray had wanted to elevate Shonku to the status of a mythical superhero so that nobody would be able to reproduce his inventions. This is the kind of Shonku that has been depicted in the film. But in the process of becoming a superhero, Shonku has possibly been stripped of the status of a scientist. Was his creator, or are his fans, aware of this?