Sandip Ray upbeat about 'Professor Shanku O El Dorado'
Ray on the movie, plans for Satyajit Ray's centenary celebrations and a Brazil trip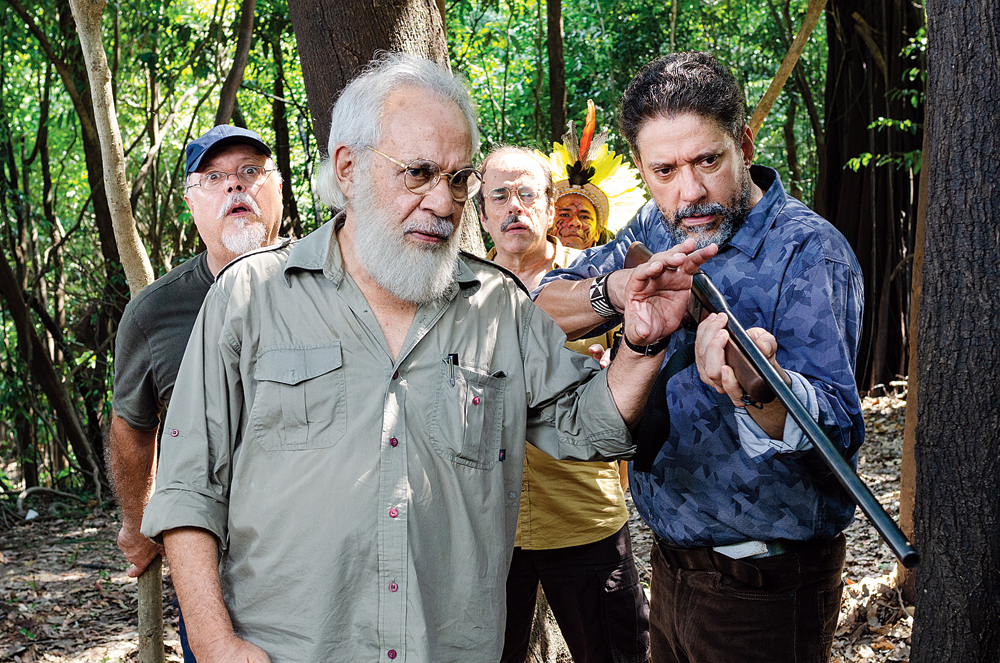 A moment from 'Professor Shanku O El Dorado', which releases on December 20
Source: The movie
---
Published 12.12.19, 01:36 PM
|
---
Sandip Ray is upbeat about his December 20 film Professor Shanku O El Dorado. "This is the first Shanku film after all, there is no benchmark," smiles Ray.
The Telegraph chats with the filmmaker...
What is it about the filmmaking process that you still enjoy?
I enjoy every facet of making a film now. However, post-production is a favourite subject, especially the editing part. Of course, the shooting process is great fun. And if there is a new experience then nothing like it. There is a freshness to this film. A new group of artistes are in this film and directing them was a sheer delight.
Why cast Dhritiman Chaterji as Professor Shanku?
Shanku has to be a Bengali, and Dhritiman's age and stature matched Shanku's. I remember in the first Shanku story he was a little wacky and zany. But then Shanku became serious.
Shanku and Feluda are synonymous with Satyajit Ray. There are so many similarities.
The first Shanku story came out in 1961. Did you think of making the film as a period piece?
I did not think of it as a period piece… the budget would have been huge then. I had to set the story in today's time… the film is set in 2016.
What kind of changes did you have to make to set the story in 2016?
His Annihillin gun is an extraordinary invention. Baba bonduker moto ekechhilen… it looks like a pistol. But then airport security tahole dhore phelbe, which is why we designed it in a different way. We designed it like a fountain pen which can be used like an insulin injection.
Professor Shanku is one of the most beloved creations of Satyajit Ray. Why select this particular story as the first Shanku film?
This is the right time to do a film on Shanku. I was thinking of two stories, but I figured that the Unicorn story will become too expensive logistically. The climax in the Unicorn story is out of this world… the visual effects have to be top class. The other choice was El Dorado. I am fascinated by Nakur Babu. He is a clairvoyant… also, in some of the Shanku stories, Shanku goes abroad after spending the first 15 minutes in Giridih… be it Germany or Brazil. But with this story, Nakur Babu can travel with Shanku and the film will have a Bengali connect. Of course, there will be conversations in English… and Shanku's two friends, a German and Britisher, both understand Bengali, so this will be a bilingual film. Actually, we have two versions… the bilingual one and another is in Bengali for the outskirts. Also, I wanted to do the post-production in Calcutta, especially the visual effects. And that has happened.
How was the shooting experience in Brazil?
This was my first time in Brazil. There is no pollution there. You feel really good. At the beginning I was not so sure about the (foreign) cast of actors there. I was communicating with the line producer there over e-mail and I thought that the best option would be to send Baba's illustrations. The actors who were finally selected were from Sao Paolo. Two came from America. They were theatre actors who mostly do television serials. But they were well-read in film acting. The whole team was so warm and dedicated and prepared. They loved the script, and told me not to worry at all. One day Fernando (actor) suddenly asked me, 'Are you all from Calcutta? Have you heard of Satyajit Ray?' I told him that I am his son. He came and hugged me and told me that he had studied my father's films in San Francisco Film School. 'Your father's films were on our syllabus,' he had said. It is such a small world.
Shanku has a companion… a cat...
Yes, and there is a real cat in the film… not a VFX one (smiles). Everyone was so happy. Shanku's lab set is fantastic, as well as the props. There are salutes to various stories in the film. It was fun to incorporate props from different stories into this film.
What was your brief to Dhritiman Chaterji for bringing Shanku to life?
I just told him to read the stories. Shanku has this monk-like quality about him... he is very knowledgeable, and has a sense of humour. Shanku is a very honest man who has no greed... he is deeply rooted, a pure soul and a do-gooder. The film has a travelogue-adventure feel to it, just like a Feluda film. There is also an element of the supernatural. Also, we didn't want the visual effects to overpower the storyline.
The story is called Nakur Babu O El Dorado but the film is called Professor Shanku O El Dorado because this is the first Shanku film. As Nakur Babu, Subhasish (Mukherjee) has gone all out... and he always does. He is an absolute delight if he gets a good role.
What are your plans for the next Feluda film?
Of course, we'll do another Feluda. There has been a long gap. Also, I'd love to work on the short stories. And we are planning a whole lot of events since it'll be Baba's centenary year in 2021, from seminars to exhibitions. We will start from 2020 and the climax will happen in 2021! We have a whole lot of things to do.
Would you like to direct something for the web?
Why not? I had done a lot of television work in the past.
Is your son (Souradeep) interested in cinema?
Yes. He has taken all the stills of this film. Plus he has done the visual supervision for this film, especially the VFX. I am seeing the new generation through his eyes, which is a great thing. I listen to him a lot. His friends also helped.
Criterion Collection is restoring Devi...
They will be bringing out Devi. Criterion has already brought out Jalsaghar, Charulata, Mahanagar, Apu Trilogy, Kapurush, Nayak, the NFDC films among others.