The man in the X-Ray Film
A new movie based on Satyajit Ray's Shonku series is in the works. But who is Shonku? Bitan Sikdar profiles his DNA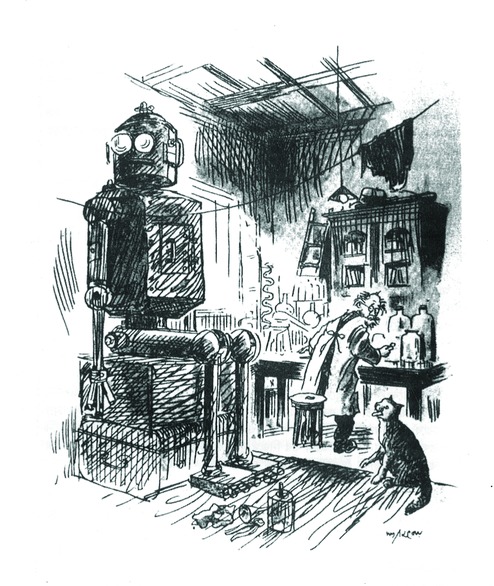 ---
Published 11.02.18, 12:00 AM
|
---
It would not be incorrect to say that a few fictional characters, mostly sleuths, are playing Atlas to the Bengali film industry today - Satyajit Ray's Feluda and Sharadindu Bandopa-dhyay's Byomkesh in the main. Recently, the good offices of yet another sleuth, Sunil Gangopadhyay's Kakababu, have been sought. The popular trinity will now be joined by a scientist - Ray's Professor Shonku.
Sandip Ray, who is directing the film, spoke to The Telegraph about the character's Bangaliyana or Bengaliness, and how, like Feluda, the mild-mannered Shonku with his love for the unexplored is also an embodiment of Satyajit himself: "All such qualities and the availability of the cinematic set-up for visual effects, have made me take up the Shonku adventure."
About the good professor Shonku, we learn from his diaries - 21 in all - whose pages chronicle his inventions, their science, and the philosophies that foreground his identity as a scientist.
As Ray writes, one day someone hands the narrator one such diary. Piqued, he goes looking for Shonku, and in the process reaches Giridih, then in Bihar, where the scientist once lived and where the rest of his diaries are. It is 1961.
The context for Shonku's inventions is the Sixties - a period when the Cold War is peaking, the Vietnam War beginning, The Bay of Pigs Invasion and the India-China War unravelling, and the Beatles singing Please, Please Me. It is also when the Soviets send the first man into outer space and the first human space flight lands on moon.
In Science Fiction, Imperialism and the Third World, Erika Hoagland and Reema Sarwal write: "Like many of the early science fictions written in the West, most science fiction in Bangla have a male scientist as hero/narrator. Both literatures use the stereotype of a lonesome indi-vidual in the service of science. But unlike their Western counterpart, the heroes in Bangla do not exist in social isolation..."
They are right. Ray gives Shonku a cat for a companion and - a nod to Schrodinger perhaps - calls it Newton. His companions are the robotic human, Prahlad, and the humanised robot, Bidhushekhar. His closest friends are the sardonic Abinashbabu, with next-to-no understanding of scientific theories, and the German anthropologist, Wilhelm Krol, with a keen interest in the paranormal.
Shonku is a scientist, but his list of inventions - be it the Annihilin, a pistol that annihilates any living object; or Shankoplane which is made of anti-gravity alloy; or Intelectron, the device to measure human intellect; or Ornithon, the bird educator - read like exercises in random wish fulfillment today.
According to science fiction writer Rimi B. Chatterjee, Shonku's limited social interaction insulates him from the more troubling questions of modern-day science.
Science writer Judhajit Dasgupta points out that typically, science fiction should not depict something that goes against present-day scientific knowledge - it has to be plausible even if it is still unachievable. But Shonku deviates from this.
He comes up with a formula for manufacturing diamonds, applies it and ends up creating one like the Koh-i-Noor in a span of 19 hours. He invents Evolutin, a drug that makes people evolve 10,000 years in five minutes.
Dasgupta, who is also a keen reader of the writings of Issac Asimov, Arthur C. Clarke, Frederic Pohl and Poul Anderson, believes that the Shonku tales are very different from a work like The Endochronic Properties of Resublimated Thiotimolin.
The Endochronic etc. is a scientific spoof written by Asimov about a molecule so overcrowded with its own atoms that it is forced to send some part of it to the fourth dimension, which is time. It was written according to the norms of peer-reviewed journals and actually passed off as a Chemistry paper. Ray does not engage with the hard science as Asimov does.
Instead, Shonku displays an affinity for the supernatural. He invents a device, called the Neo-Spectroscope, to contact ghosts and yet another called Compudium.
"I had once asked Sandip Ray where Ray Sr got his scientific information from," says science columnist Pathik Guha. "He told me that his father was an avid reader of two science magazines in particular, Scientific American and Omni. The latter had information on hard science and also some pieces on the supernatural." The penny drops.
In effect, Shonku is science - a lot of it either simplistic or outdated - travelogue, fantasy; all projected onto the persona of a typi-cal bhadralok.
Ray's pencil lines capture the Professor's lean figure, baldpate, overgrown beard and round spectacle rims, as also his benign, humanist spirit. It possibly stems from his education - Shonku cleared BSc with double honours in Chemistry and Physics, did not get himself a master's degree. Instead, studied the Arts, Philosophy and History for four years.
Shonku has an open mind. He has a sense of humour too - understated, shining through his science. For instance, he creates the Miracurall drug, a pill that can cure any ailment in the world except the universal anathema - the common cold.
He is also a relentless do-gooder. Stands firm against Hitler and the Nazis. In Swarnaparnee, a young Shonku visits Germany on the eve of World War II and meets Hermann Göring, a Nazi leader. In Professor Shonku o Frankenstein, he works on the formula of Baron Victor Frankenstein, an 18th century German scientist, to bring back to life the dead without changing their brains. As Ray imagines it, Shonku succeeds in checking the Nazi aggression.
And while the world may hail him as the brightest scientist next only to Edison, Shonku is laughably thrifty. His robot is made of gum, sticking plasters and nails - all for Rs 333. He travels to Europe frequently, but these are sponsored trips to attend science conferences. He also has a manic fear of the nuisance value of material wealth. One time, he ceremonially tears apart his diamond-making formula and throws it into the Nile.
The first name of the good professor is Trilokeshwar, connoting someone who straddles many worlds. And were we to pick the first part of the first name and all of the second, we would get trishonku - the name for another inhabitant of the liminal.
Will Trilokeshwar Shonku appeal to the 21st century Inception-bred cine-goer? Will his liminality resonate in a time of extremes?
Rimi Chatterjee is hopeful. She says, "Shonku's stories show a humanistic worldview joined with a touching faith in the ability of technology, in the right hands, to do good."
And of course, do-gooders are universal, don't come with an expiry date.