Sabarimala: Think before you say 'ewwterus'
Because women have votes too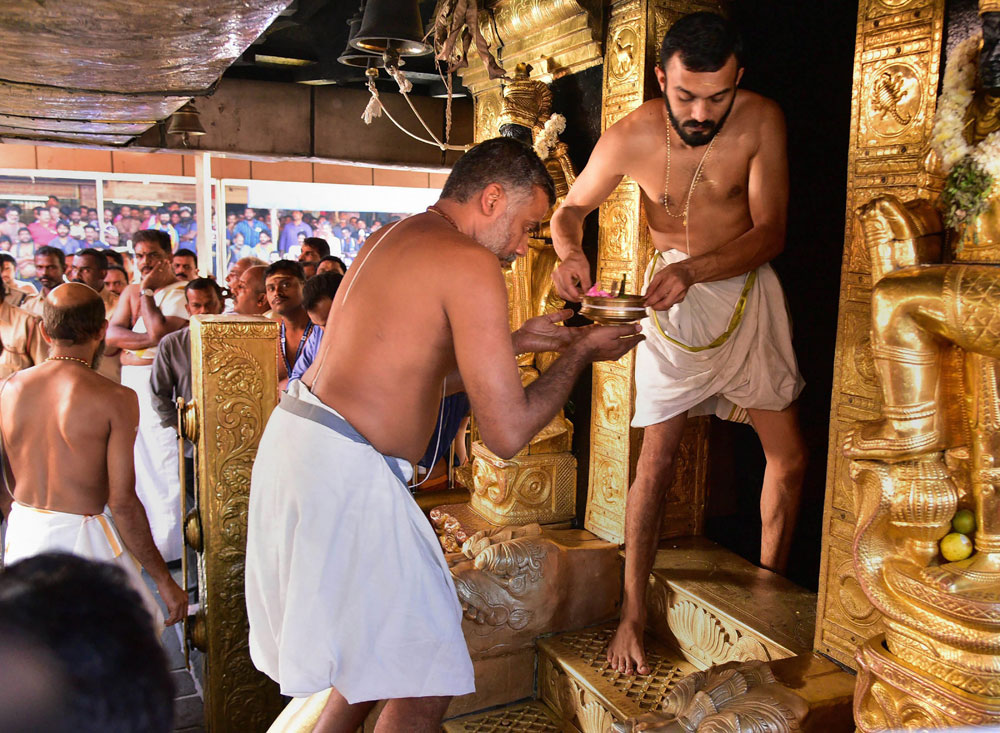 Priests carry out 'purification' of the Ayyappa temple after two women in their early 40s entered the shrine and offered prayers, in Sabarimala, Kerala on Wednesday, January 2, 2019
(PTI)
---
Published 06.01.19, 07:21 AM
|
---
Looking for some logic here. Even a shard would be something. Three women — one of them said to be Sri Lankan — walked into a temple and that triggered a statewide outrage. A shutdown call, violence, bombing. More than 1,400 people arrested in a span of two days, more than 150 injured. The Prime Minister was forced to call off his visit to Kerala, where it was all happening, where he was supposed to address a rally. Get this, the outrage is because these women stopping by to pray to Ayyappa are of menstruating age, and traditionally this category is not welcome in Ayyappa's home, Sabarimala. Relax, I am not about to pick an argument with the gods. I live amongst men and women and their leaders, who not only have no clay feet, but as it turns out no leg to stand on when it comes to upholding democratic principles. Besides, no god threw a tantrum that day. It was men and men.
Negotiated relationships
The women were no better, though some think shared biology makes for kindred spirits. On September 28, 2018, the Supreme Court overturned the ban on menstruating women entering the temple. A few lines from the judgment: Any relationship with the Creator is a transcendental one crossing all socially created artificial barriers and not a negotiated relationship bound by terms and conditions. Such a relationship and expression of devotion cannot be circumscribed by dogmatic notions of biological and physiological factors arising out of rigid socio-cultural attitudes which do not meet the constitutionally prescribed tests. Patriarchy in religion cannot be permitted..." But in these times of negotiated relationships such words of wisdom cannot be allowed to permeate people's minds. No light of reason must shine, the hate-fog must not lift.
Ewwterus
Leaders of men and women, who cannot be bothered to read their own people, continued to play interpreter to an ancient god. The firebrand minister, Smriti Irani, said: "I believe I have the right to pray but I don't have the right to desecrate", as if she were talking about Hansel and Gretel and their tell-trail, instead of civilised adults. Later, she said, "There is no role of religion in government", and promptly returned to join the Ram Mandir clamour. BJP's Meenakshi Lekhi said, "These are people, who, in the name of feminist rights, are actually transgressing." The PM invoked tradition. Shashi Tharoor who had earlier said "these are questions of faith, not rationality", dubbed the entry of the two women an "unnecessary and provocative act", basically floccinaucinihilipilificating. Sonia Gandhi almost set a precedent when she stopped Congress MPs from wearing black arm bands to the Lok Sabha chamber and observing a Black Day. But reportedly she told MPs that they could continue their protests in Kerala. The priests washed the shrine, but could they expunge the devotees' prayers, their visitation? Not a word of support came for Chief Minister Pinarayi Vijayan from any leader outside of Kerala — though I trust there are women in every state.
PS
Nearly 200 years ago, Rammohun Roy, who you might remember as the man who led a crusade against sati and child marriage, wrote: "Supposing that some 100 years hence, the Native character becomes elevated… is it possible that they will not have the spirit as well as the inclination to resist effectually any unjust and oppressive measures serving to degrade them in the scale of society?" The question was entirely rhetorical, but the answer would have surprised him.