Missing Rafale papers would be pure comedy if it weren't dangerous
The government appears unable to conceal its anxiety that the Rafale documents might be used as evidence in court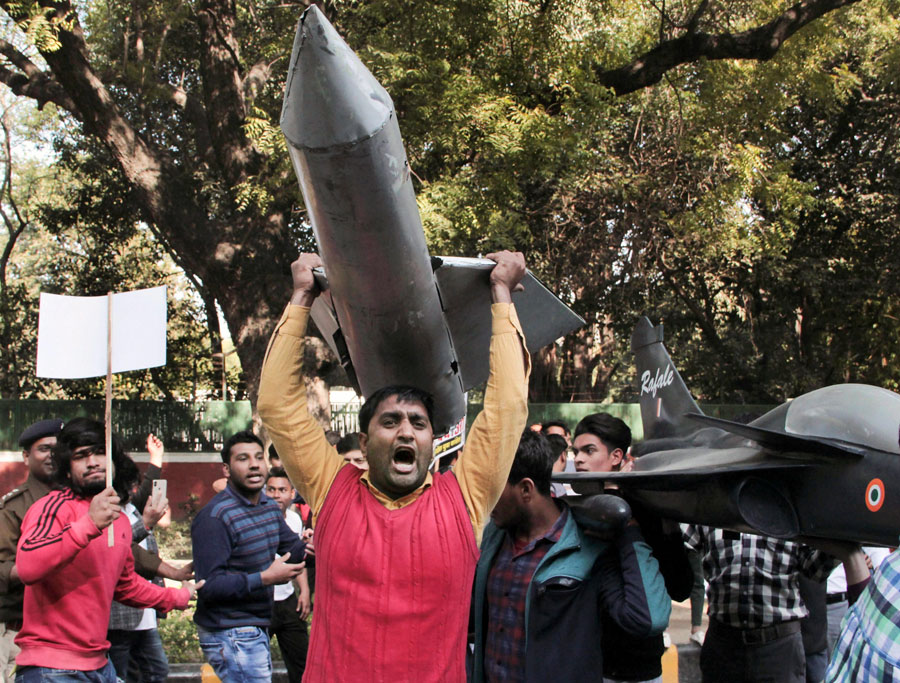 Youth Congress activists protest against the government's disclosure that Rafale files are missing, near defence minister Nirmala Sitharaman's residence, in New Delhi on Thursday, March 7.
(PTI)
---
Published 08.03.19, 03:13 AM
|
---
When an institution that believes in hi-tech surveillance of ordinary citizens fails to prevent some of its most precious documents from being stolen, it is the stuff of pure comedy. Only when that institution is the government of a country, it is no longer comic but dangerous. The Bharatiya Janata Party-led government at the Centre has declared that crucial documents relating to the Rafale deal have been stolen. The dangers this implies are multiple. The disconnect is dizzying: while the ministry of home affairs empowers Central agencies to snoop on citizens' computers to stop crime and terrorism, the defence ministry is blind to the thieves in its midst. While the BJP's minions seize 'anti-nationals' and mobs kill people from minority groups in the name of cow protection while beating up Kashmiris on the side, a targeted little burglary is executed in the building that houses the defence and foreign ministries and the Prime Minister's Office. This argues incompetence of such gigantic proportions that comedy vanishes. It must have been this incompetence that allowed a private vehicle loaded with explosives to destroy a truck full of jawans amid a military convoy on a highly protected route. It is the same incompetence, this time in propaganda, that has ministers and officials scrambling to reach an agreement on the number of dead militants in Balakot.
There is, shamefully enough, another side to the government's declaration. The allegedly stolen papers were used by a newspaper to expose dubious aspects of the Rafale deal. The government appears unable to conceal its anxiety that these documents might be used as evidence in court. Perhaps it hopes that if they have been stolen — a charge not made when the newspaper used them — their 'unclean' source may discredit them as evidence. To distract attention from a mess that is obviously far from simple, the government, through its mouthpiece in court, is talking of the newspaper's supposed violation of the Official Secrets Act. Wielding laws is the easy way out. More dangerous, however, is the Narendra Modi-led government's attitude towards journalism. Independent thinking, analysis, criticism and pursuit of truth for public interest are simply impermissible. But it may become a bit awkward if the media now begin concentrating on finding out how the Rafale papers were stolen.