Letters to the editor: Meenakshi Lekhi calls farmers 'hooligans', mandatory mediation law in India, National Cousins' Day
Readers write from Chennai, Mumbai, and Calcutta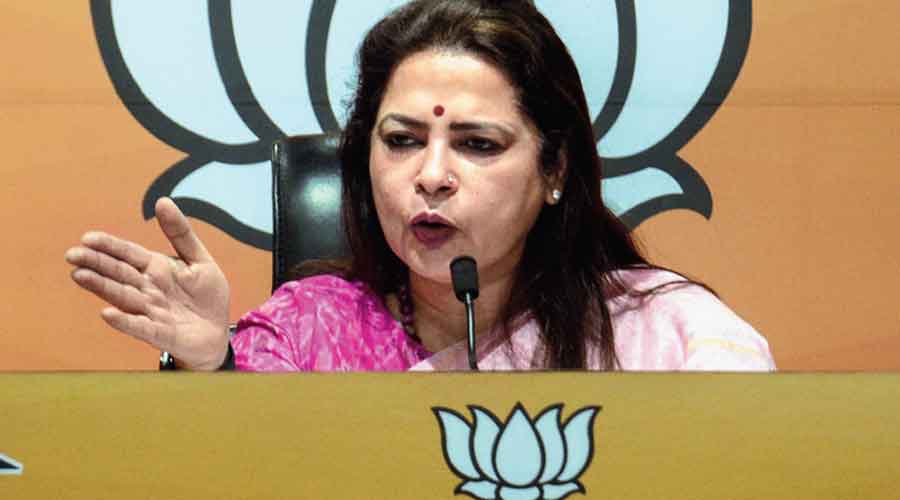 Meenakshi Lekhi.
File photo
---
Published 24.07.21, 12:59 AM
|
---
Bad choice
Sir — It was quite shameful to hear the junior foreign minister, Meenakshi Lekhi, use the word, 'hooligans', in connection with the farmers who have been protesting for months against the unjust agriculture reform laws that were passed by the Union government ("Farm parliament meets amid 'hooligans' row", July 23). She was speaking at a press conference when she made the comment on the alleged attack on a mediaperson during the 'farmers' parliament' at Jantar Mantar. Even though she apologized later and claimed that her comments were misinterpreted, it would not be hard to believe that the Bharatiya Janata Party minister harbours frosty feelings towards the farmers who have refused thus far to allow the Centre to bulldoze them into compliance. Moreover, using objectionable language against dissenters and Opposition leaders has become a part of India's steadily degrading political discourse; BJP ministers have a dubious record in this regard. It is entirely likely that Lekhi let her true feelings towards the farmers, who have been a thorn in the BJP's side, show. After all, the BJP has been unable to crush their fight for their rights.
Maitreyi Krishnan,
Chennai
Sir — Exasperated by the tenacity of the farmers in spite of all the efforts of the BJP government and sections of the media to silence them, Meenakshi Lekhi called them hooligans, thereby making a grave error. She may have apologized later, but the damage has been done and it is bound to cost the BJP and the Central government a lot of goodwill. What has been said, especially by those holding positions of power, cannot be unsaid.
Anthony Henriques,
Mumbai
First step
Sir — While speaking at the India-Singapore Mediation Summit, the Chief Justice of India, N.V. Ramana, rightly expressed the need for Parliament to enact an 'omnibus' law to make mediation mandatory before a case goes to court ("Civilly solved", July 22). Doing so would ease the pressure on an already overburdened judiciary, which has several decades' worth of a backlog of cases to handle alongside new litigation being filed every day. Mediation or arbitration through alternative dispute resolution, on the other hand, will help citizens, especially those belonging to middle-class or poorer backgrounds, by reducing their expenses and the time to be spent on the cases.
Citizens go to court because they believe that the rule of law will be followed. They trust that their complaints will be heard with strict impartiality, free from political or other influences, and that they will receive a fair trial. However, unjust and violent means are often used in mediation in India. This is evident in the decision-making of khap panchayats and shalishi bodies which make a mockery of social justice. As such, a law on mandatory mediation, especially in the case of civil disputes, should have adequate limitations, keeping biases of gender, caste, religion and so on outside its scope.
Jahar Saha,
Calcutta
Sir — A mandatory mediation law in India would be welcome if law-makers can frame it comprehensively enough to prevent its misuse. Mediations in cases where obvious power asymmetries exist should not be to the detriment of the less-powerful party.
Aranya Gupta,
Calcutta
Perfect mix
Sir — As a person who grew up in a joint family and was surrounded by cousins, I was pleasantly surprised to learn that there is a day commemorating this unique relationship as well. Today is National Cousins' Day, and is an apt occasion for different generations to reflect on their bonds with their cousins. For people like me, cousins are no less than one's own siblings, as we grew up together. Younger generations who grew up in nuclear families would likely have had a different experience. It would be good for young people to consider nurturing their relationships with their cousins — it is a bond that can be a perfect mix of friendship and familial support.
Subhalakshmi Basu,
Calcutta