Steady rise: Himanta Biswa Sarma becomes Assam CM
Readers' Speak: Israel-Palestine conflict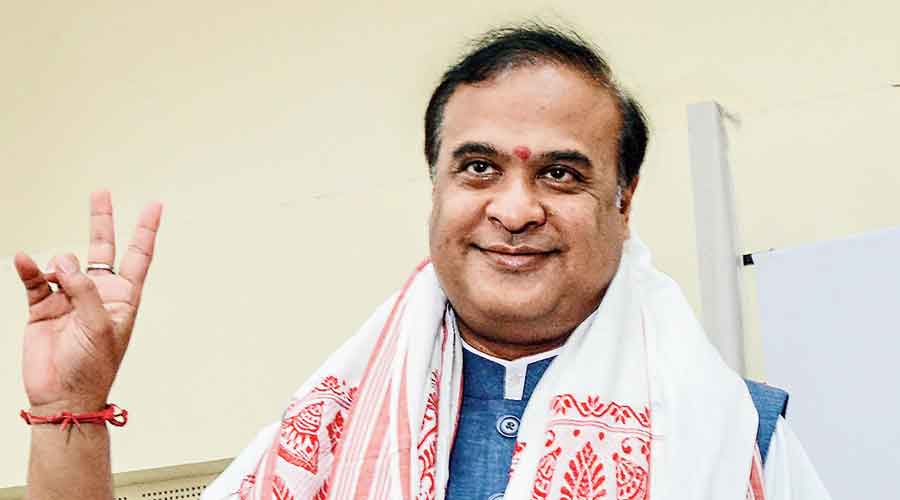 Himanta Biswa Sarma.
File picture
---
Published 14.05.21, 02:08 AM
|
---
Sir — After a long period of suspense, Himanta Biswa Sarma, the former Congress leader who helped the Bharatiya Janata Party achieve great success in the Northeast, has taken over as chief minister of Assam ("No-mask fame Sarma fulfils CM dream", May 10). The possibility of this happening, however, was evident ever since he filed his nomination for the polls. It was heartening to see Sarbananda Sonowal, whom Sarma has now replaced, support the latter's rise to power. The BJP leadership must have plans for the former chief minister too.
While Sarma has worked hard for the BJP and been rewarded for his efforts, it must be remembered that as health minister of the state, Sarma had not been the most responsible. In early April this year, when the second wave of the pandemic had already begun claiming lives, Sarma played down the need to wear face masks. He even said that the state would celebrate Bihu with the usual pomp. One hopes that Sarma will be more pragmatic in his new role — much depends on the words of the chief minister of a state.
It is also disturbing that Sarma has brought up the National Register of Citizens once again — he has said that he would call for a re-verification of the list — while the entire country is reeling under the pandemic. Sarma should sort out his priorities. Saving lives should be the primary task of the government at the moment.
Ujwal Gupta,
Hooghly
Sir — The BJP's troubleshooter in the Northeast, Himanta Biswa Sarma, has been chosen for the prestigious post of chief minister of Assam. He is said to have left the Congress in 2015 for this opportunity — Sarma was at loggerheads with the then chief minister, Tarun Gogoi. Later, he joined the BJP. This propelled the saffron party to unprecedented success not only in Assam but in the entire northeastern region. Sarma is now the third former Congress leader to become chief minister for a BJP-ruled state in the Northeast.
 Unlike Sarma, his predecessor, Sarbananda Sonowal, was not a mass leader, and he had to pay a heavy price for it. Sonowal has previously been Union sports minister. It is likely that he will once again be moved to the Central ministry and perhaps be elected to the Rajya Sabha from Assam.
Anushka Panwar,
Ujjain
Give peace a chance
Sir — The decades-old Israel-Palestine conflict has flared up once again. The conflict, described as one of the worst humanitarian crises of modern times, has persisted in spite of repeated declarations by the United Nations that the Israeli occupation of Palestinian territory since 1967 is in violation of international law. Citizens from all corners of the world must urge their respective governments to take steps towards a peaceful resolution.
Koushik Dam,
North 24 Parganas