General Bipin Rawat is right this time. That isn't something I had imagined I would say. The army chief's decision to honour Major Nitin Gogoi with a commendation days after the soldier had tied a Kashmiri civilian to his jeep as a human shield in 2017 will remain a festering sore in the military's relations with the Valley for many, many years. Rawat's not infrequent bombast-laced threats against Pakistan and China may help stir jingoism but don't serve to stabilize our tense borders. But earlier this month, Rawat suggested that India break with its policy of not engaging with the Taliban in Afghanistan.
"If [a] number of other countries are talking to this group, do we have [an] interest in Afghanistan is the first issue," he asked, in response to a question at a media briefing. "If the answer is yes then you cannot be out of the bandwagon."
For more than two decades, India has steadfastly held the official position that it will not talk directly with the Taliban — though it has, on occasions, had indirect, secret contacts with the group. That posture is rooted in the conviction that the Taliban remain beholden to Pakistan and must be seen as a proxy for Rawalpindi. Any legitimacy bestowed on the Taliban will strengthen their quest to return to power in Kabul which would be a nightmarish scenario for India, goes the argument.
That part of the Afghanistan equation hasn't changed. What has altered is the direction in which Afghanistan is today headed, and India's ability to influence how those in power in Kabul behave.
The Donald Trump administration has indicated its plans to scale down its military presence in Afghanistan. There was no denial of the December 21 report in The Washington Post suggesting that Trump has ordered the Pentagon to draw up plans to halve the 14,000-strong US military contingent in Afghanistan. From a president who loves nothing more than to accuse The Post and others of 'fake news', that silence must be read as confirmation. In December, Trump wrote to Pakistan's prime minister, Imran Khan, requesting his help in getting the Taliban back to negotiations on a peace deal, further lending weight to the view that a withdrawal might be on the cards. Already, the United States of America is pulling out of Syria.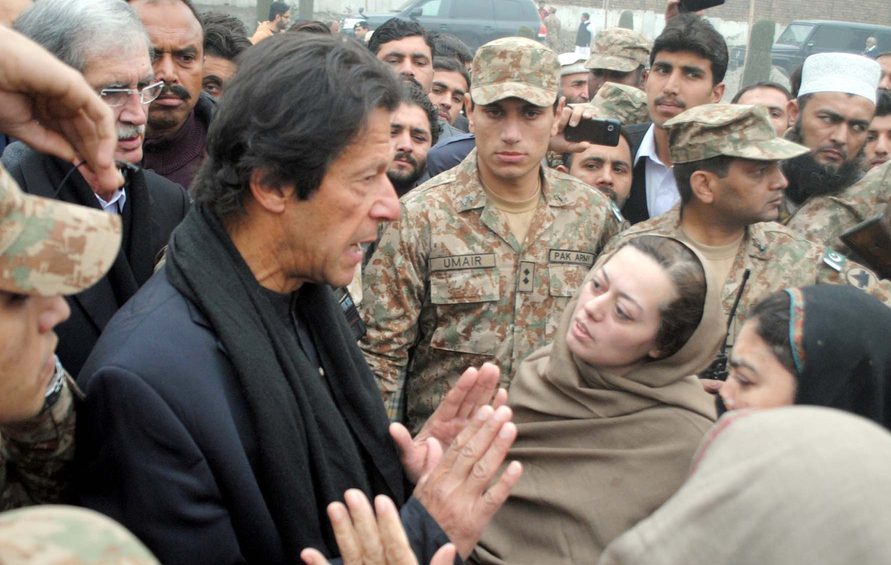 Imran Khan consoles the parents of students who were killed in a Taliban attack on an Army Public School on December 22, 2014 in Peshawar. Shutterstock
The Taliban control more territory today than at any point since 2001, and are poised to expand even more as Afghanistan's pre-eminent political force once the US pulls out. That's a reality others recognize. Shia Iran, historically among the staunchly Sunni Taliban's worst enemies, is talking to the group. As is Russia, despite the bitter memories of the bloody war with the Afghan mujahideen. The US has held meetings with the Taliban all through the Afghan war.
For long, India has worried that any direct contact with the Taliban would undermine the position of the elected Afghan government, which New Delhi — correctly — believes is its best bet in Kabul. But that needn't be the case. Unlike the US, India doesn't need to involve itself in mediating with the Taliban for an Afghan peace agreement.
India's conversation with the Taliban can be much more sharply defined: communicating to the group that if it comes to power in Kabul, New Delhi would be willing to work with it, under certain circumstances. Those conditions must be clearly articulated: the Taliban must not allow Afghan territory to be used against India, including by their allies like the Haqqani network.
It's legitimate to ask why the Taliban would even consider India's proposition, given their relationship with Pakistan. The answer lies in what India could bring to the table. Having India maintain relations with a prospective Taliban government in Kabul would help the group's credibility internationally. More importantly, India, as Afghanistan's largest aid partner in the region, can today provide critical developmental assistance to any future government in Kabul, much more than Pakistan's debt-ridden economy can support.
There are no guarantees that such an approach would work, or that the Taliban would honour any understanding. But consider the alternative: a Taliban government in Kabul with zero Indian influence. That's a situation that even the former Afghan president, Hamid Karzai, has cautioned India about, while nudging New Delhi to engage with the Taliban.
To be fair, Narendra Modi's government has made moves suggesting greater flexibility than in the past, and Rawat's statement isn't the only instance. In November, India sent two retired diplomats — the former ambassador to Afghanistan, Amar Sinha, and the former high commissioner to Pakistan, T.C.A. Raghavan — to Moscow to participate as observers in the multilateral talks that also included Taliban representatives. And though the foreign ministry insists there's no change in India's approach, the government has opened talks with other adversaries in the past too. In May 2017, India's then ambassador to Kabul met the warlord and the former enemy, Gulbuddin Hekmatyar.
India must build on these baby steps. Two decades ago, India was caught unprepared when the Taliban stormed into Kabul. Indian diplomats had to flee hurriedly. This time, India will have no such excuse.