India will stay relevant in Afghanistan, Taliban or no Taliban
The rising global tide against Pakistan's policy on terror gives India a breather, which it can use to back its friends in Afghanistan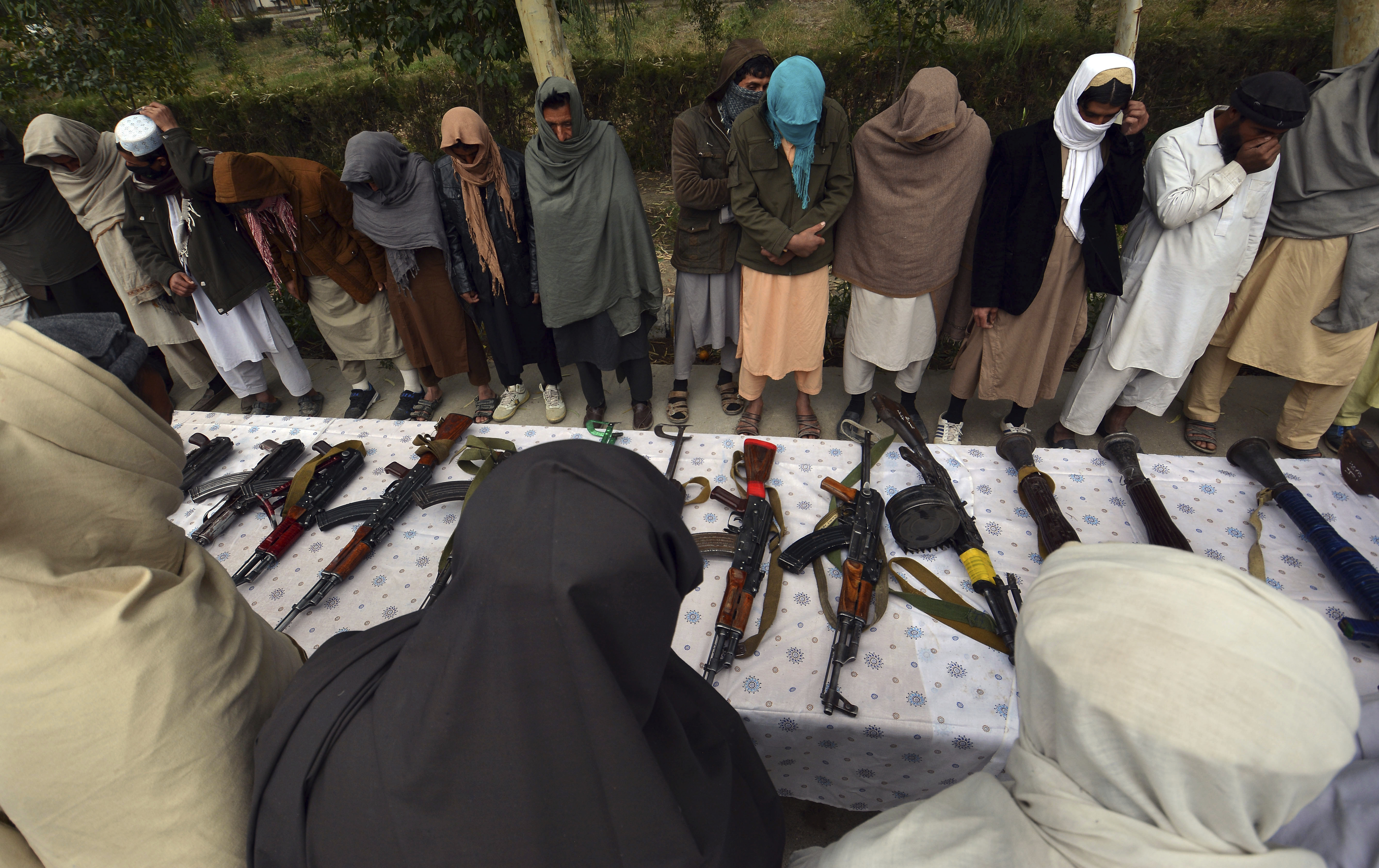 Former Taliban militants stand near their weapons at a ceremony with the Afghan government in Jalalabad, Afghanistan, on November 22, 2018. About 54 former militants from Jalalabad province handed over their weapons as part of of a peace-reconciliation program
Mohammad Anwar Danishyar / AP
---
Published 22.11.18, 01:41 PM
|
---
Let's consider India's interests first. There are three assumptions on which India's current Afghanistan policy is based. One, there is an overwhelming agreement that India's interests lie in building a strong, resilient state in Afghanistan. Consequently, India has distinguished itself as an external actor that is focused on economic development and capacity building in Afghanistan.
Two, almost everyone in the Indian strategic establishment agrees that an Afghanistan which is controlled or piloted by Islamabad is inimical to Indian interests. At the same time, distance, domestic economic aspirations, and limited diplomatic and intelligence capabilities mean that what India cannot push for a complete exclusion of Pakistan from political processes in Afghanistan.
Now consider the recent changes in the political landscape. One, the Trump administration has made a U-turn from the Afghanistan strategy which was announced in August 2017. That strategy had stressed on a 'fight to win' military effort aimed at 'killing terrorists'. It was supposed to open up more opportunities for collaboration on the economic front between India and Afghanistan. But this policy seems to be long forgotten now. Instead, it appears that Trump is determined to reduce the presence of US forces as early as possible even if that comes at the cost of a compromise with the Taliban.
Secondly, the Taliban itself has substantially weakened the writ of the Afghan government by increasing attacks on civilians and government officials alike. In August, the Taliban conducted their second major assault on a provincial capital this year when they attacked Ghazni. In October, the Taliban killed the Kandahar province police chief General Abdul Raziq, and provincial intelligence chief General Abdul Momin. The latest quarterly report of the Special Inspector General for Afghanistan Reconstruction (SIGAR) to the US Congress also suggests that nearly 30-40 ANDSF personnel are being killed per day.
Thirdly, even though Taliban's position in Afghanistan has strengthened, Pakistan itself has come under severe pressure from the Trump administration. Perhaps for the first time, no major power is ready to tolerate Pakistan's shenanigans. And as Pakistan's stock has fallen, both the US and China are unlikely to allow Pakistan to use border areas in Afghanistan for producing global terrorists.
It is interesting to note that all three recent political changes are effectively out of India's control. There's no way for India to influence any of the three outcomes without incurring significant opportunity costs.
The way ahead for India rests on reconciling Indian interests with the recent changes in the political landscape, many of which are outside Indian control. The turning global tide against Pakistan's policy of using terror gives India some breathing space. It should participate in political processes in order to add weight to the demands of India's friends in Afghanistan. Beyond this supplementary role, there is little that India has to gain from starting new peace processes. India's comparative advantage in Afghanistan comes from its contribution to state capacity building and economic development and for this reason alone it will continue to stay relevant in Afghanistan, Taliban or no Taliban.
Pranay Kotasthane is a Fellow for Geopolitics at the Takshashila Institution, a centre for research and education in public policy.
The action is fast and furious. Taliban representatives have attended peace talks in Moscow for the first time. Almost simultaneously, the US special envoy has broken a taboo and opened direct talks with the Taliban office in Qatar. Pakistan has released one of the founding members of the Taliban after eight years. In Afghanistan itself a US general has been wounded in a Taliban attack and there are daily reports of the ever increasing numbers of Afghans getting killed by Taliban terrorists.
Such is the fluid state of political affairs in Afghanistan today that these highly divergent events are all unfolding concurrently.
Amidst all these fast-moving political developments, it was the Moscow round of talks that attracted the most attention in India. India has consistently maintained that it supports an Afghan-led and Afghan-owned reconciliation process. So, sending retired diplomats as observers at the Moscow round of talks naturally sparked speculation that India was reversing its policy on Afghanistan. Interestingly, some commentators have, in the past, accused India of doing exactly the opposite — blocking attempts by the Afghan government to negotiate with elements such as the Taliban.
So, did India really reverse its stance on the political process in Afghanistan? The answer is no. Sending a non-official delegation to a regional process in consultation with the Afghan government which itself sent High Peace Council representatives does not constitute any qualitative deviation from past policy. The far more important question is this: do the Moscow round of talks matter? Unfortunately, the answer to this question is also a no. Only an arrangement that has a buy-in from the US, the Afghan government, and the Taliban will have some impact on ground.
Nevertheless, this flurry of political activity in Afghanistan is a good point to assess where India stands. In my assessment, the way forward for India depends on the interplay of two factors: Indian interests and the recent changes in the political landscape of Afghanistan.