If cows could vote, the BJP would never have to worry about losing an election
For the last five years, it has been proved multiple times that it is safer to be a cow in some respects in this country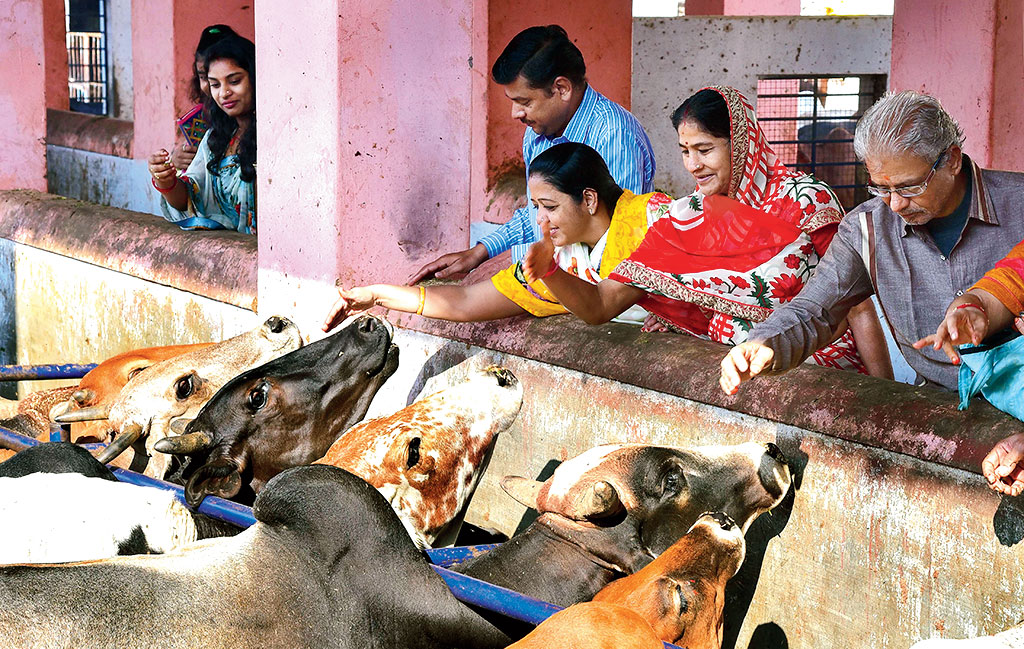 Devotees feed cows on 'Gopastami' in Bikaner. Since 2017, cows have allegedly been entitled to ambulance services in Uttar Pradesh. Now that winter is setting in, the Ayodhya Municipal Corporation is reportedly getting jute coats stitched for 1,200 cattle at one of its cow shelters.
(PTI)
---
Published 26.11.19, 09:11 PM
|
---
Sir — Human beings generally do not enjoy living, or being treated, like animals. New India, however, is an exception even in this case. For the last five years, it has been proved multiple times that it is safer to be a cow in some respects in this country. Since 2017, cows have allegedly been entitled to ambulance services in Uttar Pradesh. Now that winter is setting in, the Ayodhya Municipal Corporation is reportedly getting jute coats stitched for 1,200 cattle at one of its cow shelters. The Bharatiya Janata Party-led government had once mooted the plan of issuing identity cards to cows. If cows could vote, the BJP would never have to worry about losing an election.

Raima Talukdar,
Calcutta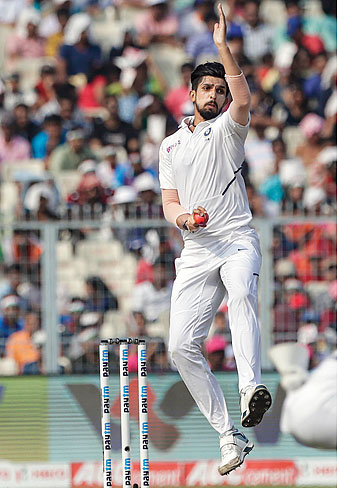 Decisive win
Sir — The 'pink-ball' Test series between India and Bangladesh came to a close with a decisive victory for the Indians. Within an hour of the first session on the third day of the second Test match, Bangladesh were bowled out for 195 ("Welcome to new India: Pacers 19, others 0", Nov 25). With his brilliant performance, Ishant Sharma — he got nine wickets — was rightly adjudged the Player of the Match. He was also awarded the Player of the Series.
This win at the Eden Gardens also marks India's seventh consecutive Test victory at home, which is their best-ever winning streak. The captain, Virat Kohli, who scored 136 runs, should be congratulated for having led his side to this massive achievement. Bangladesh must buckle up and make sure that they put up a strong fight against India next time. After all, the real joy of watching a match lies in it being a close contest between two able contenders rather than one in which a single side dominates.
Ratul Sarkar,
Calcutta
Sir — The tussle between the cricket teams of India and Bangladesh at Eden Gardens was clearly an unequal contest. After dismissing Bangladesh for a paltry 106 on the first day, the Indian team was on a high. The second day began on a promising note, and the Indian skipper, Virat Kohli, who had surpassed 5,000 runs as a Test captain the previous day, set a new record by notching up his 27th Test century. Bangladesh was fated to face a huge deficit. India decided to declare after getting a lead of just 241 runs. However, the pace bowlers, headed by Ishant Sharma, proved once again that such margins are more than enough to win a Test. After the final win by an innings, it seems that the Indian captain is on a record-making spree. It is heartening to see him finally scoring a ton after a lean patch, which augurs well for tours that India play Down Under. Ardent fans of Indian cricket hope to see Kohli breaking more records and setting new bars in the days to come.
N. Viswanathan,
Coimbatore
Sir — The Indian cricket team has come out with flying colours in their first-ever 'pink-ball' day-night Test match. The squad not only emerged victorious but also set a record by becoming the first team to register four consecutive Test wins by the margin of an innings.
At a time when Twenty20 internationals are rapidly gaining popularity, the huge turnout of spectators at the Eden Gardens stadium to watch the longest format of the game in a new avatar goes to show that day-night Test matches are here to stay. The cricket-loving nation has welcomed it with open arms. When the decision to use the pink ball was declared by Sourav Ganguly, the new president of the Board of Control for Cricket in India, many people had doubts about whether it would turn out to be a successful move. However, the day-night Test proved that Ganguly's decision was correct.
Ganguly also hopes to take the pink-ball game to all parts of the country and revive Test cricket which has not been in the 'pink' of health in recent times. Indeed, he might just have rescued Test cricket from fading away forever, just as he had rescued and led the Indian men's cricket team to victories in so many tournaments as a batsman and captain time and again in the past.
While celebrating our own heroes, we must also thank the Bangladesh cricket team for accepting the invitation to come to India and play the Test. The Indian team should now get ready to play pink-ball games against stronger teams.
M. Pradyu,
Kannur
Parting shot
Sir — Instagram might be digging its own grave. It has decided to roll out its policy of hiding the number of likes for images worldwide. The number of likes — and the social validation that it brings to Instagram users — is what has so many people hooked on to this particular platform, meant primarily for sharing pictures. Likes are also key to deciding whether one is an "influencer" — a lucrative career option these days. What does the company think it will achieve with this move? The latter cannot be good for its business.
Roshni Sen,
Calcutta