Letters to the Editor: How rising operational costs is making confectioners shut shop
Readers write in from Chennai, Ujjain, Visakhapatnam, Patna, Nadia, Hoogly and Calcutta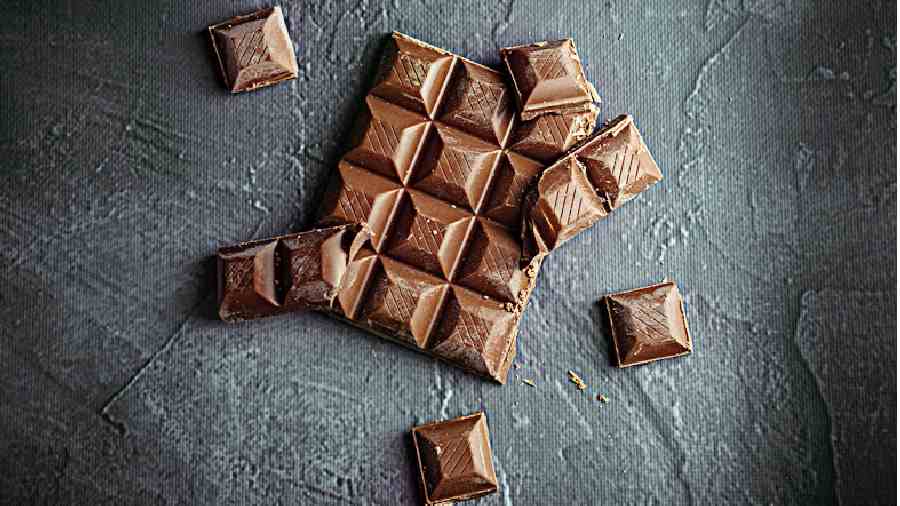 Chocolate may now become a rare indulgence.
---
Published 07.09.22, 04:23 AM
|
---
Rare treat
Sir — Money cannot buy happiness, but a piece or two of chocolate can certainly alleviate some of our woes. However, that may not be the case for long. According to data, chocolate prices have gone up by 8.2 per cent in the United States of America in the past year, leading to a slump in sales. A recent report indicated that medium-sized chocolate confectioners in Germany are at risk of shutting shop because of unprecedented price hikes in energy, raw material, packaging and transport. Rising operational costs have made it difficult for most small and medium enterprises to stay afloat. But it is shocking to think that chocolates, a crucial source of pleasure for many of us, may now become a rare indulgence. 
Sharmila Guha,  Calcutta
Tough task
Sir — Liz Truss, the former foreign secretary, has defeated the former chancellor of the exchequer, Rishi Sunak, in the race for the prime ministerial post in the United Kingdom ("New boss", Sept 6). However, she assumes this responsibility amidst immense financial crisis. Truss has promised to unveil a plan to deal with rising energy bills and to secure future fuel supplies within a week. She has also indicated that she will prioritise tax cuts over providing direct support to households. Truss will be under pressure to scale down the country's involvement in the Russia-Ukraine war and focus on domestic troubles.  The UK is in dire need of a stable, sincere and strong leadership, something which was absent during Boris Johnson's scandal-ridden tenure. One hopes Truss will be able to steer the country in the right direction. 
S.S. Paul, Nadia
Sir — Liz Truss's election as the 56th prime minister of the UK comes at a time of great upheaval within the Conservative Party. Truss has a tough job ahead of her. She must deal with the cost-of-living crisis that has gripped the country since 2021 and reshape the economy. It remains to be seen if Truss can resolve the many problems engulfing the UK.  
Jayanta Datta, Hooghly
Sir — Liz Truss will have to deal with a historically high inflation rate, disruptions in the global supply chain and the effects of the Russia-Ukraine war. It will not be easy to mitigate these issues.
Ashwini Tomar, Ujjain
Sir — Liz Truss's political views have varied dramatically over the course of her career. Yet, she edged out Rishi Sunak to become the British prime minister owing to her promise to cut taxes and her loyalty to Boris Johnson.
Ranganathan Sivakumar, Chennai
Litmus test
Sir — A democratic nation must have a strong and flourishing Opposition. But as more and more stalwarts of the Congress part ways with the party, it has become apparent that the Opposition in India is in tatters. The Congress is constantly accused of being a dynastic party. This time, the Grand Old Party must elect a president who is not from the Nehru-Gandhi family. Senior leaders must have a say in the decision-making process so that they do not feel left out. 
Shruti Sharma,  Ujjain
Beleaguered icon
Sir — It is unfortunate that the United Nations has been unable to help the former state counsellor of Myanmar and Nobel laureate, Aung San Suu Kyi, who has been incarcerated by the military junta. She was recently sentenced to three more years in prison for electoral fraud in 2020, increasing her total prison term to 20 years. It is heartbreaking to see the iconic leader who struggled for decades to bring democracy to military-ruled Myanmar fall from grace. 
K. Nehru Patnaik,  Visakhapatnam 
Sir — The charges against Aung San Suu Kyi seem to be growing. In mid-August, Suu Kyi's jail term was increased to 17 years after a court in military-ruled Myanmar convicted her on additional corruption charges. The jail term has now been raised to 20 years. The former state counsellor is already 77 years old. It seems unlikely that she will be free in this lifetime.  
Nitya Chaudhuri, Patna
Grave situation
Sir — Cyberbullying is a serious challenge of our time. In a recent global survey by McAfee, 45 per cent of the children participating from India said that they had cyberbullied a stranger against a worldwide figure of 17 per cent. Around 48 per cent of Indian children said that they had cyberbullied someone they know, as against 21 per cent of children globally.  One reason for India having a higher rate of cyberbullying may be the early and increasing adoption of electronic devices by children, both at school and at home. Surveys show that not only are children in India among the youngest to reach mobile maturity but they also report experiencing online risks, including cyberbullying, at a greater rate than their global peers. Yet, cyberbullying is rarely given priority by law enforcement agencies. There are also no clear provisions governing cyberbullying, making it difficult to enforce punishments that would act as deterrents. The government must look into this at the earliest. 
Divya Rana Ujjain
In memoriam
Sir — It was wonderful to learn that Mohun Bagan has renamed one of the gates of its football ground after the former Indian captain, Samar Banerjee — popularly known as Badru — who passed away recently. Banerjee led the Indian side which finished fourth in the 1956 Melbourne Olympics. He was a Mohun Bagan stalwart and played for the famous club between 1952 and 1959 and guided it to several more victories afterwards. 
Sourish Misra, Calcutta