Green films: Editorial on need for 'environmental cinemas'
Given its global reach, cinema can not only raise awareness on conservation but also foster greater public engagement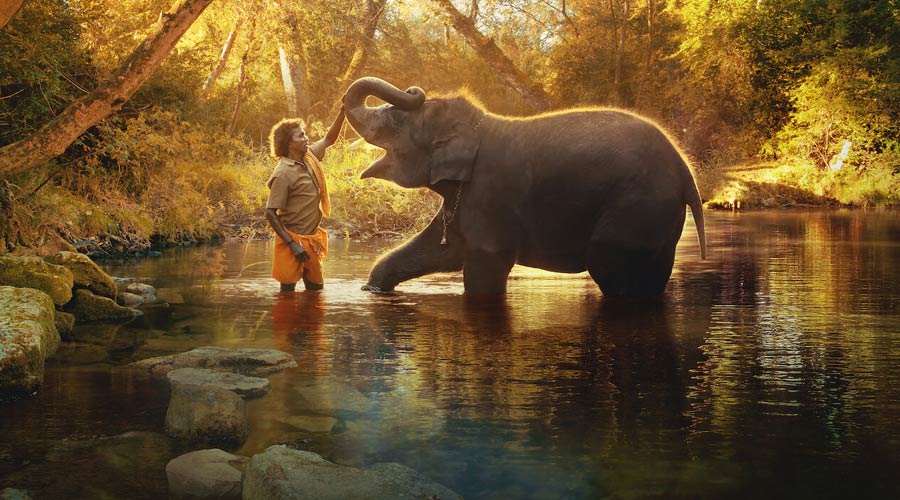 Conservationists are hopeful that this year's Academy Award for the documentary, The Elephant Whisperers, an entry from India, will promote a greater understanding of the complex but interconnected relationship between these pachyderms and humans
Netflix
---
Published 19.03.23, 04:29 AM
|
---
There is no denying the impact of the large screen. It can make or break futures — of mankind and other species. For instance, after the release of Jaws in 1975, the populations of sharks and rays decreased by over 71%. According to a 2021 study, more than 100 million sharks were killed each year and over 30% of all shark and ray species are now considered threatened because of the film. But cinema can also heal by holding up the hope of revival. Conservationists are hopeful that this year's Academy Award for the documentary, The Elephant Whisperers, an entry from India, will promote a greater understanding of the complex but interconnected relationship between these pachyderms and humans. Kartiki Gonsalves's film is a tender depiction of the bond between two orphaned elephants and their caretakers, an adivasi couple, in the Mudumalai Tiger Reserve in Tamil Nadu.
Admittedly, as a genre, 'environmental films' have become effective in stimulating public discussions about complex environmental issues. The Elephant Whisperers perhaps falls in the category of cinema that approaches such knotty issues optimistically — as opposed to apocalyptic environmental films — to raise awareness and encourage action. Incidentally, The Elephant Whisperers is not quite an outlier in the ecosystem of Indian cinema. Recently, films like Your Tiger Our Forest, Dhivarah and Sherni have spoken of such ecological challenges as man-animal conflict and marine conservation as well as about the lives of forest officers imaginatively to foster a positive spirit. Such an optimistic intent, a study by Harvard University shows, could reduce anxiety-induced denial and fatalism about the global battle to save the environment.
But this is not to suggest that the success of The Elephant Whisperers would, by some magic, remove the hurdles that litter the path of environmental films. These films are often accessible to a niche audience only. For instance, the subscription fee of Netflix — the platform that is streaming The Elephant Whisperers — puts the film out of the reach of the poor and disempowered indigenous and forest-dwelling people who actually co-exist with elephants and bear the brunt of man-animal conflict. The challenge is two-fold: first, to create a broader platform for niche films — the All Living Things Environmental Film Festival is a heartening step in this regard. Second — this is the stiffer of the two challenges — is to mainstream specific cinematic genres for greater public consumption. This is not impossible. Kantara — a film based on tribal livelihoods in a forest, State efforts in wildlife conservation and feudal and caste oppression conspiring to take away land from the people — grossed Rs 400 crore worldwide; All That Breathes, which evocatively combined environmental and social stress, drew attention as well. This goes to show that there is an audience and a market that can be tapped. Financers, forever glued to hackneyed, formulaic, popular cinema, must come forward to support alternative cinematic projects that are beginning to offer the audience a different — real — picture.