Find true north
Watching where we are going is the way forward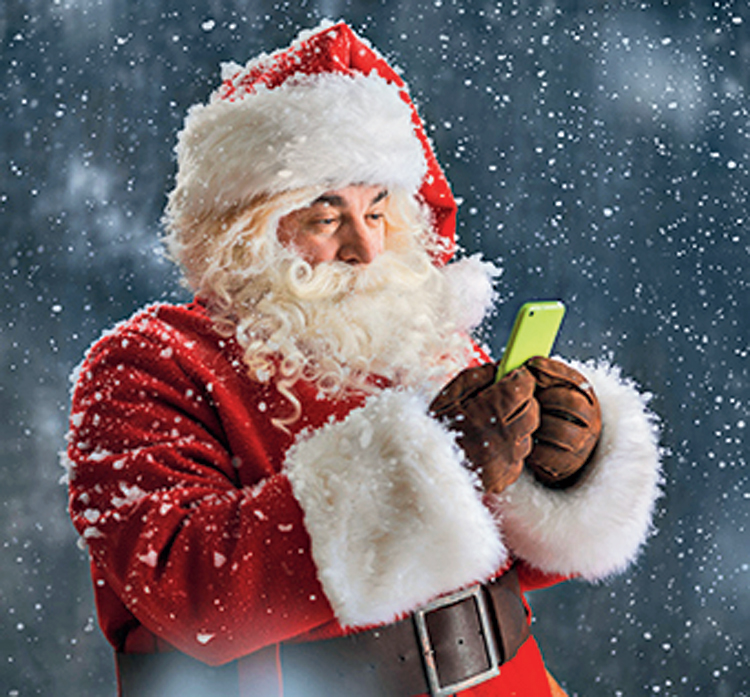 ---
---
Sir — If Santa got a few requests wrong this year, do not blame the old guy. The earth's magnetic North Pole is shifting east. As if the dislocation of his home was not enough to confuse Kris Kringle, the shifting North Pole has also got the GPS malfunctioning. Is it any wonder that Santa got the addresses for some gifts wrong? While commiserating with Santa, this might also be a good time to reorient oneself with the streets. People cannot go anywhere these days without following online navigation. But this will soon cease to be a reliable option. Watching where we are going is the way forward.
Meghna Pal
Calcutta
Nightmarish reality
Sir — Uddalak Mukherjee's articles are a source of constant surprise. His piece, "Diaries of the night" (Dec 25), reminded me of a telling dream — rather a nightmare — of another visionary leader. Nelson Mandela wrote in his autobiography: "I had one recurring nightmare. In the dream, I had just been released from prison — only it was not Robben Island, but a jail in Johannesburg. I walked outside the gates into the city and found no one there to meet me. In fact, there was no one there at all, no people, no cars, no taxis... Finally, I would see my home, but it turned out to be empty, a ghost house, with all the doors and windows open, but no one at all there."
Mandela's dream conveys his sense of alienation at the prolonged incarceration: freedom to wander in an empty world can hardly be called freedom. This is no simple fantasy of escape; his nightmare dramatizes what a life separated from one's loved ones can feel like. It bears testimony to a primary dimension of the human condition: to see and to be seen to exist.
A place devoid of all people seems to symbolically represent the emotional experience of being banned from society. The nightmare articulates not only the violence that incarceration enacts, but also the violence that apartheid enacted. More evocative than any other declaration, Mandela's nightmare made evident the ways in which apartheid transformed the world into a ghost town.
Yashodhara Sen
Calcutta
Sir — The article, "Diaries of the night", was illuminating. I wonder if the writer has heard of the work of the famous photojournalist, Magnus Wennman. His photo essay, "Where the Children Sleep", documents children in various states and places of rest and unrest. It provides a shockingly intimate glimpse at the conditions that people fleeing their homelands are forced to contend with. Wennman shoots children sleeping in the woods, in boats, detainment centres and so on to show what life might be like for those desperately seeking refuge at unwelcome borders of distant nations.
Wennman finds that children are given to sleep in inhospitable places that seem unlikely for dreaming. Yet, children do dream — the captions to these searing images of children and adults express the nightmarish qualities of their slumber. The article might have benefited from a reference to Wennman's work; he chronicles precisely the kind of horrors that Charlotte Beradt had set about collecting in Nazi Germany. The dreams — or, in cases, the lack thereof — of these children haunt the viewers, who are forced to come face to face with the dismal reality of war.
Soumya Ray
Calcutta
Sir — Some pertinent points were raised in the article, "Diaries of the night". The image of New India is enough to push one to the brink of insanity and inspire the most horrible of nightmares. India is more fragmented than ever. The ruling dispensation — not that much different from the Germany of the early 20th century — has chosen to incense people, to divide them along narrow lines of caste and creed, to provide legitimacy to bias that would have been unimaginable at one point of time.
Nobody — not even a government with a huge mandate — has the right to define a singular idea of India. There are as many definitions of India as there are Indians. These ideas can be argued over, criticized, praised, but not hunted down. Yet this is exactly what is happening at the moment in this country. If this is not a nightmare then what is?
Shovanlal Chakraborty
Calcutta