Electoral might: Steamrolling of farm bills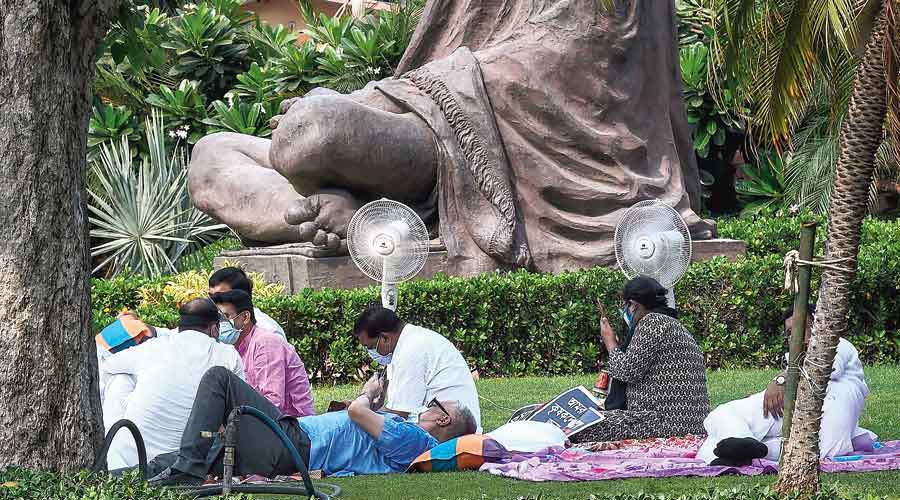 Suspended Rajya Sabha MPs staging a dharna near the Gandhi statue on the premises of Parliament House on Monday.
PTI
---
Published 23.09.20, 12:48 AM
|
---
Narendra Modi, a maestro of spin, described the passage of the contentious bills on agricultural 'reform' as a 'watershed moment'. Perhaps the prime minister truly believes that pushing through legislations without wider deliberations with the Opposition can be rightfully claimed as a momentous accomplishment in a parliamentary democracy. Eight Rajya Sabha MPs, who had led the furious protest against the hasty passage of the bills, have been suspended for the rest of the session for their unruly conduct. Unparliamentary behaviour must be assessed fairly and then acted upon. But this is not to suggest that the Bharatiya Janata Party-led Central government stands out as a beacon of parliamentary propriety. The steamrolling of the three farm bills is a case in point. The government chose to not cede any ground for such legitimate demands as a detailed discussion on the concerns raised by the bills, referring the legislations to a select committee that would have facilitated a wider consultative process and — most brazenly — the demand for a division of votes, a fundamental right of elected representatives. Significantly, the aam aadmi were denied the opportunity to view these transgressions as live telecast of the proceedings was disrupted. This kind of shocking unilateralism, the trademark of Mr Modi's muscular regime, may have aggrieved the Opposition further. It is telling that a government, elected twice over in a democracy, is yet to comprehend that Parliament remains the highest consultative forum. The hubris of electoral triumphs may have fogged the BJP's ethical glasses.
Mr Modi has defended the bills stoutly. What remains to be seen is whether the prime minister's defiance would be enough to douse the political fires that have been lit. The Opposition, bolstered by the simmering unrest by farmers in Haryana and Punjab, seems to have found a way to stand united — at least for now. The National Democratic Alliance has already lost the Shiromani Akali Dal, one of its staunchest allies, and there are murmurs that some other fence-sitters — the Biju Janata Dal, Telangana Rashtra Samithi and All India Anna Dravida Munnetra Kazhagam — are nervous about the agitation from a politically significant constituency. It will take more than the usual dose of aggressive rhetoric and inducements — the Centre has already raised the minimum support price of wheat — to calm the tempers within and outside the House.