Durga Puja in the UK
If I got the flights, trains and hire cars all worked out, I could conceivably do 61 Pujas in ten days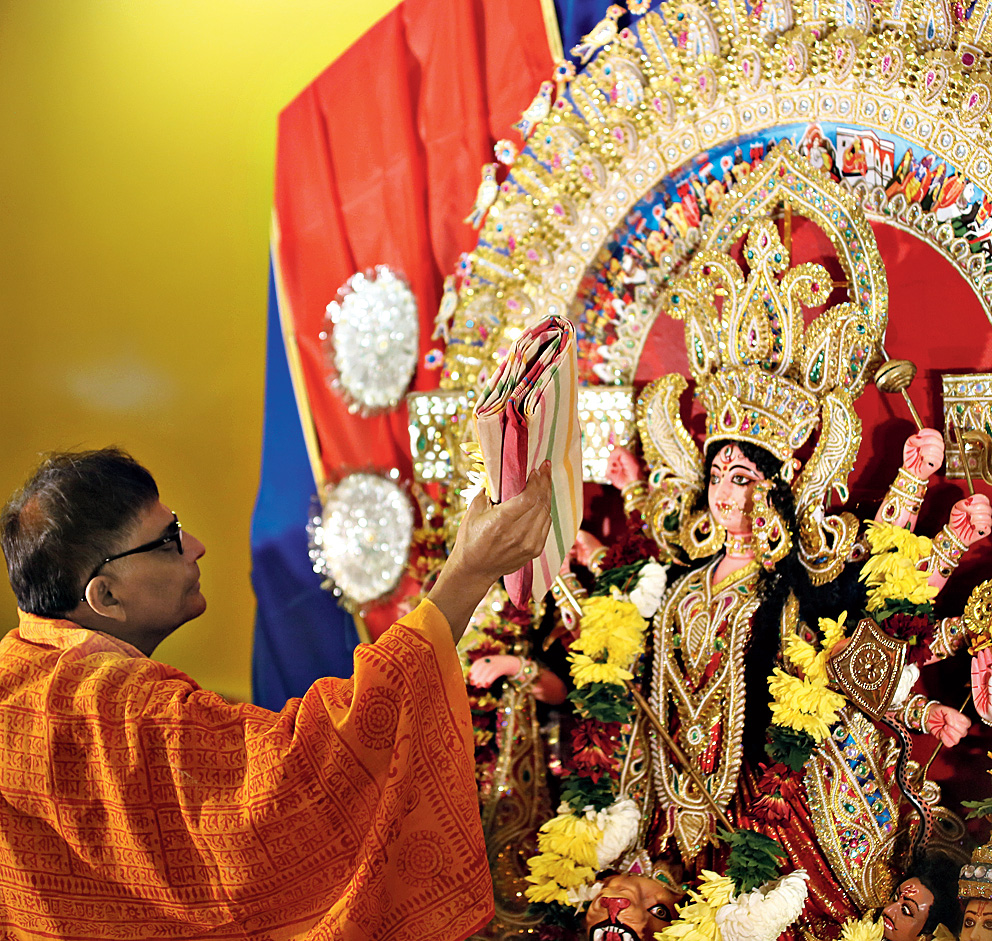 Edinburgh Durgotsav this year
Amit Roy
---
Published 19.10.18, 08:04 PM
|
---
Home away from home
This is the time of year when I miss being at home where I can experience the joy of braving crowds in wet weather to go pandal-hopping in Calcutta. The equivalent in Britain would be to go city-dashing. "Last year there were between 50 and 55 Pujas in Britain," says Sumit Konar, a postdoctoral chemistry researcher at Edinburgh University. "This year the number is up to 61." The locations range from Aberdeen in the north to Bournemouth in the south, from Belfast in the west to Middlesbrough in the east.
Sumit, along with Maitri Roy, a software engineer, and Abhirup Ghosh, who is doing a PhD in informatics, is producing an online map of the country — UK Puja Parikrama — with stars denoting the various pujas. Durga has gone digital, with organizers posting 'live' images of their respective celebrations.
Received wisdom is that if you have 10 Bengalis, you will have 11 Pujas. But Sumit has a positive story to tell: "The big news is that Bengalis in the UK have shown great unity. All the Puja organizers have actively participated in a common WhatsApp platform and shared individual Puja details. We are celebrating Puja from October 12-22. Some ladies are saying they need 22 new saris."
If I got the flights, trains and hire cars all worked out, I could conceivably do 61 Pujas in 10 days, taking in Liverpool, Basingstoke, Bristol, Cambridge, Leicester as well as Camden Town and several others in London. I tend to favour Hounslow in west London where a nucleus of 47 families established a group called Probashi. One of its leading lights, Atrayee Chaudhury, promises: "Of course, I will be making luchi and alur dom at home." Flavour maker
The deceased former chief minister of West Bengal, Jyoti Basu, would have been proud that his granddaughter, the food writer, Mallika Basu, has just been named among the 1,000 most influential people in London by the Evening Standard. In the report, "The Progress 1000: London's most influential people 2018", Mallika is listed under the section, "Tastemakers: Eat & Drink". "Proud to be the only Indian food writer named as a Tastemaker and one of London's most influential people," tweeted Mallika, who writes a food blog for the paper and is the author of two books on Indian cuisine. Her last suggestion was on how to make "healthy Bengali rice porridge with a twist — this is the stuff Bengali childhoods are made of".
Mallika says she is thrilled to be included "with some big names" like Nigella Lawson and Fay Maschler. As a double celebration this Durga Puja, she "will be making Bhoger Khichuri, Beguni and Chorchori, probably Niramish Mangsho, too."
The place to be
The Hindujas' Diwali party at their palace in Carlton House Terrace, a 10-minute walk along the Mall from Buckingham Palace, is always a grand affair — and a barometer of the ups and downs in British politics. Invitations have started to go out for this year's celebrations, which will attract the who's who from the Indian community. Among the guests who attended last year, Boris Johnson has resigned as foreign secretary, Priti Patel, who brought a warm personal message from Theresa May, had to step down as international development secretary, but the chief whip, Gavin Williamson, has been promoted — some would say over-promoted — to defence secretary.
Strange experience
Marie Colvin, the Sunday Times foreign correspondent who wore an eyepatch after being injured in Sri Lanka and was killed in 2012 in Syria, has been portrayed by Rosamund Pike in A Private War, being shown at the London Film Festival. It will feel a little odd watching a movie about someone who used to sit next to me when we were colleagues. Footnote
Nandita Das has merited a 1,400-word article in the Financial Times, coinciding with the release of her film, Manto, but she has expressed concern about many issues, including fear caused by the murder of the journalist, Gauri Lankesh. "During my adult life, I don't think I've ever sensed this kind of fear and... self-censoring," she admits. "We are scared to even 'like' a Facebook post lest we be put behind bars... Gauri Lankesh was a friend of mine... It can happen to any one of us."
Powerful people
In drawing up the list of the 1,000 most influential people in London, the editor of the Evening Standard, George Osborne, who was for remaining in the European Union, appears to be making an anti-Brexit statement. "Our Progress list this year celebrates the diversity of Londoners — the brilliant people, some born here and others who have moved here, who together make our city so exciting. It is a roll call of talent and a rebuff to all those who want to shut Britain off from the world and close our doors to the future." Others on the list with their sectors include the novelist of Pakistani origin, Kamila Shamsie (literature); the actor, Dev Patel, and the director, Asif Kapadia (screen); the sculptor, Sir Anish Kapoor (artists & curators); and the chairman of the bank, Santander UK, Baroness Shriti Vadera (City).
Also included are the video games inventor, Herman Narula (science and technology), the son of HS and Surina Narula; and the restaurateurs, Karam, Jyotin and Sunaina Sethi, who own the Gymkhana, and Kavi and Shamil Thakrar, who have set up Dishoom (Tastemakers: Eat & Drink).
Osborne was chancellor of the exchequer under David Cameron, and his heir apparent, but was sacked when Theresa May took over as the prime minister of Britain. This might explain why he has named the home secretary, Sajid Javid, as the most important Londoner and left out the prime minister altogether. Also prominent on the list is Meghan Markle, who is touring Australia with Prince Harry.