Cow protection has turned into an illicit but profitable enterprise
Cow vigilantes get away with murder, while the government of the day benefits politically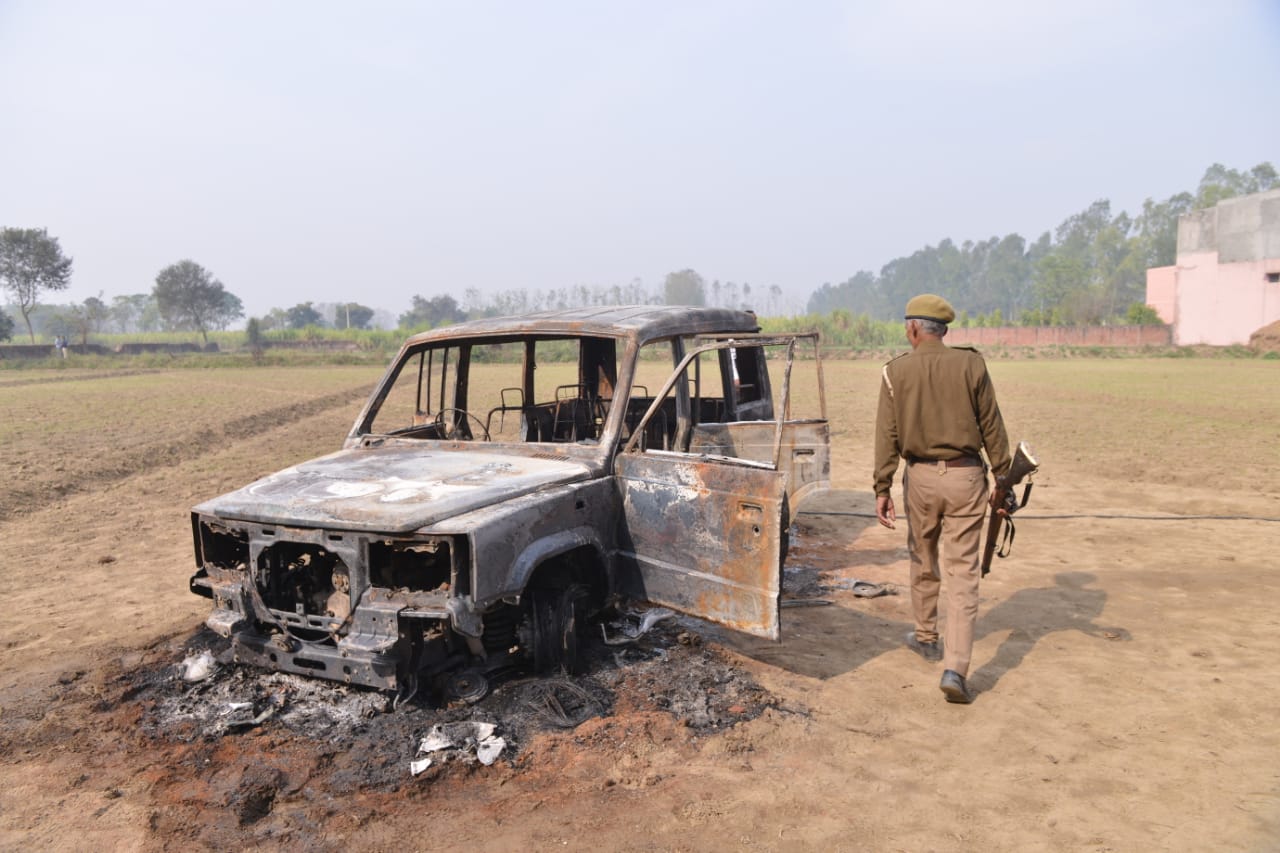 The vehicle that was torched by a mob in Siyana, Bulandshahr, on Tuesday, December 4, 2018.
Photo by Prem Singh
---
Published 06.12.18, 02:14 AM
|
---
For poison to reap its deadly harvest, it needs to be administered on the sly. This seems to have been the case in Uttar Pradesh's Bulandshahr where an alleged conspiracy to set aflame communal passions by rogue cow vigilantes patronised by the Bajrang Dal and the Vishwa Hindu Parishad resulted in two deaths, including that of a law-keeper. Matters have been made murkier by whispers that the police officer had initially investigated the death of Mohammed Akhlaque, one of the earliest victims of the rash of cow vigilantism that has contaminated the republic. It is plausible that the criminals had been spurred to action after a brief lull because their brand of poison seemed to have lost its potency in recent times. In neighbouring Jainur, some kilometres away from the site of the frenzy, in a remarkable gesture of accommodation in a polarised Uttar Pradesh, Hindu villagers had opened the doors of a temple so that Muslims who had been caught in a traffic snarl on their way to a religious congregation could offer their prayers. Earlier, in Ayodhya, the VHP's Dharm Sabha failed to create a stir. What must have worried the sangh parivar is that a body of seers in Varanasi had been critical of the initiative. Perhaps things needed to be heated up further for the right effect. Bulandshahr, where Muslims had been gathering in numbers for a religious function, presented the perfect conditions to stoke trouble.
The chief minister, as is the wont of most leaders of the Bharatiya Janata Party, chose not to speak up immediately. In fact, a day after the murder of the policeman, Yogi Adityanath reportedly instructed officials to take stern action against cow slaughter. The signal from the top seems to be unambiguous. The reticence of the elected leadership — is this not a kind of complicity? — is fundamental to the consolidation of the sense of impunity and entitlement of these bands of marauders. They have shed the blood of citizens before; now, they have shown that law-keepers too are vulnerable to their violence. Patronage and ideological indoctrination offer partial explanations for the thuggery. There is credible evidence to suggest that cow protection has been transformed into an illicit, but profitable, enterprise. The gains are, evidently, shared. While the vigilantes get away with murder, the government of the day profits politically. A divided polity has, more often than not, brought a particular party to power.