An inhuman touch
Interstate migrants are a national responsibility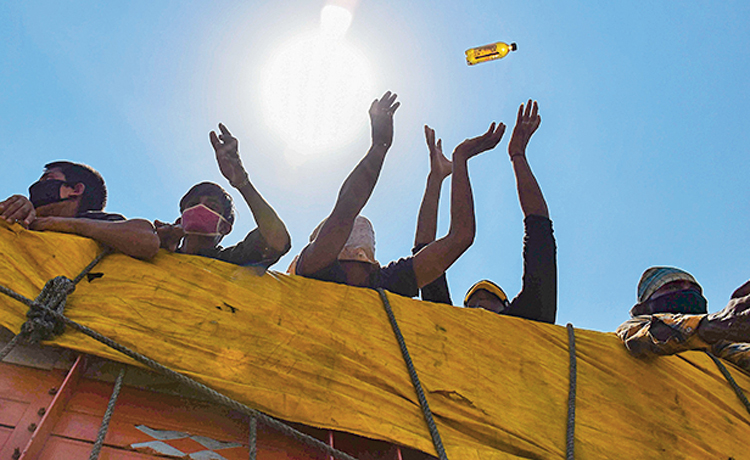 Migrants collect food items from volunteers while in a truck in Jabalpur on May 17
(PTI photo)
---
Published 28.05.20, 09:09 PM
|
---
In her essay, "Lying in Politics", the philosopher, Hannah Arendt, observes that the world's most powerful man, the president of the United States of America, is also the most liable to manipulation. Surrounded by henchmen, he learns only such facts as get through. That might explain why another wielder of awesome power, Prime Minister Narendra Modi — a man of sentiment and imagination, as his TV addresses testify — has remarked so little on the migrant workers' crisis. He has deplored the 'railway accident' that killed 16 sleeping workers. He may gradually turn his gaze to millions in the same plight — perhaps starting with Jamalo Makdam, the 12-year-old from Jharkhand, who died of exhaustion within sight of her village. Her death might be considered a road accident: there have been many among the journeying migrants.
The finance minister, announcing her welfare package, confessed that their plight tugged at her heart-strings. Unfortunately this concern did not extend to her purse strings. Still, it's a start: perhaps the first time a prominent member of the Union government has acknowledged the humanitarian crisis. That seems the first requirement.
The next must be to admit a self-evident principle: interstate migrant workers are, by definition, a national responsibility for the Union government to bear. The states might manage operations on the ground, but Delhi must co-ordinate the exercise and provide funds with promptness and political impartiality. The federal structure of the Indian State loses all meaning otherwise.
Let us consider the situation on three fronts. On the basic issue of food and shelter for the migrants, the absence of an all-India plan has been so evident and unquestioningly accepted that it sounds perverse to discuss it, when the opposite should be true. Here in particular, the states are the only fit agency for hands-on management, but a broad template from the Centre, with supporting funds, seems no less necessary. The only support in two months came as foodgrain — that too, against the wisdom of all advisers, withheld from the undocumented despite overflowing stocks. The states did not even receive their normal statutory dues. Seven weeks after its launch, the PM-Cares fund finally released Rs 1,000 crore to the states (averaging 35 crore per state) as migrant relief, against Rs 6,500 crore received in donations in the very first week. Around March 31, there was a happy interim when the solicitor general could report to the Supreme Court that all migrants across India were housed and fed. Abundant media reports bear out that this was not the case before or after, nor as I write in mid-May.
No denial or buckpassing can erase the professions of hunger by desperate children, women and men on the roads. To what straits must people who, three months ago, were respectable working men be reduced to fight over food packets or queue for hours in the scorching sun? Evidently, their luckier fellow-Indians do not feel this diminishes their own self-respect as citizens. To retain a last fig leaf of national decency, we need to rethink the matter.
Turning to transport: over the first six weeks of lockdown, before the workers had undergone their full ordeal and Covid-19 cases were a small fraction of later figures, absolutely no attempt was made for their return. A proposal for special trains was in the public domain from early April, and the railways were internally mulling the idea soon after. The operation finally began in May, and remains disorganized. (It beats belief that a scheme was in place, however briefly, to manage with buses alone.) An incalculable number of pauperized migrants are begging and borrowing to pay the full standard fare plus a surcharge. We are past shock, part of the reason being the railways' craven attempt to juggle figures to claim an 85 per cent subsidy. More crucially and inexplicably, arrangements for interstate transit across the country, using India's prime national utility, are effectively being made on a state-to-state basis — in other words, scores of fragmented moves instead of a single co-ordinated one.
Social distancing norms have been diluted by nearly 50 per cent on migrant trains (although not on those for regular passengers). In every other situation in which the migrants are thrust — extending to container trucks and concrete mixers — it would be insane even to mention such norms. This is the ultimate irony: now that the infection is at its height, we are risking its indeterminably higher spread as the fallout of a stringent two-month lockdown.
Finally, a matter amazingly little discussed. Now that the nation has woken up to the fact that migrant workers have their use, the Union minister for labour has appealed to the unions to ensure that workers remain where they are, in indefinite wait till their factories reopen. There was no ministerial initiative two months earlier to ensure that all workers received their arrear wages for March — that is, the time they were at work (forget the promise of wages during lockdown). Had they received their dues, their plight would have been halved. Of the workers interviewed, the majority say their employers (many of whom might themselves be in distress) absconded without payment. In theory, there is now an opportunity to mandate that no unit shall reopen till it clears arrear wages. If it has cash problems, it can avail of the relief measures announced.
Nothing seems less probable than such a stipulation, especially considering the bid by several states for draconian dismantling of labour laws. The president of the Bharatiya Mazdoor Sangh has laudably anticipated the political opposition by observing that such moves are medieval in spirit and tantamount to slavery. A similar response might greet the view that if the workers are given food, they do not need money: a principle that would justify bonded labour or even chattel slavery.
But why indeed are workers anxious to return home when they might have their jobs back?
We cannot begin to answer that question till we accept that they are not slow-witted children. They know best what benefits them: they could not have survived as a class without that gut wisdom. They have seldom had reason to trust the State, and the last two months have set the seal on that distrust. Finally — a self-evident truth that eludes much of our elite — they are human beings with mental imperatives that physical suffering cannot always suppress. That is not a sentimental platitude but a simple fact. If it surprises or irks us, that marks our failure of understanding. This is what makes jobless and half-starved men say (as some did in Bengaluru) that they will never work for an employer who abandoned them in their distress. This, finally, is what drives them homeward as a last atavistic resort. That is the only way these powerless people can, at the cost of their own ruin, turn the tables on their masters. Just when the latter seemed to be getting things back on track, there comes this unthought-of reality check.
The workers would not embark on their bleak, potentially suicidal, journeys if they felt they would be better off where they were. It is for the State and the employers to convince them otherwise, which they have catastrophically failed to do. That is their failure and no one else's. Let us dismiss the distracting nonsense that the workers are misled by fake news and Opposition propaganda. Fake news could not circulate on this scale across India among people with few devices to access it, and no Opposition party has that kind of popular reach. Above all, let us not distract ourselves with 'relief measures' that will take months and years to have effect, if they ever do. For a change, we need measures that, two months ago, we had two months to implement, but that now can scarcely wait a week. Even that is a long time for people on empty bellies, trudging hundreds of miles in the summer heat.