Cold shoulder to Hasina
NRC, forced pushbacks muddies Bangla ties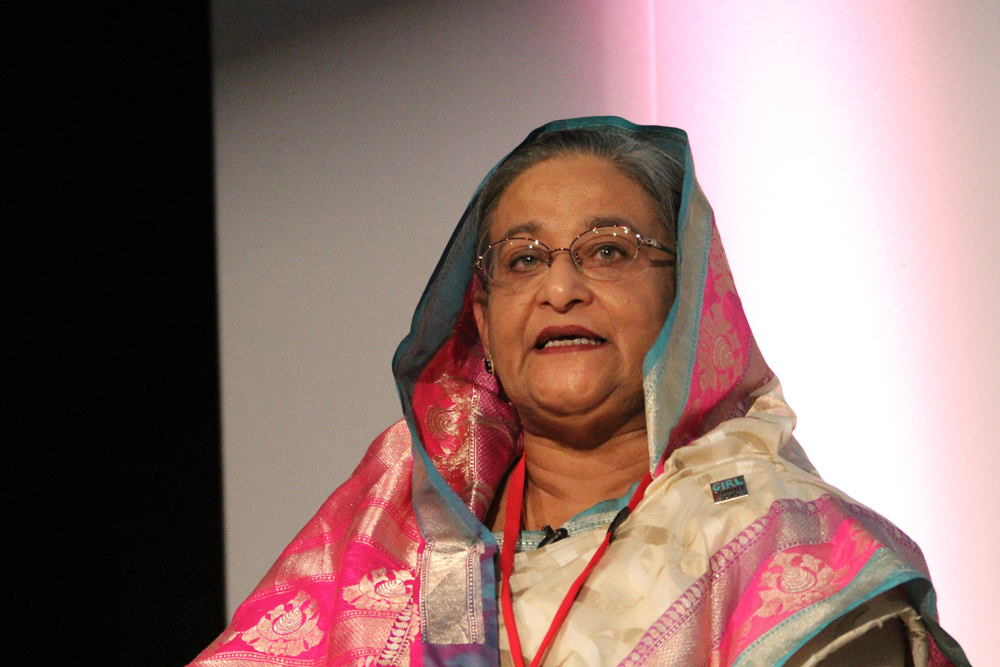 Sheikh Hasina is having to explain to her people what her country has gained for the long list of favours she has done to India
(Source: flickr.com/photos/dfid)
---
Published 12.12.19, 06:53 PM
|
---
The reception during her three visits to India says it all. In April 2017, Prime Minister Narendra Modi set aside protocol to rush to the airport in Delhi to receive the prime minister of Bangladesh, Sheikh Hasina Wajed. In October 2019, Wajed was received by the junior women and child welfare minister and first-time MP, Debasree Chaudhuri. When Wajed arrived in Calcutta to attend the first pink-ball Test at the Eden Gardens last month, there was no Union minister to receive her at the Dumdum airport. True, this was a private and not a State visit. Wajed, by her own admission, was responding to an invitation from Sourav Ganguly, the president of the Board of Control for Cricket in India. But since she is seen to be India's most trusted friend in the neighbourhood, it is surprising that neither Modi nor Amit Shah, the home minister, turned up to share the stage with her.
The media in Bangladesh are pulling up Wajed for 'accepting insult and embarrassment by choice'. Her detractors have also criticized her for 'selling out' to India. The memorandum of understanding signed last October, allowing India to set up a coastal surveillance radar on Bangladesh's coast, has upset China, thereby adversely impacting the release of funds for infrastructure projects crucial to Bangladesh's growing economy. With the Teesta water-sharing agreement nowhere in sight and the dark clouds of NRC-linked pushbacks hanging heavy, Wajed is having to explain to her people what her country has gained for the long list of favours she has done to India.
It all started with Wajed's tour in October. After being repeatedly assured that the National Register of Citizens exercise in Assam was an 'internal' matter, diplomats accompanying Wajed had insisted that the joint communiqué issued at the end of the visit should incorporate this assurance. The Indian diplomats refused, saying this was a court-ordained initiative and the government was not in a position to give a formal assurance. Wajed returned to Dhaka worried. Bangladesh's outgoing high commissioner to India, Syed Muazzem Ali, recently gave vent to this anxiety when he said that his countrymen would rather swim to Italy across the Mediterranean than come to India. A day after Wajed attended the pink-ball Test, the Border Security Force pushed back at least 32 'Bangladeshis' into no man's land in Jessore after more than 60 people had been brought to Calcutta from Bangalore. The Karnataka police had nabbed them in late October.
The BSF has usually resorted to a consensual process of repatriation, sending a list of illegal migrants to Border Guard Bangladesh and handing them over after confirmation of identity. The BGB has taken them back once their identity as Bangladesh nationals was established beyond doubt. The forced pushbacks are a return to fractious times when the border guards of the two countries were known to exchange fire over the construction of the border fence.
Shah has promised to throw out illegal Bangladeshi migrants by extending the NRC to the rest of India. Many BJP-ruled states like Karnataka and Uttar Pradesh have launched special drives to arrest 'Bangladeshi infiltrators'. This has brought to life Wajed's worst nightmare — a wave of people being sent back after being branded 'illegal migrants'. This comes after Wajed has been compelled to accept nearly one million Rohingyas from Myanmar.
In spite of its phenomenal economic growth, Bangladesh is an overpopulated country. If India continues with its pushbacks, it would affect New Delhi's bilateral ties with Bangladesh. Worse, it would weaken Wajed's grip on the country and boost anti-India sentiments. Elements inimical to Indian interests are ever willing to take advantage of this. A powerful cabal of officers has been critical of the Bangladesh army chief for being 'too friendly with India'. This does not augur well for India at a time when smaller neighbours are turning towards China.