Sheikh Hasina defends Delhi deals
Student lynching fuels anti-India sentiment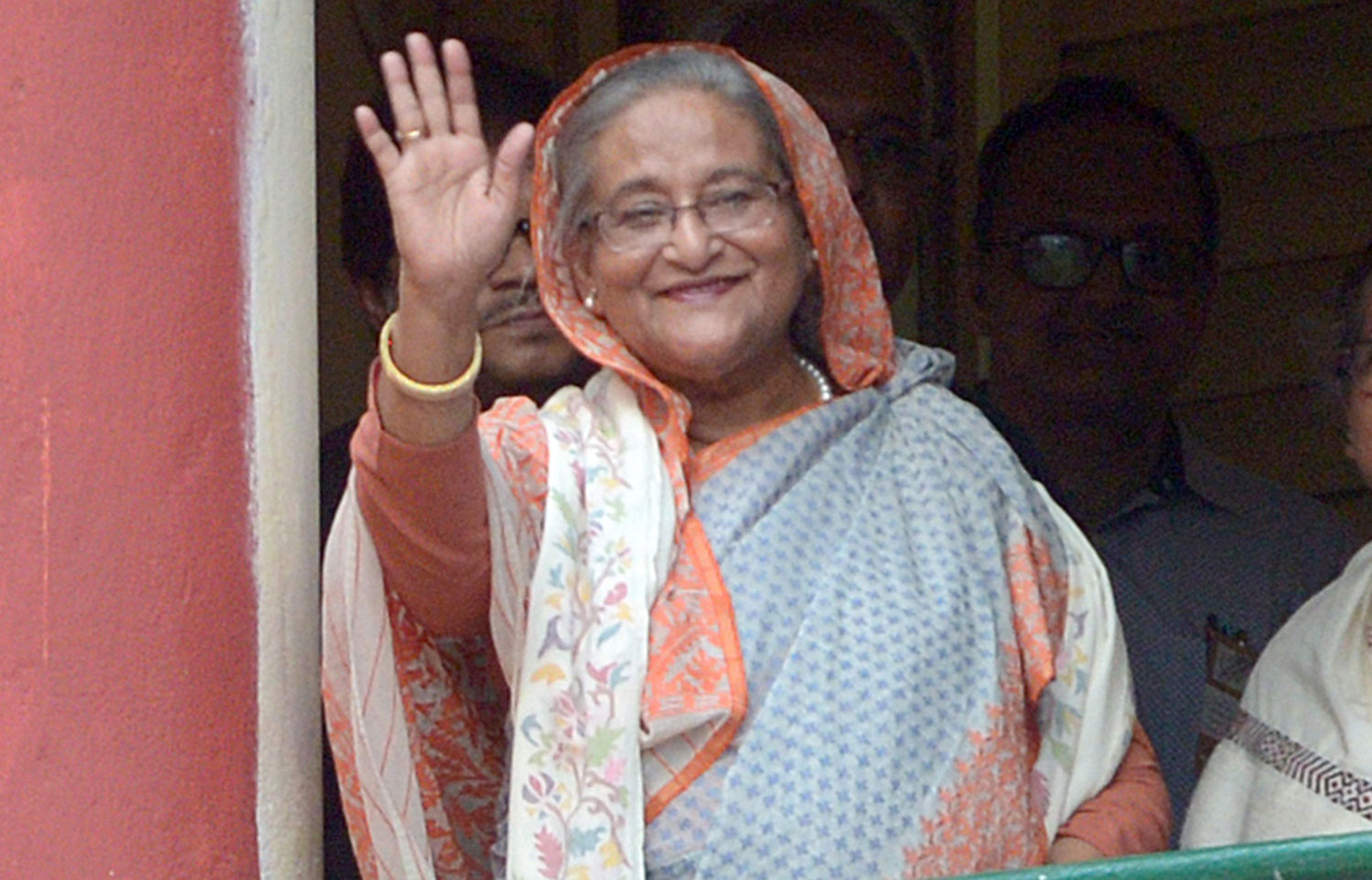 Hasina was accused of sacrificing her country's interests and "selling out" to India by some of her political critics who portrayed two of the seven agreements signed during her trip as loaded in favour of New Delhi.
Telegraph file picture
---
Calcutta
|
Published 10.10.19, 12:43 AM
|
---
Bangladesh Prime Minister Sheikh Hasina on Wednesday wagered her reputation against domestic insinuations of selling out to New Delhi during her recent trip, trying to assuage anti-India sentiments inflamed by the lynching of a student who had accused the western neighbour of short-changing Dhaka.
"Sheikh Hasina compromising on the interests of Bangladesh is an impossibility," she thundered at a news conference, defending the bilateral agreements she had signed during her India visit last week.
Hasina had arrived in Delhi on October 3 amid great expectations in Bangladesh about progress on the Teesta water-sharing agreement, which has been kept in abeyance since 2011 because of opposition from Bengal chief minister Mamata Banerjee.
This time, too, the much-awaited deal eluded Dhaka, causing disappointment in Bangladesh.
Hasina was accused of sacrificing her country's interests and "selling out" to India by some of her political critics who portrayed two of the seven agreements signed during her trip as loaded in favour of New Delhi.
One of these was a Bangladeshi pledge to let India withdraw 1.82 cusecs of water from the Feni for a drinking water scheme in Tripura; the other was a pact to allow the use of the Chittagong and Mongla ports for movement of goods to and from India.
The "sell-out" charges received further traction with some people using social media to spread the falsehood that Bangladesh had also agreed to supply natural gas — a rare natural resource — to Tripura. The actual deal, however, was to export LPG to India.
Amid the high-decibel debates in Bangladesh on what the country had received from India in exchange, Abrar Farhad, a student at the elite Bangladesh University of Engineering and Technology, wrote a Facebook post questioning the deals with India.
Farhad was beaten to death, allegedly by members of the ruling Awami League's student wing.
"As the videos of how Farhad was tortured and finally killed by student wing leaders of the ruling party went viral, the narrative of India short-changing Dhaka got reinforced," a senior news anchor in Bangladesh said.
The Opposition in Bangladesh has always accused Hasina of being pro-India, a tag that has often paid dividends for the alliance between the Bangladesh Nationalist Party and the Jamaat-e-Islami.
Although most Bangladeshis love to travel to India and watch Bollywood movies and Bengali serials, anti-India sentiments run deep within a sizeable portion of the country's population.
Farhad's death — which has triggered countrywide protests by students, academics and ordinary people — has intensified these sentiments and fuelled questions about Hasina's control over her party's student arm.
It had therefore seemed certain that Hasina would face some tough questioning at Wednesday afternoon's news conference, held to discuss her recent visits to India and the US.
The first question captured the dominant mood: were the deals with India in Dhaka's interest?
"LPG is not an original product of Bangladesh but a by-product of the crude oil that is imported here and then refined," Hasina explained.
"The gas we'll supply to Tripura will be like any other export. There shouldn't be any misunderstanding over this."
She swatted away charges that her government had agreed to sell natural gas.
Then came the issue of agreeing to allow India to draw water from the Feni. "We are giving them drinking water — and that too only 1.82 cusecs…. If someone asks for drinking water, can we say 'No'?" she asked, seeking to turn the tables on her critics.
Sources aware of the structure of the Feni water deal said the withdrawal of 1.82 cusecs (equivalent to 51.54 litres per second) would have little impact on Bangladesh downstream.
Aware that this explanation would not be enough to silence all her critics, Hasina added: "We are trying our best to protect our interests. The two countries are preparing a draft framework for interim water-sharing agreements on trans-boundary rivers like the Manu, Muhuri, Khowai, Gumti, Dharla and Dudhkumar. Soon, there will be solutions. We also discussed Teesta."
The next question was on Farhad's death. The Prime Minister was prompt in saying there would be no political interference in the prosecution of the suspects.
"I don't care about political identity when someone commits a crime. A criminal is a criminal to me. We treat them as criminals," she said.
Police have already arrested 13 students from the tech school, and the Awami student wing has expelled 11 members for their alleged involvement in the murder.
While these initial responses have been prompt, some sources in Dhaka said they would be convinced only after the guilty were convicted.
With the Awami League having swept the last elections, held in January, and the BNP-Jamaat-led Opposition still smarting under the defeat, Hasina faces no immediate political challenge.
"The problem here is about the mood of the people. They cannot digest the death of a student for asking a few questions. Hasina has used the best weapon in her armoury by staking her reputation to tackle the twin problems," a source in Dhaka said.