Code red: labour, wages, security
It excludes several categories of workers, including Asha and anganwadi workers, denying them the basic rights and protection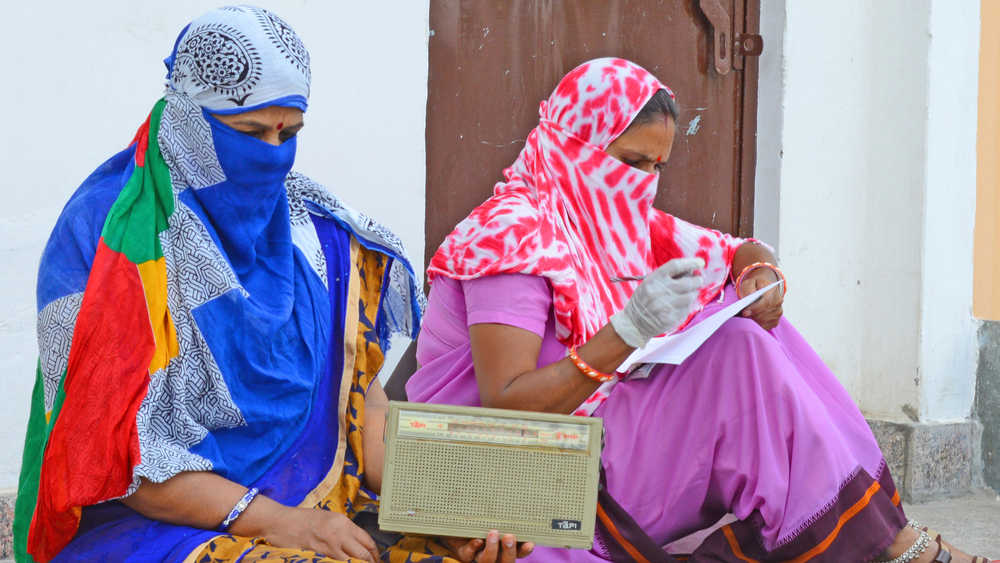 Anganwadi workers listen to the radio during a door-to-door survey to check the spread of coronavirus.
Shutterstock
---
Published 14.12.20, 12:06 AM
|
---
In September, Parliament gave its nod to three new labour codes in addition to the wage code already approved in August 2019 to promote labour reforms. The codes essentially deal with wages, industrial relations, social security, safety, and working conditions of workers. India's female labour participation rate — one of the lowest in the world — has been on a precipitous decline. It was widely expected that the labour codes would offer a comprehensive approach in addressing this festering crisis that has been intensified by the pandemic. The female labour force contracted by about 2.4 million between January-April and May-August 2020 (as per CMIE's unemployment surveys). Whether these laws succeed in tackling the problems that impede female workforce participation is a question that is well worth pondering. 
In India, the female labour force is largely concentrated in the informal sector with 95 per cent (around 195 million) of women working in informal jobs. Those employed in the sector are largely deprived of basic social security provisions, such as fixed minimum wages, insurance, maternity and pension benefits and so on. This makes them more vulnerable to job losses. As per CMIE data, in April 2020, in the immediate aftermath of the lockdown, 122 million jobs were lost out of which 91 million were in the
informal sector. Women, evidently, bore the brunt of these job losses.
Asha (Accredited Social Health Activist) workers and anganwadi workers have been indispensable during the pandemic. Even though the Code on Social Security, 2020 aims to include formal and informal sectors under a social safety net, it excludes several categories of workers, including Asha and anganwadi workers, denying them the basic rights and protection of social security. The Code on Wages, too, has left this constituency out of its coverage, depriving employees of a fixed minimum wage. The care economy is massively under-provided in India with just 1.7 care workers (nurses and midwives) per 1,000 people as per World Bank estimates. This sector has a huge potential to generate employment, particularly for women. The lack of social security is not only a severe handicap for those currently employed in this sector but also a deterrent for women seeking employment as care workers. 
The inaccessibility of formal sector jobs to women can be attributed to the lack of opportunities, absence of necessary training platforms, a safe work environment and entrenched gender inequities in terms of wide gaps in payment. In a bid to create greater employment opportunities, the Occupational Safety, Health and Working Conditions Code, 2020 entitles women to be employed in all establishments, for all types of work. In case of potentially hazardous or dangerous operations, the government is expected to direct the employers to implement adequate safeguards. It also enables women to work, with their consent, night shifts. The Code on Wages, 2019 prohibits gender-based discrimination in matters relating to wages by an employer and promotes equal pay for equal work. Although these are welcome steps, the responsibility of fulfilling these stipulations has been placed entirely on the employer. There is no clarity on how the accountability of the employer is to be ensured, especially in the case of a violation, in providing safe working conditions, transportation for nightshifts and security, preventing gender discrimination in wages, and paying additional wages for overtime work. The virtual world, too, poses serious threats with online sexual harassment on the rise.
The labour codes remain grossly inadequate in terms of laying out specialized initiatives for addressing online harassment, remedial measures to minimize gender disparities in wages, and provisions of skill enhancement platforms for women to move towards jobs in sectors of growth.