Cherry blossoms: A sign of spring and US-Japan friendship
It all started in 1912, when a row of cherry trees was planted as a sign of friendship between Japan and the US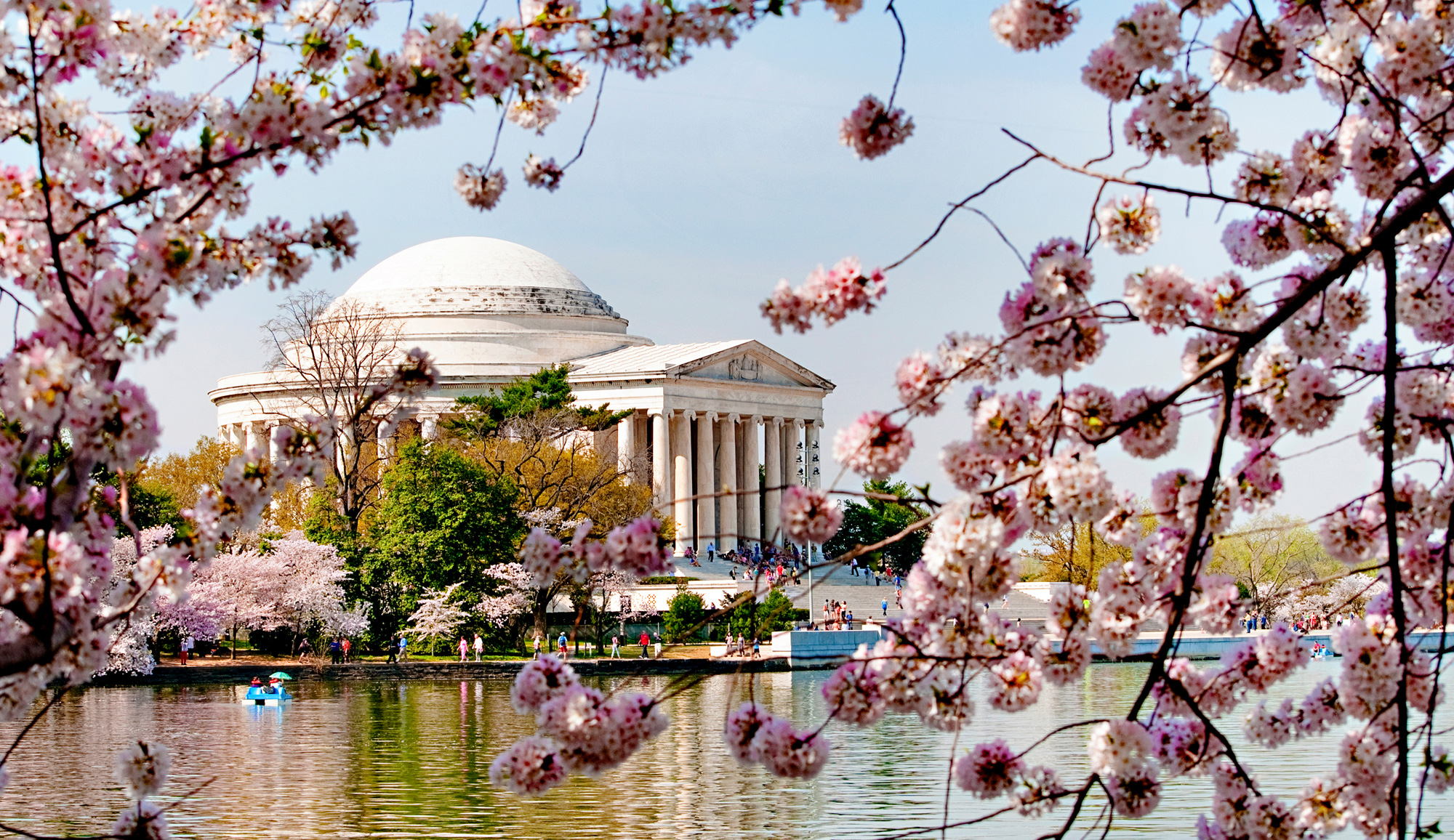 ---
---
A shimmer of spring has finally arrived. Along with the soaring temperatures, we welcome the colours of the season especially during the National Cherry Blossom Festival in Washington, DC. It all started in 1912, when a row of cherry trees was planted as a sign of friendship between Japan and the United States of America. In March that year, the First Lady, Helen Taft, and the wife of the Japanese ambassador held a small ceremony at the Tidal Basin, where two 'Yoshino' cherry trees were planted in the location of what is now Independence Avenue Southwest. After the planting of the trees was complete, the US, in return, gave a gift of dogwood trees to the Japanese in 1915.
That small ceremony grew into what is now a festival in full bloom, drawing over a million people to DC each year. The official festival started on March 20 and will go on till tomorrow. About 50 events are taking place this time. The most noteworthy of these are the Japanese Stone Lantern Lighting Ceremony, the National Cherry Blossom Parade — which spans Constitution Avenue, from 7th Street down to 17th Street — and the Sakura Matsuri Japanese Street Festival, located along Pennsylvania Avenue. Both the parade and Japanese Street Festival take place today, the penultimate day of the Cherry Blossom Festival. The Blossom Kite Festival and Petalpalooza are also popular events.
The end is near
The eighth and final season of Game of Thrones is almost here, and the anticipation is infectious. Several events and bars are popping up in celebration of the impending season eight premier tomorrow. In Pittsburgh, you have to 'bend the knee' (and more) at Yoga Flow's studio in the Shadyside neighbourhood. In this GoT-themed workshop, you will contort into different character poses (such as the downward-facing direwolf) as "The Rains of Castamere" plays on. Down in Dallas, HBO is installing a replica of the Iron Throne in the lobby of AT&T's Downtown Dallas corporate headquarters for people to sit on and take pictures. In Las Vegas, a GoT fountain show was on display at the iconic Fountains of Bellagio. It was a four-minute-long show that combined lights, pyrotechnics and theatre-sized projections with more than 800 fountains to create a unique and dynamic visual experience.
Over in DC, at The Jefferson, guests can book one of three private cabinet rooms that fit five to eight people for season premiere watch parties. Access includes a seven-flight Scotch tasting of GoT-endorsed pours, including the limited edition Johnnie Walker White Walker.
Oreo introduced a new GoT-designed cookie, available on `Target.com` and wherever Oreo is sold. At Grant Grill in San Diego, cocktail experiences include creative themes and presentations like 'The Mother of Dragons', which is served in a dragon's egg, and 'The Red Wedding', found in a hand-etched silver and brass chalice, from the newest GoT cocktail menu.
Close to nature
You can now dine inside a greenhouse, surrounded by nature. The hotel, Arlo Soho, in New York has transformed its courtyard into a lush botanical garden. The area is decked up with a gurgling fountain and a greenhouse draped in fairylights. The fresh bites offered include Green Goddess Soup (yogurt, cucumbers, chilli oil, housemade granola and herbs), Rainbow Crudite (roasted eggplant dip with assorted coloured veggies) and Grilled Spring Vegetable Flatbread (snap peas, radishes, asparagus, ricotta and crème fraiche). Their Potted Plant cocktail is on its way to Instagram fame. It consists of a terracotta pot planted with a juvenile shrub that serves as a cup for a Hendrick's Gin, Campari, espresso, coffee liquor and rosemary syrup. The food hall, Eataly, has also converted its top floor into a garden, in time for Spring. It is called Serra Fiorita by Birreria, 'Serra' meaning greenhouse in Italian. You will be dining surrounded by a home grown herb garden and spring time flowers. The urban farm team, Farm One, created a hydroponic system on the roof that allows chefs to pluck rosemary, thyme and mint for cocktails and dishes served at the table.
The Dorchester Brewing Company, a local brewery in Massachusetts, is adding a 2,200-square-feet greenhouse on their roof that will function as a four-season beer hall, complete with a fireplace, seating, and a variety of hops.
Cruelty free
Plant-based meats and meat products are now on the upsurge. Burger King just introduced the 'Impossible Whopper' which is currently on trial at 59 outlets in the St Louis area. The vegetarian alternative is made by Impossible Foods, a young company that makes plant-based substitutes. Its burger is designed to "bleed" like a conventional burger and uses genetically modified yeast to produce heme, a protein that mimics the flavour of meat.
Last August, Missouri became the first state to ban products made from tofu, soy or other alternatives branding themselves as 'meat', after an outcry from livestock and poultry producers. In its mission statement, Impossible Foods says: "We're making meat using plants, so that we never have to use animals again," pointing to the environmental impact of meat production. Impossible Foods introduced its burgers three years ago at trendy restaurants like New York's Momofuku Nishi. It led to partnerships with more than 5,000 restaurants in the US and Asia.
Footnote

Major League Baseball is organizing a new foodfest in New York City, London and Los Angeles, uniting the stadium food of 30 teams under one roof. The tickets to the NYC event sold out in 48 hours. The festival menu specifically highlights Arizona Diamondbacks's Churro Dog, the Seattle Mariners's toasted grasshoppers, Boston Red Sox's lobster rolls and Philadelphia Philly cheese steaks. Ticket prices are from $45 to $90. The $45 tickets get you eight food items and unlimited non-alcoholic drinks.