Bubbles burst
The question is whether populist bubbles can be pricked permanently by democratic elections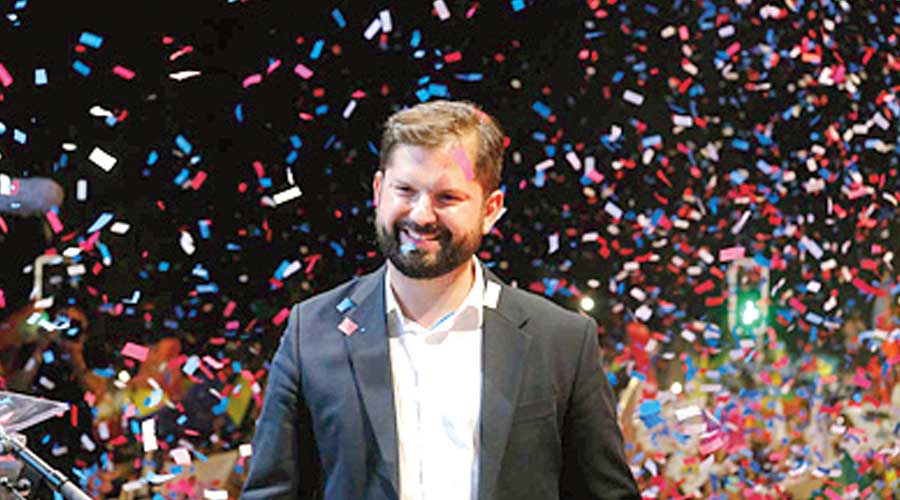 Gabriel Boric
[Getty images]
---
Published 04.02.22, 12:10 AM
|
---
The certainty of all bubbles is that they will burst. When the enormous bubble of the financial crisis burst in 2007, it led to the rise in right-wing, authoritarian, populist bubbles across many countries.
Many of these populist regimes attempted to iron-clad themselves with authoritarianism. Are these populist bubbles popping? The Donald Trump regime tasted electoral defeat in the United States of America. In Latin America, long considered the US's backyard, a number of left-wing and socialist regimes have come to power. Peru elected the former schoolteacher, Pedro Castillo, while Gabriel Boric, a former student leader, was elected to power in Chile. Brazil may witness the return to power of Lula da Silva this year.
Political trends originating in the US ripple rapidly across the 'pond', as the wide expanse of the Atlantic is so fondly referred to on the other side in Britain. Joe Biden's victory in the last US presidential elections may have deflated the Brexit populist bubble. Boris Johnson will try his level best to prevent the electoral cycle from popping his populist bubble even as his support plummets. Naïve 'Leave' voters in Britain may yet understand that Brexit was nothing more than the country of the rule of law and habeas corpus being taken down the path of authoritarianism.
The question is whether populist bubbles can be pricked permanently by democratic elections. This is because the Republicans in the US are trying to blow that same bubble, yet again, before the next elections. Perhaps Chile, where the Salvador Allende government was toppled way back in 1973, has a lesson for the US and the UK that are afflicted by democratic narcissism.