Building bridges
Bengal's non-BJP parties should befriend Bangladesh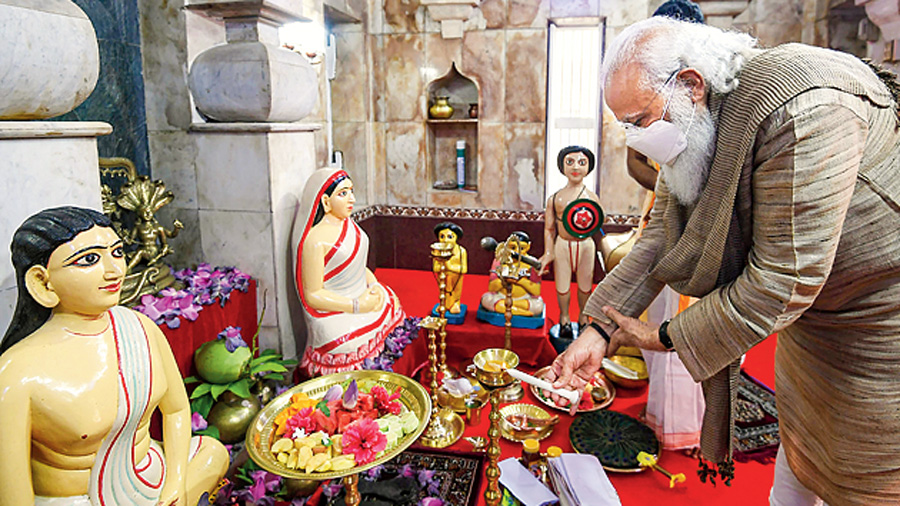 ---
---
For a non-Bengali like me who loves Bengal deeply and has been staying in Calcutta for nearly a month to study the society and the politics in the state, the immediate question of interest is, of course, the same as what every Indian wants to know: will the prime minister, Narendra Modi, defeat the chief minister, Mamata Banerjee, in the ongoing assembly elections? The answer — 'no' — is by now clear to every knowledgeable poll observer. What interests me no less is how the party of Modi and Amit Shah has been bringing Bangladesh into its election campaign, with the sole purpose of polarizing the electorate and, thereby, aggressively expanding its Hindu vote-bank.
How the Bharatiya Janata Party uses Pakistan for the same purpose is well-known. Pakistan-bashing and showing Indian Muslims as the not-to-be-trusted 'Other' are the two sides of its same strategic coin. However, when it comes to Bangladesh-bashing in West Bengal (also in Assam), the BJP finds itself on a complex and slippery territory. Most BJP leaders outside Bengal, being prisoners of the 'Hindi-Hindu-Hindustan' mindset, simply cannot understand the salience of the commonalities of language, religion, culture and the subaltern identities of communities on both sides of the border. Nor can they seamlessly incorporate into their 'Akhand Hindu Rashtra' narrative the uncomfortable history of Bengal's Partition in 1947 (which S.P. Mookerjee, founder of the Jana Sangh, demanded) and the later history of how the other Bengal seceded itself from Pakistan in 1971 but didn't merge with India.
Two recent examples suffice to show the conundrums the BJP is facing. First, since taking office in 2014, the Modi government has projected 'infiltration' from Bangladesh as a big threat to India's unity and security. To counter this threat, it introduced the blatantly discriminatory and unconstitutional Citizenship (Amendment) Act, whose real intent is to appease the Hindu electorate in West Bengal and Assam. While releasing his party's manifesto in Calcutta, Shah said, "[If] you vote for the BJP, leave alone illegal immigrants, not even a bird from across the border will be allowed to enter the state." What he meant was that only Muslim birds would be stopped at the border, whereas Hindu birds would be granted free entry! This is because the CAA regards only Bangladeshi Muslims as "infiltrators" whereas all Bangladeshi Hindus (including those coming for economic reasons) are "religiously persecuted refugees" and, hence, automatically eligible for Indian citizenship.
Sensible people in the BJP know that their party will never be able to implement the CAA and the National Register of Citizens in West Bengal where Muslims constitute 27 per cent of the population, an overwhelming majority of whom are Bengali-speaking and indistinguishable from Muslims in Bangladesh. Any attempt to 'detect, delete, de-franchise and deport' all "illegal immigrants" (only Muslims) would create a combustible situation that no government can control. It will also severely strain India's relations with Bangladesh where both politicians and citizens are already infuriated by Shah's smearing of Muslim 'infiltrators' as "termites".
The BJP faces an additional complexity in deporting 'illegal immigrants' in Assam because lakhs of them have been detected to be Hindus in the NRC published in 2019. For many Assamese, Hindu Bangladeshis are as much a threat to their identity as their Muslim counterparts. Therefore, hypocritically, the BJP's election manifesto for Assam makes no mention of implementing the CAA in the state, while promising a new "corrected NRC".
The BJP's second conundrum also reveals its opportunism. Even as it accuses Bangladesh of mounting a Muslim 'demographic invasion' of India, it has sought help from the same country for electoral gains in West Bengal. This is evident from Modi's visit to the shrine of Harichand Thakur, the revered founder of the Matua community, at Orakandi in Bangladesh on March 27. Modi went to Dhaka to participate in the celebrations to mark the 50th anniversary of Bangladesh's independence. But he has cleverly used the visit to woo Matua voters in West Bengal, who are influential in at least 35 assembly seats. Never has an Indian prime minister been accused of so blatantly violating the model code of conduct and the ethics of democracy by campaigning for his party from foreign soil.
Modi's unbecoming conduct stands in sharp contrast to the visit to Bangladesh in June 1999 by the former prime minister, Atal Bihari Vajpayee, when I had accompanied him. The occasion was the inauguration of the Calcutta-Dhaka bus service. Vajpayee made it a point to take with him West Bengal's then chief minister, Jyoti Basu, whose party, the Communist Party of India (Marxist), is the BJP's staunch opponent. The 50th anniversary of Bangladesh's independence and the birth centenary of 'Bangabandhu' Sheikh Mujibur Rahman, are, from West Bengal's perspective, far more significant events. After all, West Bengal played a crucial role in Bangladesh's liberation movement. Modi ought to have emulated Vajpayee's statesmanlike example and asked Banerjee to accompany him not only to Dhaka but also to Orakandi. It would have raised the stature of India's democracy in the entire South Asian region, especially among Bangladeshis. Instead, in an obvious act of political partisanship, he took Shantanu Thakur, a BJP MP and a Matua community leader from West Bengal, for the programme in Orakandi. But what is the point in expecting such enlightened behaviour from a leader who is busy accelerating India's democratic descent and tearing apart India's secular fabric.
Clearly, the time has come for intellectuals and socio-political leaders in West Bengal and the rest of India to see through the BJP's flawed, devious and divisive policy towards Bangladesh. It is a pity that in the current election season in West Bengal, even non-BJP parties have not articulated a bold new vision for reviving the age-old, socio-cultural and economic bonds between the two Bengals within the larger framework of mutually beneficial cooperative relations between India and Bangladesh. In both New Delhi and Calcutta, there is grossly inadequate commitment to removing all the hurdles in two-way trade, business and investment relations with Bangladesh which is so necessary for creating prosperity and employment for Bengalis on both sides of the border. Look at these comparative numbers. India-Bangladesh trade is barely $10 billion. China, despite not having a land border with Bangladesh, has a bilateral trade of over $20 billion. West Bengal's own share in India's exports of $8.24 billion to Bangladesh is estimated to be less than $4 billion. Another example: Vietnam (whose population is nearly the same as West Bengal's) exports $40 billion worth of largely hi-tech goods to China, with which it, despite strained political ties, has a bilateral trade of over $100 billion. These numbers convey a clear message to West Bengal: reindustrialize rapidly and reform your politics to pursue this goal.
West Bengal's non-BJP politicians also need to better grasp their state's excellent locational advantage for India's connectivity with Bangladesh and beyond, which is critical for the success of India's much-publicized 'Act East' policy. The state will get smooth access through Bangladesh to Myanmar, China, and countries in Southeast Asia and East Asia. Thus, instead of remaining confined in a less developed corner of India, West Bengal and the Northeastern states, along with Bangladesh, can occupy the centre of a new, interconnected and economically vibrant Asian landmass. However, none of these transformative changes can be achieved with barbed-wire fencing, the poisonous politics of CAA and NRC, ill-treatment of Hindus in Bangladesh and of Muslims in India, and New Delhi's counter-productive outlook of making geo-economic and human development priorities subservient to its geo-strategic considerations.
The two parts of the Bengal of the ages together suffered three Partitions in the 20th century — 1905, 1947 and 1971. The two parts cannot become one nation again. But they can — and should — certainly forge a new, win-win partnership in the 21st century. I hope this idea energizes the non-BJP parties at least in the next Lok Sabha and assembly elections.