And other demons
Being too loving a husband may pose a danger to the marriage even in a country famed for its high percentage of battered wives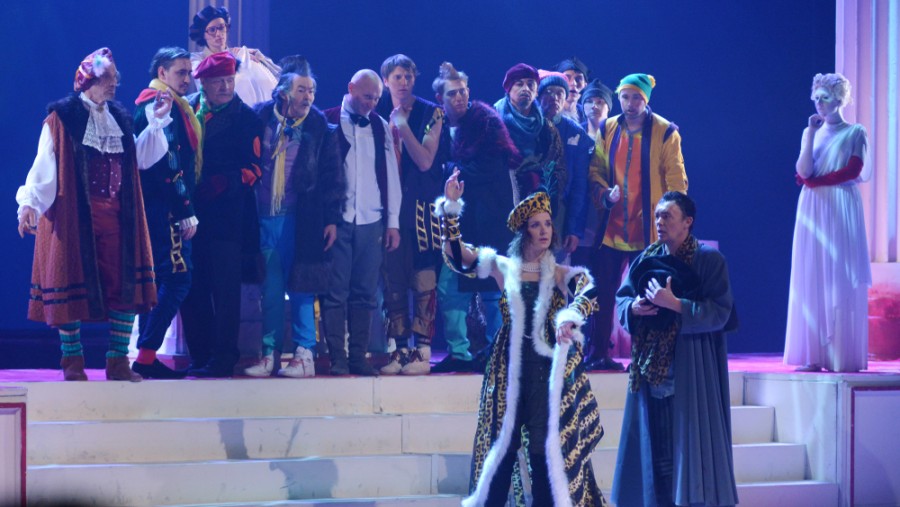 A scene from a 2017 production of The Taming of the Shrew in Barnaul, Russia
Shutterstock
---
Published 23.08.20, 12:12 AM
|
---
This is a way to kill a wife with kindness. But when Petruchio, the canny husband of Katherina, or Kate, describes his own behaviour thus in The Taming of the Shrew, he adds that it is meant to "curb her mad and headstrong humour". Not that such a Shakespearian situation is common in present-day India; it is the husband's "headstrong humour" that society expects. Neither is there any need to attribute the Kate-like propensity for a waspish tongue to a woman who feels stifled by spousal kindness. Yet Shakespeare's witty vision is unfailing: in the Sambhal district of Uttar Pradesh, a woman married around 18 months ago asked the Sharia court for a divorce because her husband is too loving. He never shouts or quarrels, never blames or criticizes her. What is married life without a slugfest or two? The woman cannot stand it.
The Sharia court was quite unable to address the complaint. The woman had no other reason for asking for a divorce. In a country where men are famed for beating up their wives and in a world where the distribution of daily tasks is still a subject of contention in numerous societies, this woman's husband not only helps in the housework but also cooks for his wife from time to time. As determined as the Shakespearian heroine, the woman went to the panchayat to ask for a divorce when the Sharia court asked her to be reasonable. The panchayat refused her request too. Since all the husband is doing is trying to keep his wife happy, as he has said, how can a divorce be granted? Besides, the husband requested the court to ensure that his wife's petition is dismissed. Surely that is love, and not control? 
Would Shakespeare have understood the woman's 'reason'? If she finds unwavering lovey-doveyness stifling, she is probably like the majority of human beings, unsaintly and erratic, and comfortable with similar fallibilities in her spouse. Everyday piety has the potential to set a partner's teeth on edge, especially if it is directed towards pleasing him or her. That is not fair, just human. Women devastated by their husbands' violence may find this petition for divorce incredible; they might ask whether the woman in UP would have complained if her husband was beating her up regularly. Others, who dream of an equal relationship, would agree that excessive peace may deaden a marriage. Disagreements are natural if two people living together speak their minds: they provide the spark that helps the relationship evolve as well as a bridge between two individuals trying to understand one another. Insoluble disagreements can destroy a marriage, of course, but then, marriage is a highly risky institution. Even an excessive desire to please may endanger it, as the inoffensive husband in Sambhal has found. Or is it because women in India are simply not used to tenderly loving husbands?