Waste material to transform into art
Event will have 40 established and emerging artists from 14 countries, who will create sculptures from waste material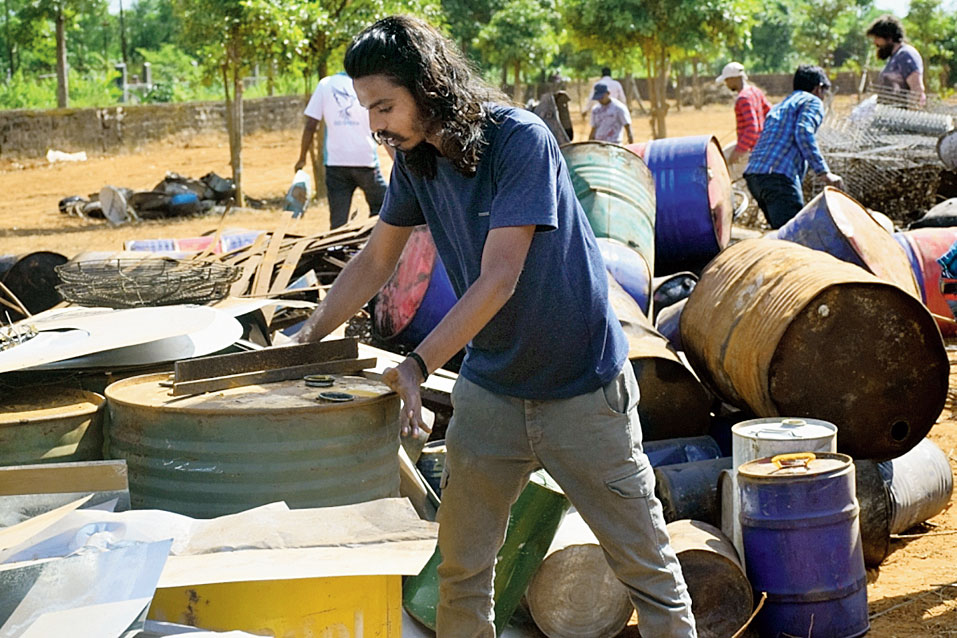 Participants create art from waste at the symposium at Kalinga Nagar in Bhubaneswar on Thursday.
Picture by Ashwinee Pati
---
Bhubaneswar
|
Published 01.11.18, 06:38 PM
|
---
Artists from across the world gathered in the city to create artworks for a unique sculpture museum.
To boost socio-cultural art in the state, Artists Network Promoting Indian Culture (ANPIC), a youth organisation, along with the Bhubaneswar Development Authority, is hosting a public art symposium that began at Kalinga Nagar here on Thursday.
The event will have 40 established and emerging artists from 14 countries, who will create sculptures from waste material. The live sculpturing will continue for 20 days and after that the open-air sculpture museum will be inaugurated.
The museum will create awareness among local residents on environment and climate change. Speaking on the occasion, Sashanka Mohapatra from ANPIC said: "It is not only an initiative to create awareness in people on waste materials through art but a step to encourage young artists to come up with new ideas. The congregation of artists of international stature is expected to encourage more people."
The event is envisioned as a step that reflects the involvement of the state in nature through socio-cultural artworks. "The artworks, which are intended to be made mainly from waste material and scrap metal, will propagate the message of environment protection. The focus will be global warming, deforestation, flood, and protection of wildlife species, especially the ones endangered from natural calamities, road mishaps, hunting and poaching," said mayor Ananta Narayan Jena.
It will put the spotlight on species such as the olive ridley turtle, the Indian elephant, the Indian Rhino, the Nilgiri Tahr, the Bengal tiger, the blackbuck, the snow leopard and the lion-tailed macaque.
Daniel Pérez Suárez, an artist from Spain, said: "It is a delight to be in this city that is so rich in culture and heritage. We look forward to interesting sessions and meeting a number of art enthusiasts."