Waste job revamp in limbo
Technical snag trips GPRS project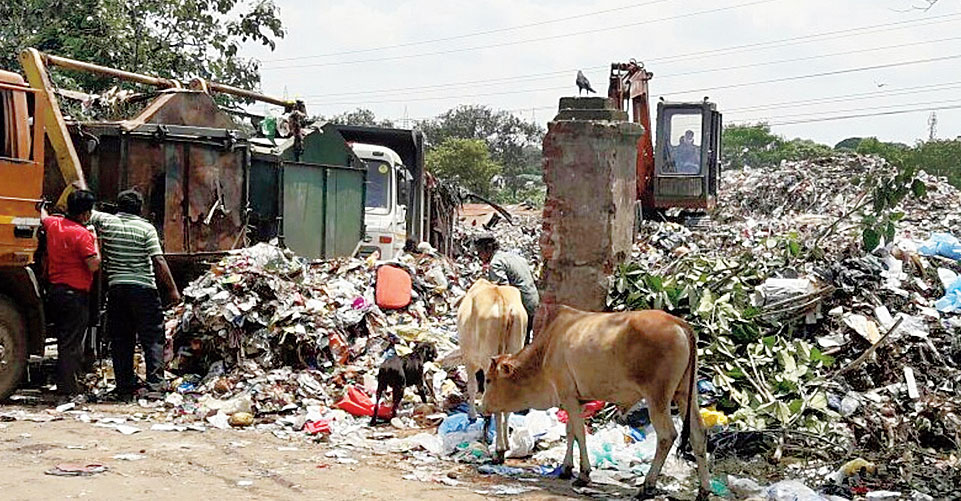 Stinking reality: A municipal vehicle collects garbage at Sati Chaura in Cuttack.
Picture by Badrika Nath Das
---
Cuttack
|
Published 06.10.18, 10:27 AM
|
---
The civic body's General Packet Radio Service (GPRS) project, which is to track vehicles used in municipal waste collection and disposal, has been in limbo for the past two years.
Under the project, the Cuttack Municipal Corporation planned to ensure that the garbage pick-up vehicle drivers followed the correct route achieving maximum collection of waste. It was also supposed to monitor the pick-up vehicles and store their travel information.
The civic body had announced the project in 2016, but it failed to kick off despite the fact that there has been a lot of hue and cry over poor waste management in the city.
An official said that though the civic administration had already fixed routes for every waste pick-up vehicle in all wards, complete collection of waste was not achieved.
Some of the waste pick-up vehicles had been mounted with the GPRS system, but things went awry as a central monitoring facility had not been developed.
A senior official in the corporation's IT wing said things were expected to take shape after the server links were in place, along with the agreement with Bharat Sanchar Nigam Limited for the global positioning devices-based vehicle-tracking system.
The civic body has moved the state government for approval, the official said.
Officials in the corporation's engineering wing, on the other hand, hoped that the GPRS tracking system would take off with implementation of the Integrated Solid
Waste Management Project, 2016. "The project was planned to be implemented by outsourcing the municipal waste collection under a five-year contract to a private party," said deputy executive engineer D.R. Tripathy. Implementation of the project is not possible so far as the final decision has not been taken on awarding of the contract according to the tender finalised. The matter has been pending with the state government, he said.
According to the contract, all the vehicles to be operated should have the GPRS system and linked to a central monitoring facility.
Monitoring and maintaining of cleanliness will be easier for officers and other sanitary workers at the ward level with functioning of the GPRS tracking device in the vehicles used in collection and disposal of municipal waste.
As part of the contract, the private operator will take up sweeping in 40 of the 59 wards, door-to-door collection of garbage as well as mechanised sweeping of some identified main roads in all 59 wards, mechanised transportation of garbage to transfer station and the mechanised forward transportation to the dumping site at Chakradharpur on the outskirts of the city.