Waste disposal rules derail in Cuttack
The Cuttack Municipal Corporation had planned to enforce its Solid Waste Management Bye Laws-2017, along with the execution of the project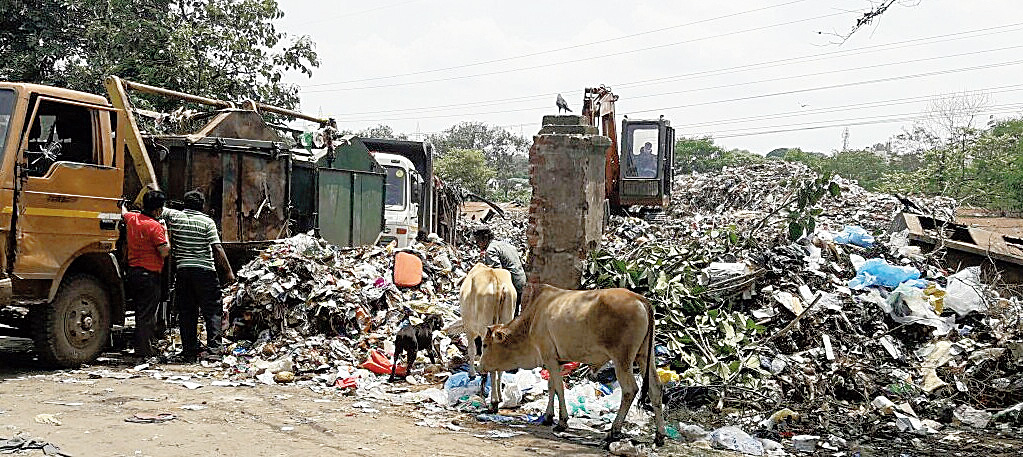 Waste dumped at a transit station at Sati Chaura in Cuttack.
Badrika Nath Das
---
Cuttack
|
Published 07.12.18, 08:18 PM
|
---
Enforcement of a new set of regulations for better segregation and disposal of garbage in the city has been derailed with the cancellation of tender invited for execution of the Integrated Municipal Solid Waste Management Project of the civic body.
The Cuttack Municipal Corporation had planned to enforce its Solid Waste Management Bye Laws-2017, along with the execution of the project.
Officials said the process for the preparation of ground work to implement the new rules had started. As part of it, an extensive awareness programme had been charted to make the people familiar with the new rules and prepare accordingly. But, with cancellation of the tender, the process for enforcement of the regulations has been disrupted, they conceded.
The civic body issued the order on cancellation of the tender on November 27. "The tender had to be cancelled as the state housing and urban development department directed to split the work order and issue fresh tenders for executing the project," municipal commissioner Sarat Nayak said.
The enforcement of the bye laws assumes significance as it empowers the civic body to collect fixed user fee on monthly basis from every waste generator for the purpose of collection of garbage from house to house and institutional waste generators.
More so, the new rule categorises garbage generators, their responsibilities of solid and liquid waste disposal, a list of offences for which fines will be imposed and various waste generators who will have to pay the user fee.
"It aims to bring in an integrated solid waste management system to reduce the amount of waste being disposed of, while maximising resources recovery and efficiency," said Ranjan Kumar Biswal, chairman of the corporation's standing committee for sanitation.
As things stand today calling the fresh tenders would be a time taking affair and execution of the municipal solid waste management project may not be possible for several months now, delaying enforcement of the new rules till then.
What makes enforcement of the new rules uncertain is that the civic body has not been able to complete the tender process for over two years now. It failed in its first attempt as Orissa High Court had quashed the tender process and directed it to invite fresh bids after a year in July 2017. The fresh bids for the project were invited in September 2017.
The high court endorsed the finalised tender on May 11 and gave nod to it. But, the government after several months of scrutiny declined to give approval to it.