Sona song hits wrong chord
Bollywood singer Sona Mohapatra has courted a fresh controversy for mispronouncing words of the Salabega-composed Odia bhajan Ahe Nila Saila at a concert.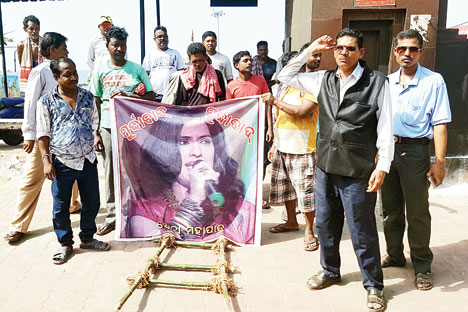 ---
---
Bhubaneswar: Bollywood singer Sona Mohapatra has courted a fresh controversy for mispronouncing words of the Salabega-composed Odia bhajan Ahe Nila Saila at a concert.
The singer was on Tuesday booked for "hurting the sentiments of Odia people and disrespecting Lord Jagannath". Socio-cultural outfit Sachetana Nagarika Mancha filed a complaint against the singer at Puri's Singhadwara police station.
The controversy erupted soon after the singer posted a video of her live concert in Mumbai on Monday. A number of people pointed out to flaws in her pronunciation. They said the singer had pronounced " Salabega" as "Salebega", " charana" as "charane" and " matta" as "maatra".
This is not Sona's first brush with controversy.
Her version of Rangabati on MTV Coke Studio had evoked criticism from various quarters. A number of social media users also took offence to the attire that she wore at the concert.
Sachetana Nagarika Mancha president Prasanna Kumar Das said: "Her song has hurt and offended the Odia community and followers of the Jagannath cult."
Members of the outfit burnt posters of the singer and also demanded that she prayed to Lord Jagannath for forgiveness in Puri.
Writer and art critic Kedar Mishra said her version of the song was "atrocious".
"I have no problem with Sona Mohapatra's creative freedom. She can sing the way she wants to. But, the way she sings a popular bhajan will offend anyone who loves Odia language and literature. She takes pride in distorting Odia words," he said.
Singer Sangita Gosain said: "If she was a non-Odia, the mispronunciation was understandable. But, she is from the state and nothing justifies her act."
The singer, on the other hand, said there was no intention to hurt anyone's sentiments.
"How many times is an Odia song even heard at a music festival on the national or world stage?" she said. "I can always improve and will endeavour to do so, but the people need to take a chill pill and focus on more important issues. Neither is Jagannath so narrow-minded nor is our culture so weak that it will crumble because of my rendition of a song."
To some people taking offence to her attire at the festival, Mohapatra said: "This handloom and weave is a dying art with no patrons. Most people prefer to wear factory-made attires."
She also took to her social media pages and wrote: "No time or inclination to celebrate a self created, produced, original piece of work like Anhad Naad? This song of mine released during the festival of Raja and celebrating Mother Earth crossed over five million views in record time. No parties for that in the state."
Twitter user Bijay Kumar Panda said: "I appreciate and admire your efforts to put all those dying art and handicraft of Odisha in your show. But that does not give you license to disregard the sentiments of crores of Odia people. Please, at least pronounce it properly."
Biswaraj Nayak wrote on Facebook: "It was painful to listen to Sona Mohapatra singing Ahe Nila Shaila. How can a person who was born and raised in Odisha get such a pathetic Odia accent? Is it a fashion to speak distorted Odia? Her dress sense, body language and expression were more painful. We do need a Balasaheb to protect our cultural identity, to preserve our glory."
Sona does have supporters as well.
Debahuti Mohapatra, a fan of the singer, said: "God has given you that potential to represent Odisha and expose its treasure to the rest of the world."
Dilip Mallick, principal of an engineering college near Cuttack, said: "Her presentation of the Odia songs resembles English pop, which is an innovation in itself. A pronunciation mistake is not a matter of discussion as 90 per cent Odia people do not speak with correct pronunciations."
Sona has also found support in Odisha Pradesh Congress Committee chief Niranjan Patnaik.
"She is neither born in Odisha nor can read the language. Yet, she sings Odia songs and bhajans. She might have mispronounced some words of the song," he said, in an obvious dig at chief minister Naveen Patnaik.
"No one comes out to protest when the head of the state himself distorts the language and is known for his bad pronunciations," the Congress chief added.