SC point man meets Puri seer
Supreme Court-appointed amicus curiae Gopal Subramanium met Puri Shankar-acharya Swami Nischalananda Saraswati to solicit his views on reforms in the Jagannath temple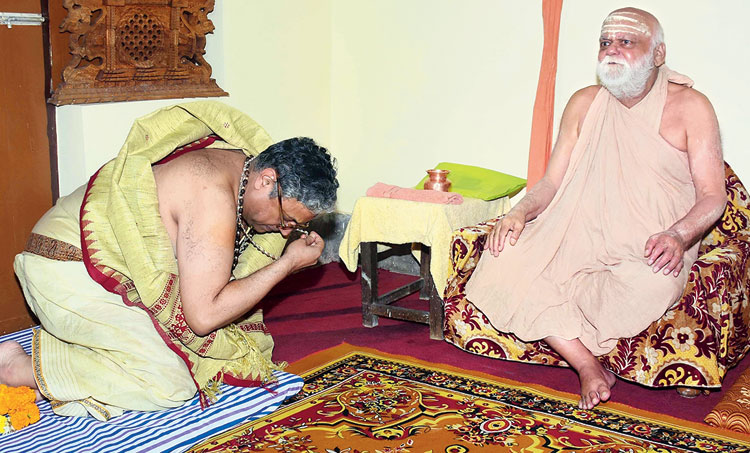 ---
---
Supreme Court-appointed amicus curiae Gopal Subramanium on Friday met Puri Shankar-acharya Swami Nischalananda Saraswati to solicit his views on reforms in the Jagannath temple.
Subramanium was in Puri to elicit the views of religious leaders, government officials and servitors before submitting a report on reforms in the shrine to the apex court.
Prior to the meeting, Subramanium visited the temple early on Friday morning and offered prayers to the deities. Later, he held discussions with temple officials and had a meeting with the Puri district judge, who had submitted a report on the reforms to the Supreme Court.
The court had given 12 proposals for reforms to the temple management, including introducing regulatory measures regarding dress code, abolition of hereditary rights of servitors, prohibition of collection of money by servitors for the annadan vatika (earthen pots with cooked food), a ban on the placing of thalis (plates) by servitors to receive offerings and a provision for separate toilets for male and female devotees and servitors.
However, there has been a difference of opinion on three proposals — abolition of hereditary appointment of sevaks, elimination of collection of dakshina and amendments to the Jagannath Temple Act of 1954.
At the meeting, Saraswati asked the amicus curiae to respect religious sentiments of people. He also explained to him how the Jagannath temple was different from other shrines in the country. Any attempt to tamper with its culture and tradition would be counter productive, the seer said. However, the seer made it clear that devotees coming to the shrine should have smooth darshan of the deities. "Those coming to the Puri should return happy," he said.
Subramanium said: "The Shankaracharya has given his views on what are the measures to be undertaken at the temple. We will go ahead with his suggestions."
Chief temple administrator P.K. Mohapatra said: "We briefed him on various issues such as the history of the temple, the hereditary rights, the transfer of temple from the Gajapati's hands to the state government and the significance of rath yatra."
Subramanium will also meet the erstwhile scion of the Puri royal family Gajapati Dibya Singh Deb and temple management committee members. He will also interact with members of the confederation of servitors or Chhattisha Niyoga. He is also scheduled to meet law minister Pratap Jena, revenue minister Maheswar Mohanty and local leaders of Puri.
Abadha action
The temple administration on Friday said that action would be taken against persons who had put up a rate chart for the sale of 'abadha' on the temple premises. Some servitors have fixed the price of mahaprasad ranging from Rs 70-120 a 'thali' based on the number of items served.
" The rate chart has not been officially approved," Mohapatra said.